Champions League: Chelsea boss Jose Mourinho has no plans to change his style
Jose Mourinho is not planning to adopt more defensive tactics, despite Chelsea conceding six goals in two matches.
Last Updated: 11/12/13 7:09pm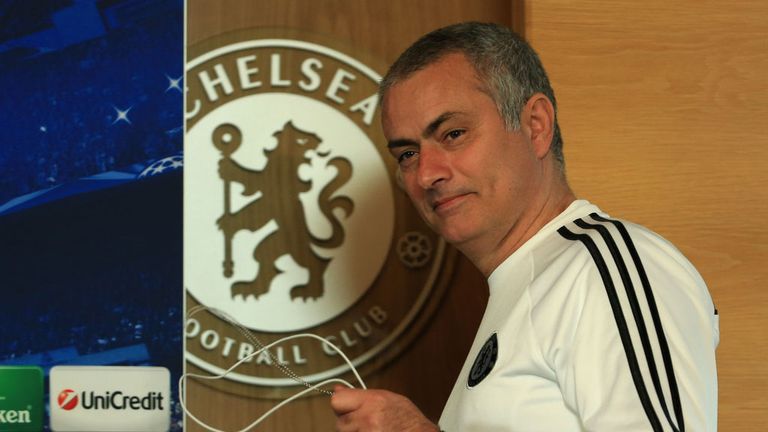 However, Mourinho joked that his side's problems defending corners were so bad that a training ground dummy might be able to find the net against them.
Mourinho was speaking ahead of Wednesday's UEFA Champions League match against Steaua Bucharest at Stamford Bridge, a match which comes on the back of a disappointing 3-2 loss at Stoke in the Premier League and the 4-3 success at Sunderland.
But the Blues boss says he will not be tinkering with his formation in an attempt to shore up his defence.
"Am I going to change the style of play?" he said. "(Bring in) more defensive players? No.
"Am I going to play David Luiz in front of the central defenders? No.
Dummies
"Am I going to play with 4 plus 2 and the wingers closing behind, leaving Fernando (Torres) in attack, waiting for a counter-attack, waiting for a long ball, to try and win 1-0? No.
"We go in the same direction. We are creating a lot, we have to score goals and kill opponents.
"You can tell me 'but you lost when you scored two goals away (at Stoke on Saturday)'. I know, because, at the same time, we are conceding goals defensively.
"Maybe you laugh but I think, in this moment, if we train defensive corners, against the dummies, I think one dummy will score!
"All the rebounds go to the opponents, and I think the rebounds will go to the dummies too."
The statistics show how Chelsea's defence has struggled this season, compared to in the title-winning seasons during Mourinho's first spell in charge.
In his first season at the helm (2004/5), Chelsea conceded 0.39 goals a game, followed by 0.58 the following year. In both of those seasons, Chelsea won the Premier League. This year they're conceding well over a goal a game (1.13).