Champions League: Neil Lennon insists all Celtic fans cannot be tarred with same brush
Neil Lennon has offered a robust defence of the Celtic fans ahead of their UEFA Champions League game in Barcelona.
Last Updated: 11/12/13 7:16pm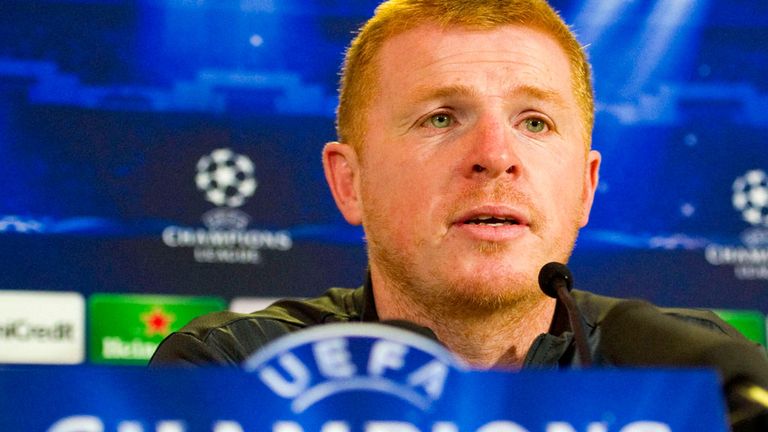 The manager conceded the suspension of unruly supporters was inevitable following the trouble at Motherwell's Fir Park last Friday, but insisted all fans should not be tarred with the same brush.
Celtic have suspended 128 fans from their games and relocated 250 season-ticket holders within Celtic Park following damage caused to seats at Motherwell. Scottish police have said they expect to make a 'number of arrests' in relation to the disorder.
"Look, our supporters are the best in the world, bar none," Lennon said ahead of their final Champions League group game in Barcelona.
"We have had a few problems of late which the club are trying to deal with as swiftly and as best they can.
"But that is not going to take away from the fantastic support we have - not just in Britain but around the world - and the great relationships our supporters forge with other clubs and the respect both sets of supporters have for each other here (in Barcelona).
"So I'm very much looking forward to the atmosphere as much as the game on Wednesday because I think it will be a great occasion."
Skipper Scott Brown returns after missing the last three European games through suspension, following a clash with Neymar in the reverse fixture at Parkhead in October.
Lennon stood by his claim that he felt Neymar made the most of the incident in Glasgow that led to Brown's dismissal.
He said: "We wont treat Neymar any differently from any of the other 10 or 11 world class players Barcelona have in their team.
"It was the first time I saw Neymar play live and I was very impressed and I think he will be a wonderful addition to the Barcelona team.
"I think he is very talented but I stand by what I said on the evening, I did think he made more of the contact than necessary.
"It is not a major criticism of the player. I think he is going to light up the football world over the next five to 10 years."
Asked about the effect Brown's absence had had on the club's European campaign, Lennon added: "It hurt us because he is our captain, a leader on and off the field and there is no question his presence was missed in the three games.
"But that is history. This is a great occasion and we are very much looking forward to it.
"We are going to need great discipline, concentration and athleticism and we have to be brave on the ball and even then it may not be enough but we want to come away with some satisfaction if not the result."