Champions League: Mourinho wants to face Galatasaray for 'King Didier's' sake
Jose Mourinho hopes Chelsea are drawn against Galatasaray so that Didier Drogba can return to Stamford Bridge.
Last Updated: 12/12/13 10:23am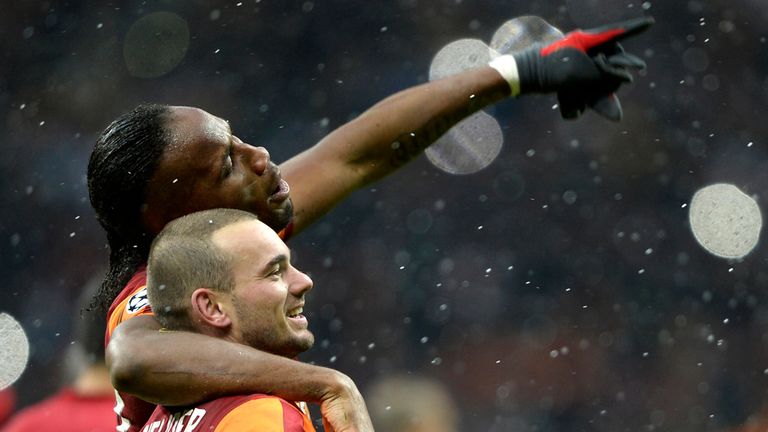 Drogba is still a hero to Chelsea fans for his starring role in the club's Champions League victory against Bayern Munich in 2012 when he scored the winning penalty in a dramatic shoot-out.
After a short spell in China, veteran Drogba moved to the Turkish giants and Mourinho says he would be delighted if the striker gets the chance to return to his old hunting ground.
"He deserves a reception here, even better, he deserves it even more than me," Mourinho, who was welcomed with open arms back to Chelsea this year, said after the 1-0 win over Steaua Bucharest which confirmed his side as winners of Group E.
"He deserves to get what I got against Hull City (in his first game back in charge this season). He deserves double to three times that. I know what I felt and I think he deserves that.
"So yes - Galatasaray is difficult, very difficult but I would like Didier to be back here and to feel what I felt."
Drogba, who also scored the equaliser against Bayern in Munich that night, is Chelsea's record scorer in Europe with 34 goals in 69 games and Mourinho still holds him in high esteem after the Ivorian's goals helped him substantially add to the club's trophy cabinet with silverware between 2004-07.
Chelsea could be drawn against Galatasaray, Zenit St Petersburg or an out-of-form AC Milan in the last 16, rather than Real Madrid, Barcelona or holders Bayern Munich, but Mourinho said that whoever they get it would be difficult.
"There are the champions of Russia, a German side in Bayer Leverkusen and the Turkish champions with King Didier," Mourinho said. "But we have to forget the Champions League now.
"Until it starts again in February, March, we have to work to improve the team and get results in the English competitions."