Champions League: Celtic fined £42,000 by UEFA after fans display political banner
Celtic have been fined £42,000 by UEFA after a section of the club's supporters displayed a political banner last month.
Last Updated: 13/12/13 5:35pm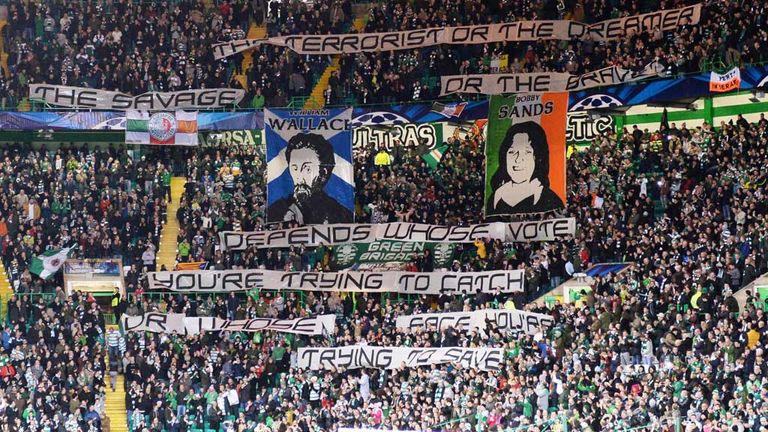 The incident happened at Celtic's UEFA Champions League fixture with AC Milan on 26 November, as the teams entered the pitch prior to kick-off.
Celtic have already been punished by UEFA for fans throwing flares onto the pitch and for an abusive banner aimed at the European governing body at a match in Udinese.
The offending banner depicted images of hunger striker Bobby Sands, who died in 1981, and Scottish Nationalist icon William Wallace.
A statement from the Glasgow club read: "Celtic can confirm that UEFA has today imposed a 50,000 euro fine on the club following the display of illicit banners at the recent match against AC Milan.
"Clearly it is extremely disappointing that the club must pay another sizeable penalty following the actions of a small minority, particularly given the previous assurances which were made to the club and the widespread understanding of the likely outcome of such actions.
"Regrettably, due to previous charges being brought against the club, again following the actions of a small minority, the fines imposed by UEFA are increasing in scale.
"It goes without saying that such actions must stop now, before the club receives a competitive sanction or one which would affect our supporters attending European matches.
"We are Celtic supporters and we must now move on and look ahead to tomorrow's match against Hibernian.
"We are sure our fans will come together, unite with the club and support the team with the commitment and passion we are famous for, ensuring that Celtic Park once again provides a positive footballing occasion for all."