Manchester City defender Pablo Zabaleta happy to face Barcelona's Lionel Messi
Manchester City defender Pablo Zabaleta is relishing facing Argentine team-mate Lionel Messi in the Champions League.
Last Updated: 16/12/13 4:57pm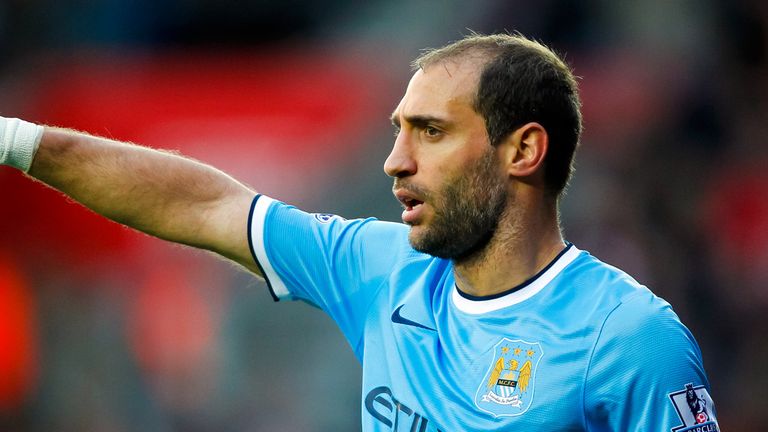 City drew Barcelona in the last 16 of the Champions League allowing Zabaleta and compatriots Sergio Aguero and Martin Demichelis to face Messi for a place in the quarter-finals of Europe's elite competition in the New Year.
The 28-year-old told the City's official website: "I played against Lionel for Espanyol against Barcelona and I recall in my second season at City when we played in the Nou Camp in the Joan Gamper Trophy against Barcelona and we won 1-0 with a goal from Martin Petrov so I think we're about level at the moment!
"When we were in Barcelona we were very close friends because we were living in the same city and we had known each other for a number of years.
"I was just starting out at Espanyol and Lionel was at Barca and when I signed for City, I think two days later the news broke that Sheikh Mansour had bought the club and Lionel always recalls that I joined at such a fantastic time.
"He asked me a lot about City but I didn't know that much because I didn't know that much myself but it's something we often talk about plus the fact I'm still here!"
Zabaleta says winning the Champions League will be difficult but City will be doing their best to try and win the competition.
"As a player, you have to try and win everything you are involved in. There are differences between each competition, of course," he said.
"The Premier League is over 38 games while the Champions League and World Cup have fewer games and anything can happen.
"From my own experience, winning the Premier League was so special because it means everything to the players and the supporters and is the biggest prize in England. As for the Champions League, we are up against the best teams in Europe - but we will try our best and you never know in football."