Per Mertesacker urges Arsenal to be "switched on" against Liverpool and Bayern Munich
Per Mertesacker has warned Arsenal must be "switched on" against Liverpool and Bayern Munich in the coming days.
Last Updated: 16/02/14 4:07pm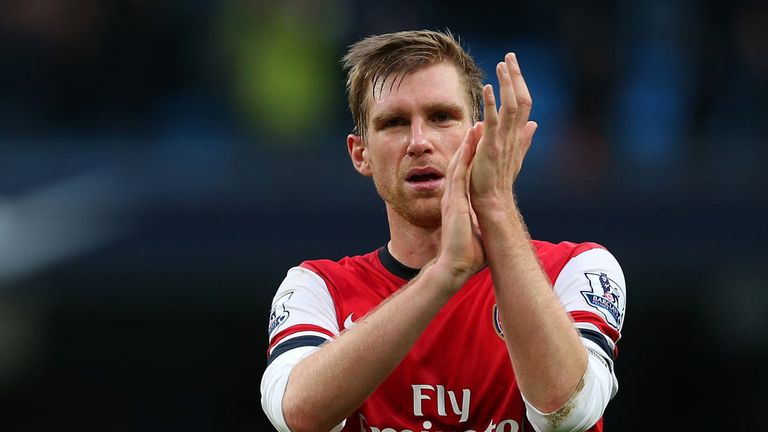 The Gunners, who responded to their 5-1 thrashing at Anfield by grinding out a goalless draw with Manchester United in midweek, are embarking on a run of fixtures which could well define the outcome of their campaign.
"There is no special way to do more or less, when you behave like a professional you have to continue what do you do through the whole season so you are ready for these big clashes," the German centre-back said in the Arsenal matchday programme.
"It is it is just up to you to continue what you have done - the concentration, the tension and the atmosphere will be bigger than normal, but I am still relaxed because we have had heavy schedules through the season and we have been able to pick one game at a time and think 'the next game is the really important one'.
"If there are four big games coming up, you have to isolate each game and take one at a time.
"You have to switch on quickly and try to switch off for maybe 24 hours and then (get) switched on again, that is really important during heavy schedule.
"I think our group of players has the potential to do it and we have shown that through the season we have the ability to make these games special for us."
Wenger feels that simple philosophy of tackling each match as it comes will serve his side well.
"We have gone for a policy that is to just take care of the next game, because the confidence level is so important to go into the big games that you want to build your strength up by winning every single game," said the Gunners boss.
"After, we don't really look at what kind of competition it is at the moment, because we know, in the situation we are in, the most important thing is to win our next game."
Arsenal were handed a European masterclass by the Bundesliga giants when beaten 3-1 at home in the same stage of the competition 12 months ago.
However, the Gunners responded with a superb 2-0 win in the Allianz Arena against the side which would go on to win the Champions League at Wembley.
Wenger believes Arsenal will have learned much from those encounters.
"I think we know them better, individually the players," he said.
"We will be in a better condition hopefully, because last year was after the disappointment of losing against Blackburn (in the FA Cup), to play Bayern three days later it was very difficult for us.
"I think in the league as well we were in a much more difficult position. (Now) we are mentally better prepared to go into a game of that stature."