UEFA Champions League: Manuel Pellegrini insists Manchester City do not fear Barcelona
Manchester City manager Manuel Pellegrini is adopting a 'no fear' approach as his side prepare to face Barcelona.
Last Updated: 17/02/14 12:37pm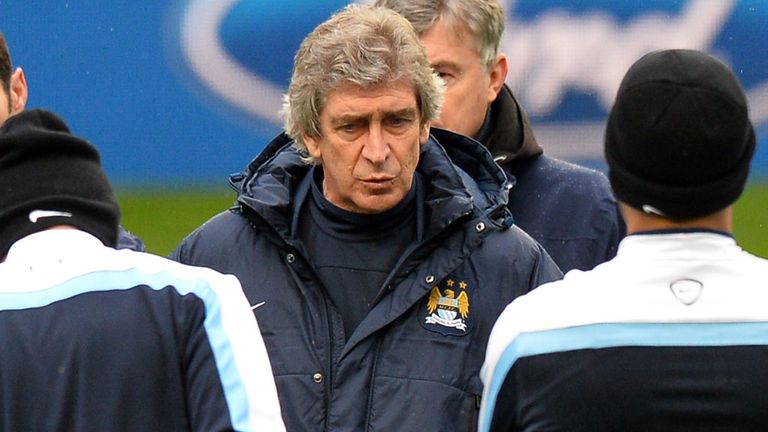 The Chilean coach welcomes the Spanish champions to the Etihad Stadium for the first leg of an eagerly-anticipated last 16 showdown.
It will be the first time the sides have locked horns since 2009, when City - under the tutelage of Mark Hughes - claimed a remarkable 1-0 victory against the reigning European champions thanks to a Martin Petrov strike.
City warmed up with a 2-0 disposal of Chelsea in the FA Cup on Saturday and while acknowledge the breadth of talent on offer in the Barcelona ranks, Pellegrini insists the Sky Blues are able to match their opponents.
"It's a good chance to show how good we are," he told the Daily Mail.
"They have a lot of experience, they have a great team, they have the best player in the world but I think also we are a good team with good players.
"I don't have any fear about playing Barcelona because this team has got to continue to develop the mentality to play against important teams, whether that's in the last 16, the quarter-final. I hope we can win at home."
Advantage
Pellegrini heads into the clash without the free-scoring Sergio Aguero or defender Matija Nastasic but will have been encouraged by the performances of Javi Garcia, Stevan Jovetic, Joleon Lescott and James Milner at the weekend.
Barcelona meanwhile, have former Ballon d'Or winner Lionel Messi at their disposal, as well as Spain internationals Xavi Hernandez and Andres Iniesta but Pellegrini claims City are equal to the threat.
"Barcelona have some players of advantage but it is small," he added.
"Barcelona have been the best team in the world for the past three or four years and have so many great players. But in our team we have so many good players. It is going to be a spectacular game.
"We need to be aggressive and the result, hopefully, will come. We believe we can win."