Champions League: Gerardo Martino calls for focus from Barcelona after Manchester City win
Gerardo Martino has called on his Barcelona players to remain focused as they continue to chase down multiple honours.
Last Updated: 19/02/14 7:27am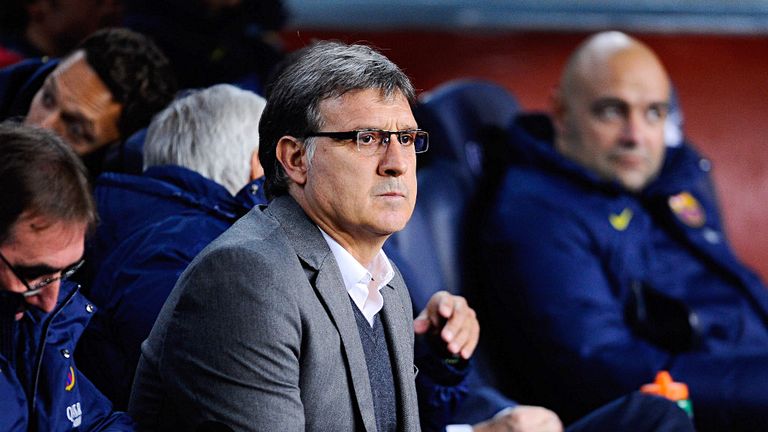 The Catalan giants took a sizeable step towards the quarter-finals of the UEFA Champions League on Tuesday as they claimed a 2-0 victory away at Manchester City in the first leg of their last-16 encounter.
With two away goals and a return date at the Nou Camp to come, it would take a dramatic collapse for Barca to bow out.
Martino is taking nothing for granted, though, and is looking for his squad to treat every game as a must-win.
After seeing a Lionel Messi penalty and a late strike from Dani Alves secure the spoils at the Etihad Stadium on Tuesday, the Argentine tactician said: "For 10 minutes during the first half we lost control a little, but in the rest of the game we did well.
"We have to remain calm and continue along the same path because there is no time to relax as we must now start thinking about our next game in La Liga.
"We have clear objectives in each tournament. We can play better or we can play worse than tonight but in no way are we going to relax."
Andres Iniesta has sought to assure his boss that no-one will be taking their eye off the ball, with the World Cup-winning midfielder aware that City will not go down without a fight.
He said: "The result is an excellent one for us. City have a fantastic team and play at a very high level, which a game like this demands.
"We now have the return leg at home and although the result is a good one, we are not taking anything for granted. Taking into account the level of our opponents, we can't afford to."
Former Manchester United defender Gerard Pique believes Barca deserve to be heading home with their noses in front, even if City will feel aggrieved at having seen Martin Demichelis sent off for the challenge which presented Messi with the opportunity to open the scoring from the spot.
He told Sky Sports: "We had control of the match for nearly 90 minutes.
"I think that we deserved to win and we deserved that because I think we had a lot of chances and I think our attitude tonight was the proper attitude, the good attitude to play this kind of game."
On the performance of the match officials, he added: "It can be frustrating, but at the same time I scored a goal that wasn't offside.
"The ref has to make decisions in one second and sometimes it is difficult for them. It's true that maybe it is outside the box, but anyway it is a red card - no doubt about that.
"I think we were better before the red card and after the red card."