Champions League: Jim Boyce backs referee Jonas Eriksson's performance at Etihad Stadium
FIFA referees chief Jim Boyce has leapt to the defence of under-fire Swedish official Jonas Eriksson.
Last Updated: 19/02/14 11:18pm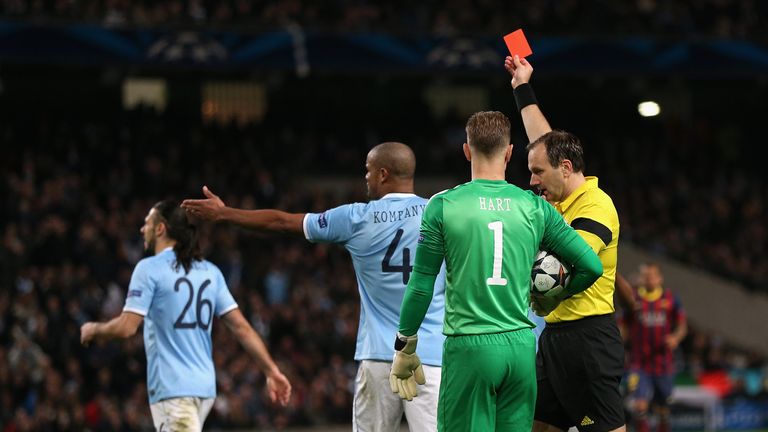 City boss Manuel Pellegrini suggested UEFA should not have chosen a referee from Sweden for the last-16 tie and claimed he had 'not been impartial' after sending Martin Demichelis off and awarding Barcelona a penalty.
Boyce says Pellegrini's assertions are 'absolute nonsense' and his view is that Eriksson refereed the game at the Etihad Stadium well.
The 39-year-old has also been picked by FIFA to referee at the World Cup finals in Brazil this summer.
Boyce, chairman of FIFA's referees committee, said: "It is absolute nonsense to say a referee should not be chosen for an important match because he comes from a smaller country.
"If the referee has proved himself at the top level it should not matter what country they come from.
"All the referees who have been chosen for the World Cup have been assessed by experienced officials who have been involved at FIFA and UEFA level and marked on their performances in the World Cup and confederation competitions at a high level.
"I read the remarks that were made by the Manchester City manager. I saw the game and my own personal opinion is that I thought the referee had a good game.
"He is a very experienced referee who has been chosen for the World Cup because of excellent reports of his performances in Europe."
Pellegrini claimed Eriksson was "on Barcelona's side from beginning to end" and intimated he was trying to make up for a previous mistake against the Catalan side.
He said: "From the beginning I felt the referee was not impartial to both teams.
"I think it was not a good idea to put a referee from Sweden in charge of such an important match, especially a referee who has made an important mistake against Barcelona in a previous match.
"[It's] more important football in Europe than Sweden. A big game with two important teams, that kind of game needs a referee with more experience."