Champions League: Cesc Fabregas tells Jose Mourinho to 'mind his own business'
Barcelona midfielder Cesc Fabregas has hit back at Jose Mourinho, telling the Chelsea boss to 'mind his own business'.
Last Updated: 20/02/14 2:58pm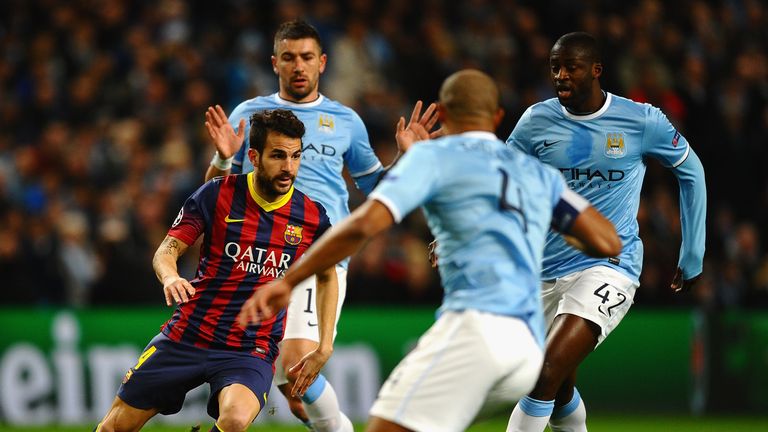 Mourinho claimed the current Barca side is the "worst in many, many years" ahead of Barcelona's Champions League clash with Manchester City in midweek.
Fabregas insists Mourinho's barbs did not provide motivation to Barca in their 2-0 win at the Etihad Stadium, and feels the former Real Madrid chief should focus on his own side Chelsea.
"He should talk about Chelsea and their tie," said Fabregas. "I don't think he should talk about anything else. It is not his business.
"If we have to get motivated by Mourinho's comments, we shouldn't play football. We are top of the table, in the cup final, in a good moment in the Champions League.
"Some people want us to fail all the time, some people have been talking a bit too much, for a few days they will have to shut up."
Fabregas was happy with Barca's performance against City, feeling they controlled the game at the Etihad as they gained a two-goal first-leg lead to take back to Camp Nou.
"It was about controlling the game," added the former Arsenal star. "We know they are good on the counter and when they play offensive football, they play it very well.
"They know what they have to do, we controlled them very well and we did not let their fans get behind their team. We minimised all their efforts. It was a very complete game.
"When you have players like Leo, Xavi and Andres [Iniesta], you can beat them but not if you can't take the ball away from them. We did that very well - we did not let City have the ball. If you do not have the ball, you can't create chances. We have to be very proud.
"We knew [City] have scored a lot. I watch the Premier League every week and they have been very superior to all these sides when they have played [at home].
"It is normal everyone gets excited [over this win], especially in a nice competition like the Champions League. We knew what we had to do and did it very well."