Champions League: Mesut Ozil apologises to Arsenal fans after penalty miss v Bayern Munich
Arsenal midfielder Mesut Ozil has apologised to the club's fans following his penalty miss against Bayern Munich.
Last Updated: 21/02/14 12:02pm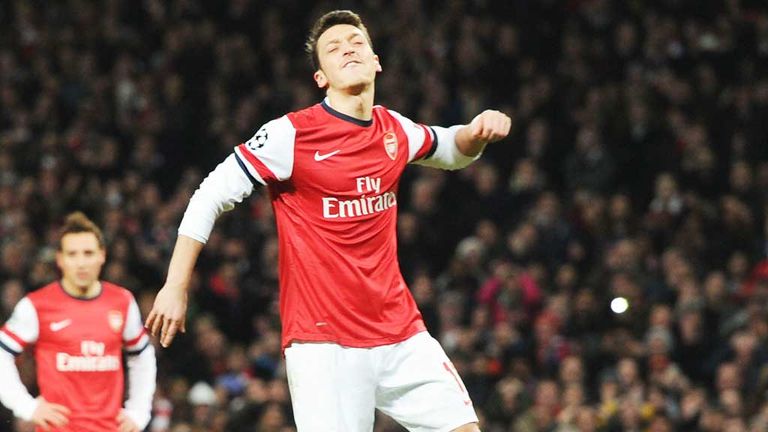 The Germany international had an early spot-kick saved by compatriot Manuel Neuer before Arsenal conceded two second-half goals in their last-16 first-leg defeat at the Emirates.
And the 2-0 loss means the Gunners have it all to do when they travel to Munich for the return leg on 11 March.
Arsenal endured a tiring night against the European champions after goalkeeper Wojciech Szczesny was sent off for clattering Arjen Robben in the box.
Ozil sent a message out on his official Facebook page, informing fans he was still upset the day after the match.
"The next morning doesn't feel better either," Ozil stated. "Sorry guys - it wasn't planned that way.
"Outnumbered it was really hard to win against this team."
Meanwhile, German team-mate Per Mertesacker believes Ozil just needs time to properly settle.
"We have a lot of games here in England and everyone is tired, but it is not just up to Mesut," said Mertesacker, who himself has developed into a consistent performer for Arsenal following an underwhelming start at the north London club after signing from Werder Bremen in August 2011.
"It is up to everybody to encourage and come back, during the game we all need to encourage each other.
"Mesut has played a lot of games and he is a massive player, we need him at his best. Game by game, he will come back stronger."
Arsenal shareholder Alisher Usmanov, who has long called on the Gunners board to make the sort of investment on players that they finally did in signing Ozil, believes the German is tired.
"Ozil was not (playing) at his capacity, maybe because he is tired," Usmanov told reporters as he left the director's entrance at the Emirates Stadium, where he holds a private box.