Premier League: Manchester City boss Manuel Pellegrini apologises for comments
Manchester City manager Manuel Pellegrini has apologised for his verbal attack on referee Jonas Eriksson in midweek.
Last Updated: 21/02/14 6:37pm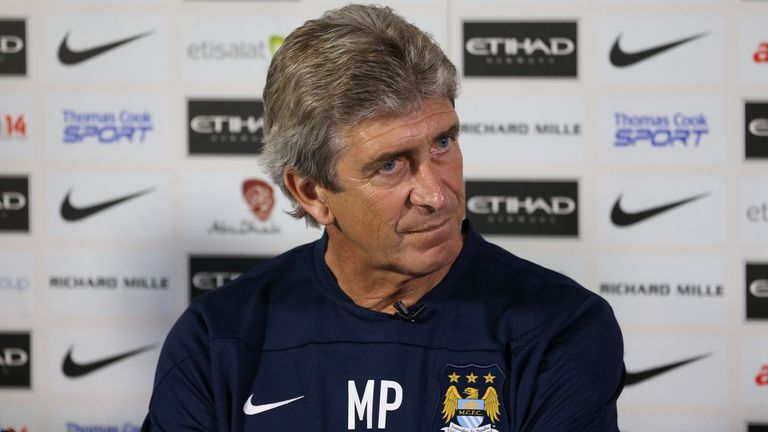 City were beaten 2-0 at the Etihad Stadium, with a penalty awarded against Martin Demichelis, who was subsequently sent off.
Pellegrini has been charged by UEFA after he claimed Eriksson was "not impartial" and questioning why a referee from Sweden had been appointed to officiate such an important fixture.
He also backtracked on a suggestion that Eriksson was attempting to make amends for perceived injustices against Barca in a previous fixture he officiated involving them.
But he stood by his assertion that the referee's decision to award a spot-kick and dismiss Argentinian Demichelis decided the game in the favour of the Spanish champions, with Lionel Messi converting the 54th-minute penalty.
"When you lose a match in the way we did against Barcelona, you are angry and perhaps I said something that I don't think, so I apologised for what I said," Pellegrini said ahead of their Premier League game with Stoke on Saturday.
"But I also want to clarify what I said because I didn't say any serious accusations to anyone - not to the referee, not to UEFA, not to anyone.
"For me, the referee decided the match because he did not give us a foul against (Jesus) Navas. Immediately (afterwards) came the penalty (and the sending off) of Demichelis.
"I always say that refereeing is a very difficult profession because they always must decide in a fraction of a second and afterwards, they compare their decision with eight TV cameras.
"I repeat, it is not my way to be critical of the referee but in that case, it was not a good day and he decided the game.
"But I know it was not his intention to try to benefit Barcelona or damage Manchester City. We saw on TV after it was a foul but not a penalty, although very near from the edge of the box.
"I did not say he was a bad referee, that he was not honest and that he cannot referee in UEFA, that was the first thing I want to clarify."
Pellegrini was also keen to clarify his comments over a Swede officiating in the Champions League.
"To say because he was always refereeing in the Swedish league, and that maybe it was better for so important a game to have another kind of referee, is another thing I didn't think," he added.
"It is not an offence to Sweden or the Swedish people or referees.
"I am sure this is a good referee because UEFA is always evaluating all the referees and if he is not a good referee, he is not in the UEFA staff."
Finally, Pellegrini apologised for suggesting Eriksson was trying to make amends for a previous poor decision against Barcelona.
"The third thing I said was that it was not a good idea that a referee that damaged Barcelona against Milan to referee the game," said Pellegrini.
"It is my idea. I am not in charge of referees. I think it is important managers do what they have to do, the referees do what they have to do and the staff in charge of deciding the referees do what they have to do.
"I repeat, I didn't have any serious accusation, not against UEFA, not against the referee, not against Sweden, not against anyone."