Champions League: Kevin Mirallas says Manchester United are under pressure against Olympiakos
Kevin Mirallas has warned Manchester United that it will not be an easy task against his former team Olympiakos.
Last Updated: 25/02/14 11:48am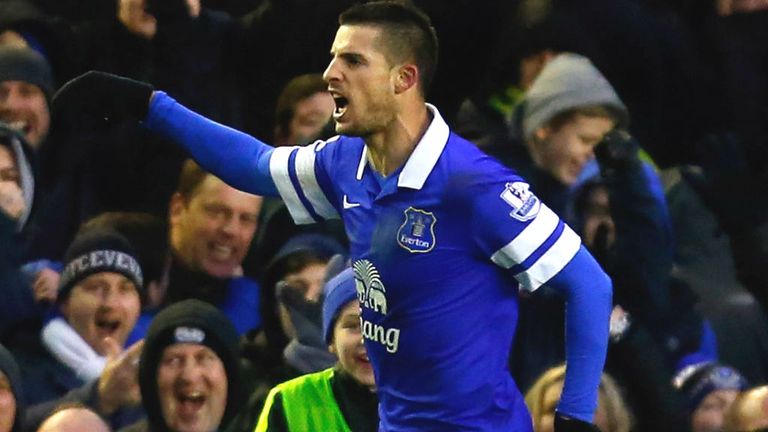 United are out of both domestic cup competitions and are currently sixth in the Premier League, with no realistic chance of defending their title and a long way off a top-four spot.
Everton attacker Mirallas believes they may have to win the Champions League to qualify for next season's tournament, as United prepare for an away game against Olympiakos on Tuesday in the first leg of their last-16 tie.
Mirallas spent two years with Olympiakos before making the move to Everton, and knows that a tough challenge lies ahead for David Moyes' men.
"It's going to be a difficult game for both teams," Belgium international Mirallas told the Daily Express.
"There is more pressure on Manchester United, given the way their season has gone. They are a little bit off the pace in the league. So for them it is a chance to save their season. They are almost obliged to go on and maybe win the Champions League.
"The away match is first for United and I know exactly what it's like to go there and play. It's not easy. Obviously they have a lot of quality players who will be able to cope with that environment and atmosphere, but I repeat it won't be easy for them playing out there in Greece."
Mirallas is thankful to Moyes for everything he did during his time in charge of Everton, and as such he would have reason to smile whoever wins.
He explained: "As an ex-Olympiakos player, I think they can go through, and as an ex-Olympiakos player I'd like them to go through. It would be great for the supporters, who I think a lot of, and for Greece as a whole.
"But on the other side of things, I feel for my ex-manager and I would be pleased for him if they went through."