Champions League: Bayern Munich boss Pep Guardiola warns Arsenal
Pep Guardiola has warned Bayern Munich they cannot relax against Arsenal in their UEFA Champions League last-16 clash.
Last Updated: 10/03/14 5:56pm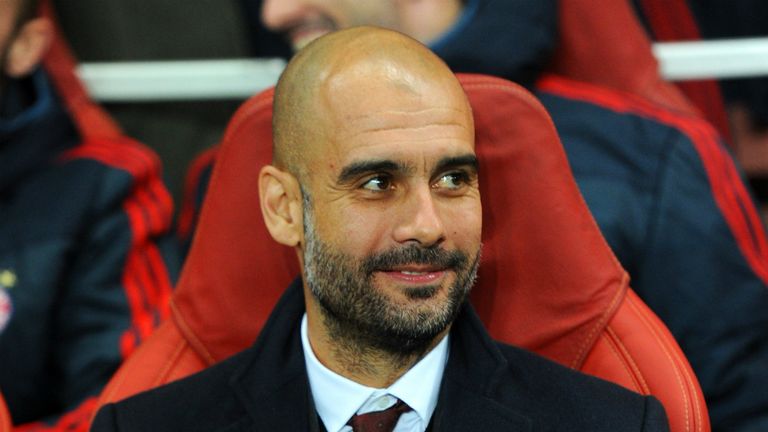 The Germans will defend a 2-0 lead at the Allianz Arena gained from their trip to London last month.
The match at Emirates Stadium could have been so different but for an early penalty miss by Arsenal's club-record signing Mesut Ozil.
The Gunners then had goalkeeper Wojciech Szczesny sent off before second-half goals from Toni Kroos and Thomas Muller put the reigning European champions in control of the tie.
Arsenal faced a similar situation in last season's competition. Then, they trailed 3-1 from the home leg but managed to win 2-0 in Germany to bow out on away goals.
Based on that, Guardiola knows Bayern must not take anything for granted.
"Winning 2-0 in London was a very good result for us, but it is also dangerous," said Guardiola, whose side romped to a 6-1 triumph at Wolfsburg to move 20 points ahead of the rest in the Bundesliga.
"We have a very good chance to go through, but we have to be in the situation that we really focus on the game.
"We have to bring our ideas across in the way we play, and know what the strengths are.
"The Champions League is a huge game for us, it is not like a day-to-day game in the Bundesliga.
"We have to do our best."
Guardiola knows possession will be key to subduing Arsenal's forward supply line.
"We have to make sure we have the ball, that we really attack well and go through to the next phase," he said.
"They have a lot of quality, so we have to make sure we have a lot of possession."
Guardiola added: "We have to make sure they do not score a goal.
"We have to have that offensive idea and to play with the type of mentality that we win, otherwise we will have a problem.
"The quality is there.
"When I analyse Arsenal and the first game (last month), we saw the quality of (Santi) Cazorla, we saw what happened until the (early) penalty (Mesut) Ozil missed, what happened in the first nine minutes they were the nine minutes in this season when the opponent was better against us. They remain a good club, a good team."
"They can create two or three really great chances in two or three minutes. If you play in a really good team like Arsenal and are 2-0 down, anything is possible.
"People think '2-0 you don't have a chance in Munich', but that's the main problem for us.
"They have (Per) Mertesacker, (Tomas) Rosicky, (Kieran) Gibbs, (Mikel) Arteta a lot of very good players.
"I do not want to see Ozil control the game. That will be a big problem for us.
"This is not an easy game. We have to attack, give our best, be aggressive without the ball."