Champions League: Laurent Blanc wants PSG to attack Chelsea
Paris St Germain coach Laurent Blanc wants his side to adopt an attacking approach against Chelsea at Stamford Bridge.
Last Updated: 08/04/14 6:26pm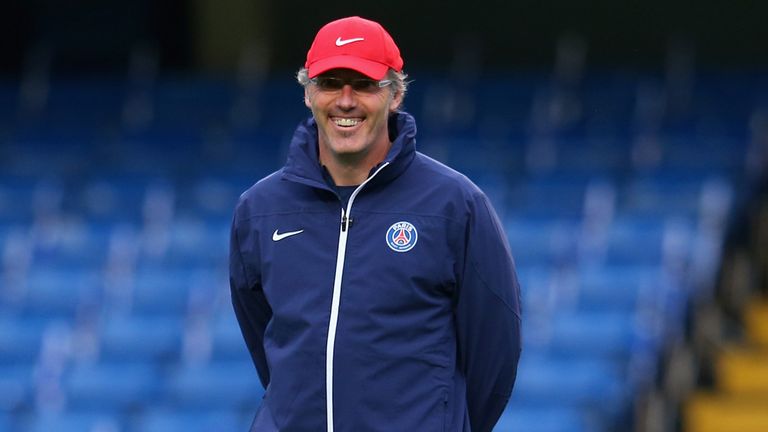 PSG, who have won 11 games in a row in all competitions, hold a 3-1 lead after the first leg at the Parc des Princes last week.
Having lost only one of their last 17 Champions League matches, Blanc is confident his team have what it takes to reach the semi-finals for the first time since 1995, but is expecting a backlash from Jose Mourinho's side.
"We believe in certain things and I have always believed that taking the game to the opposition is the best way of winning trophies," said Blanc.
"We have not come here to suffer and let Chelsea dictate the game to us and dominate us. A role of a top team is to dominate the game even away from home.
"Our philosophy is an attacking one, we like to keep the ball and pose problems to our opposition. It would be wonderful to try to qualify by putting this philosophy into action."
Swedish striker Zlatan Ibrahimovic, who has scored 10 Champions League goals this season, will miss the game with a thigh injury he sustained in the first leg.
But South American duo Ezequiel Lavezzi and Edinson Cavani, part of the Napoli team that were knocked out of the competition by eventual winners Chelsea in 2012, will look to continue PSG's run of scoring in 17 successive Champions League matches.
"I think the first leg we saw Chelsea defend very compactly," said Blanc, whose side have a 13-point lead at the top of France's Ligue 1.
"That is very good for Ezequiel Lavezzi because he likes to have space down the flanks and he has got a lot of speed.
"We caused problems for Chelsea in the first leg and it is now a case to see if they play a slightly higher line. If they do it will leave space in behind for players like Lavezzi to exploit."
French midfielder Blaise Matuidi added: "Chelsea are a great team. In the first leg we saw their quality and they don't often lose here.
"We are going to focus on our philosophy and we have got the quality to get the ball and play.
"I think it would be incredible (to reach the semi-finals). The French public are hoping for that."