Champions League: Manchester United's David de Gea inspired by 1999 as he targets win over Bayern
David de Gea is confident that Manchester United can seal another famous victory over Bayern Munich.
Last Updated: 09/04/14 6:41pm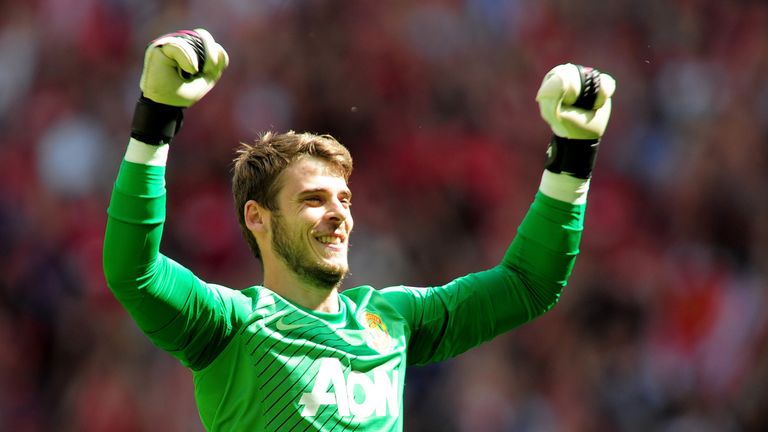 Injury-time goals from Teddy Sheringham and Ole Gunnar Solskjaer secured a stunning 2-1 win at the Nou Camp in 1999 as United became European champions and left Bayern shell-shocked.
De Gea admits the memory of that night has stayed with him, saying in The Sun: "I was only eight at the time but I have seen it replayed a thousand times.
"It was unbelievable, almost something that could never be repeated, to turn the game on its head in no time at all.
"You won't see many European Cups won in the fashion United did that night."
United will once again do battle with Bayern on Wednesday night, and De Gea believes they can upset the odds to reach the semi-finals.
Last week's first leg at Old Trafford finished in a 1-1 draw and the Spanish goalkeeper was delighted with the character United showed.
De Gea added: "We have a chance over there. The tie is in the balance, it's wide open and we'll fight until the end.
"Our team has big hopes of going there and getting the victory.
"This is a big club and at difficult moments that is when you stand up and show people how big you are.
"People thought it was going to be easy for Bayern but we produced a big performance."
United adopted a cautious approach in the first leg but did carve out a couple of good chances on the break and De Gea was proud of their performance.
He said: "We played them in a proper way. We didn't let them play like they're used to and it frustrated them.
"We feel we played really well, it was a big effort and we might even have won.
"We knew we had to defend well, shut down the spaces and hit them on the counter-attack and we had some clear chances. Defensively we were good, we kept it tight. I think we unsettled them."