Andre the giant
Watching Chelsea in Europe might at times seem like Groundhog Day but never mind Bill Murray taking out his frustrations on an alarm clock, it was Andre Schurrle who gave Jose Mourinho's men a sharp wake-up call in the memorable comeback against PSG...
By Peter Fraser - Follow me on Twitter @PeteFraser_
Last Updated: 09/04/14 9:23am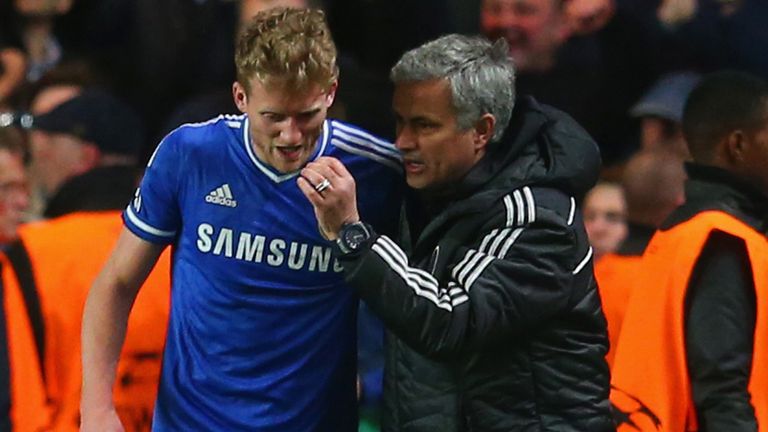 Outfought and outplayed. That was the story of Chelsea's performance after 18 minutes of Tuesday night's UEFA Champions League quarter-final second leg against Paris Saint-Germain.
Jose Mourinho's team were trailing their opponents on passing accuracy and duels won up to that minute. They were chasing shadows in midfield as a 4-2-3-1 formation was overrun by Laurent Blanc's 4-3-3 line-up. Despite the very early stage, it looked like a night when a Chelsea comeback was never going to materialise.
Things then seemed to go from bad to worse. Injury forced Eden Hazard to be replaced by Andre Schurrle. It immediately appeared like a major problem for Chelsea. Hazard has been their player of the season and is their top scorer in the Premier League. That form is a reason why he has been linked with a transfer to PSG.
However, the Belgian had not looked fit from kick-off, had only touched the ball 11 times and had played just eight passes before he was substituted. In his place on the left flank of Chelsea's advanced midfield three, Schurrle came on and appeared almost some sort of imposter as he and his club-mates came back to earn an epic win 3-3 on away goals.
This memorable second-leg turnaround should not be a night for just an unruffled Mourinho to be praised for more fine tactical thinking in Europe, regardless of planning for different scenarios and even another touchline sprint which will no doubt be replayed for many years. Indeed, there is an argument for Blanc having had the better of his more-experienced opposite number in phases over the two legs.
The accolades in Chelsea's recovery must also go to the grit and endeavour which similarly epitomises Mourinho teams. It is a reason why the Portuguese has never lost a two-legged continental European quarter-final and Schurrle personified that factor.
MATCH HIGHLIGHTS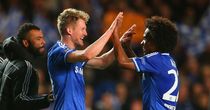 Sky Sports subscribers can watch highlights of Chelsea v PSG.
After an £18million move from Bayer Leverkusen last summer, Schurrle has not entirely set the world alight at Stamford Bridge. The German is not technically brilliant and attempted just 19 passes in his time in the second leg on the field against PSG. His performance, though, in this comeback from a 3-1 first-leg defeat demonstrated his capabilities in what is developing into a strong personal end to the season.
Apart from his goal in the 32nd minute, his first in the Champions League since scoring for Leverkusen against Valencia in October 2011, Schurrle instantly gave Chelsea the drive and impact they had been lacking. Whenever he got the ball, he carried it forward and looked to get into the box; a task of which an unfit Hazard had been incapable (see below).
PSG and Blanc, a former World Cup-winning centre-back, will have been irate at the manner in which they conceded that opening goal of the night but that should not take away from the class of Schurrle's finish. He might sometimes look a little out of control with the ball when dribbling or passing but what is especially nice to watch about the way he shoots is the manner he does so with superb balance.
Such was Schurrle's impact, Chelsea had wrestled back a dominance of possession, albeit a narrow one (51.6%), by half-time and they had also narrowed the duels won count to just 27-25 in PSG's favour.
Chelsea's No.14 was superb in his role on the flanks, with him even being shifted to the right in the 66th minute to make room for Demba Ba - who scored the roof-raising 87th minute goal which saw Chelsea through, as Mourinho's team went for all or bust.
But Schurrle's performances in this tie also underlined the error Mourinho had made in playing him as a lone striker in the first leg in Paris. Schurrle represents a snapshot of why Mourinho's tactics were lacking in places against Blanc over these two legs. He also represents why the Chelsea boss will no doubt not make the same errors again as his team continue what had previously looked an unthinkable route towards the final when they lost at home and away to Basel earlier in this competition.
Watching Chelsea and Mourinho in Europe this season has at times seemed a bit like Groundhog Day - with counter-attacking tactics, as was the case against Basel. However, Schurrle's attitude, style and 'I'll show you' work ethic was perfect in the second leg. His in-your-face approach gave Chelsea a kick-start and freshness in a team which had previously not looked designed to chase the 3-1 aggregate scoreline. Never mind Bill Murray taking out his frustrations on an alarm clock, Schurrle was the man giving Chelsea the sharp wake-up call.
The German rattled the crossbar in the 59th minute with another beautiful shot and, not long after, again tested PSG goalkeeper Salvatore Sirigu. He finished the match with four shots of which two were on target and both totals were more than any of his team-mates. He also had one shot which was blocked (see below).
Inevitably, Schurrle's impact did fade slightly in the latter stages when Chelsea looked like they might have been running out of energy. The influence of Willian should also not go unnoticed after he was again excellent and covered vast ground in the heart of Chelsea's midfield. But Schurrle was still the man who had turned the tide earlier in the game when it mattered most to his team.
Chelsea have now reached the Champions League semi-finals in seven of the last 11 seasons. Mourinho has won 15 of his 22 Champions League games in charge at Stamford Bridge. On Tuesday night, it was Schurrle who helped keep up that remarkable pedigree.