Petr Cech and Andre Schurrle hail Chelsea spirit in Champions League win
Petr Cech hailed Chelsea's win on away goals over Paris Saint-Germain as one of the best in his time at Stamford Bridge.
By Tim Oscroft
Last Updated: 08/04/14 11:34pm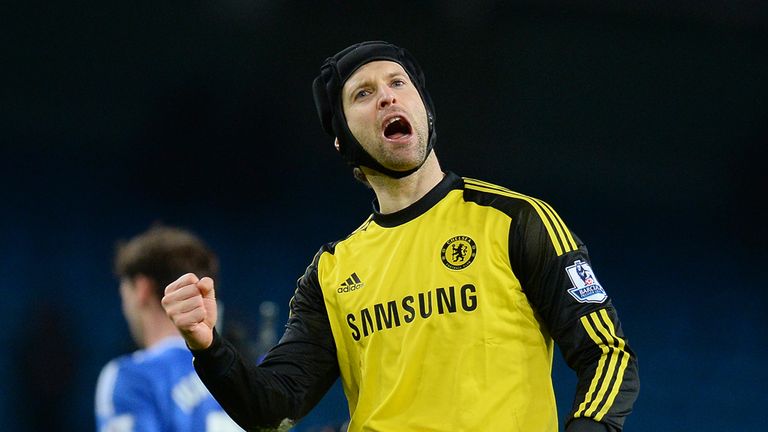 The Blues won through to the semi-finals of the UEFA Champions League with a 2-0 victory in the second leg, secured by substitute Demba Ba's close-range strike after 87 minutes, following on from their 3-1 defeat in the French capital last week.
Another replacement, Andre Schurrle, had set the Blues on their way with a goal before half-time, but the tie was still in the balance until late on after the home side had hit PSG's bar twice in quick succession early in the second half.
Chelsea overcame the same deficit against Napoli in the last 16 two years ago, beating the Italian side 4-1 after extra time, and for Cech this win was comparable with the one that helped them on their way to the 2012 Champions League title itself.
"It's right up there with the Napoli game, it was the same circumstances and we came to the game having to win by two goals against a very dangerous counter-attacking side," he told Sky Sports.
"They (PSG) did very well, but we were brilliant from start to finish. We dealt with the danger of their counter-attacks quite well regarding the circumstances, but we risked quite a lot in the second half so we had to make sure we were ready.
"What I liked was the moment when we hit the crossbar twice in a row, nobody put their head down. We just kept digging, and that was the key because we kept right on to the end."
Cech was in action deep into stoppage time, pushing a Marquinhos shot around his near post to keep Chelsea ahead, but the experienced shot-stopper shrugged off his contribution.
He added: "It was always going to be a frantic last five minutes like that, so we had to make sure everybody was ready and up to the task, but we were for the whole game, so it was not a problem."
Schurrle, who made a crucial contribution after replacing the injured Eden Hazard after just 18 minutes, praised Chelsea's relentless approach.
"We needed to have patience, we hit the bar twice but we never gave up, that's what the team is about," he said.
"When you see on the clock there is five minutes to go and you need to score, you don't give up. You put everything you have in the game."