Champions League: Bayern Munich coach Pep Guardiola aware of pressure to win Treble
Pep Guardiola has conceded it will be a 'huge mistake' if Bayern Munich fail to reach the Champions League semi-finals.
Last Updated: 09/04/14 6:39pm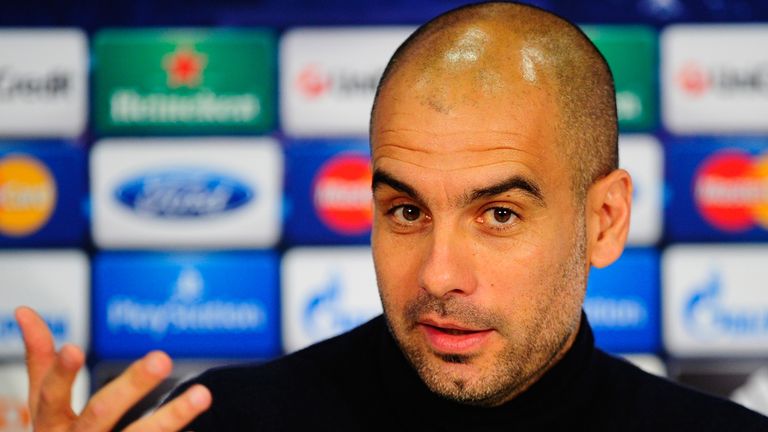 Bayern are favourites to progress to the last four after a 1-1 draw at Old Trafford in the quarter-final first leg, but will be without last week's goalscorer Bastian Schweinsteiger, Javi Martinez and Thiago Alcantara.
Guardiola is trying to emulate the feat of his predecessor Jupp Heynckes, who won the Bundesliga, German Cup and Champions League last season.
The domestic title has already been wrapped up, while Bayern face second division side Kaiserslautern in the semi-finals of the German Cup next week.
Former Barcelona coach Guardiola is aware of the pressure to win the Treble again and he is determined not to slip up at the Allianz Arena on Wednesday night.
"Here we have to fight," said Guardiola. "I am not here to compare myself with what Jupp did last season.
"We have won the Bundesliga, and if we are not in the Champions League semi-finals it's a huge mistake for us.
"I know if we are not in the final this club cannot deal with that. It's like life and death. It's important for me and the team. I knew that before I came here.
"I knew right from the start they won the Treble in the last season and I have got to be in the situation so that I can also get this Treble.
"If I don't do that, then, hey, it's not so good. I have to accept this situation.
"We have done what we had to do in the Bundesliga and now we have got to do what we have to do in the Champions League.
"I am sure they will give the best performance they can. I am an optimist. I don't know why, but I am."