Champions League: Andre Schurrle hails Chelsea team-mates who inspired win over PSG
Andre Schurrle admits he was left in awe at some of his Chelsea team-mates after their Champions League win over PSG.
Last Updated: 10/04/14 9:37am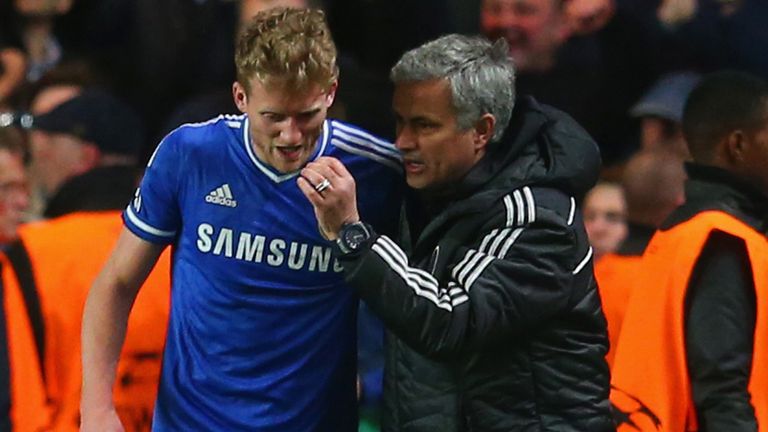 The 2012 European champions claimed the 2-0 win they needed in Tuesday night's quarter-final second-leg tie thanks to a dramatic last-minute goal from Demba Ba.
Schurrle, who came on early in the first half for Eden Hazard at Stamford Bridge, admits that it was an atmosphere and occasion that was new to him.
"Our experience came through," the Germany international told the Daily Express.
"If you have John Terry and Frank Lampard on the pitch, they've seen everything in football. It gives you a good feeling, because they know what to do.
"There's something in this team, it's hard to describe, but it's amazing. I've never played in a team like this before. I came here to be involved in games like this and be with a team who have what it takes to go through."
Schurrle admits that Jose Mourinho played a key part in the victory.
"He played a big role. We had many meetings. He knew the situation. He gave us advice," he said.
"Before the game, we said that we had to play like we always do. A little bit more risk, maybe, because we needed to score.
"But the boss said that we needed to be patient because we could score at any time. We wanted to score in the first half because then we had all the options. But after that we needed patience, because everybody wanted to go, go, go.
"The manager said it didn't matter if we scored in the 46th minute or the 90th minute. And that's what we did.
"Why did we believe? Because almost every time we've played at Stamford Bridge this season we've scored two goals. And we only needed two. So that's what we did.
"We scored twice and they got nothing. We utilised the plan."
Schurrle insists that Chelsea are happy to face any one of Real Madrid, Atletico Madrid or Bayern Munich in the last four.
"We won't be underdogs," he said. "We can win against every team. That's how we will manage - no matter who we get."