Champions League semi-final draw: Chelsea face Atletico Madrid; Real Madrid meet Bayern Munich
Chelsea will face Atletico Madrid in the semi-finals of the Champions League, while Real Madrid meet Bayern Munich.
Last Updated: 12/04/14 5:50am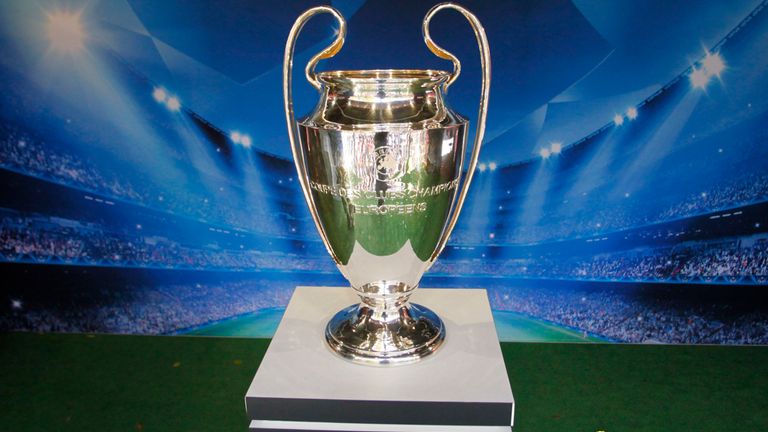 Jose Mourinho's side will face the Spanish league leaders at the Vicente Calderon Stadium in the opening game before playing Diego Simeone's side at Stamford Bridge.
The draw has thrown up an intriguing talking point, with Chelsea reportedly wanting Atletico to pay them in order for on-loan Blues goalkeeper Thibaut Courtois to feature in the tie.
UEFA have released a statement insisting the Belgium international should be free to play in both matches and Chelsea CEO Ron Gourlay confirmed that would be the case, although he did not specify whether a fee would need to be agreed first.
"They're all fantastic sides. The important thing to us was to make sure we were in the semi-final," Ron Gourlay told Sky Sports News when asked about the tie itself.
"We need to make sure we are totally prepared for these games. I'm sure Jose will make sure we are but we have some important games before that.
"We have ambitions at this football club and we are evolving all the time. We would like to win back the Premiership and we would like to win the Champions League.
"It will be a fantastic game. It doesn't matter who we play at this stage.
"We will be looking forward to it and for the team that comes through, there is a nice trip to Lisbon as well.
"The key here is that we continue building for the future and we are heading in the right direction.
"We've reached this competition many times in the past 10 years and we are up there competing. We can look forward to the next few weeks and see where we end up."
Mourinho avoided a meeting with former club Real Madrid, who will go up against defending champions Bayern Munich.
That tie sees former Barcelona manager Pep Guardiola, now in charge at Bayern, take on old rivals Real.
Real coach Carlo Ancelotti, whose side lost their quarter-final second leg 2-0 to Dortmund on Tuesday but went through 3-2 on aggregate, said: "Yes, we were poor against Dortmund but it doesn't matter because we made it through.
"If we want to win the Champions League we then have to beat everyone, including Bayern."
Despite reservations over two sets of visiting fans being in the same city together, UEFA has given the go-ahead for Atletico to play Chelsea on April 22 with Real taking on Bayern the following evening.
Chelsea will host Atletico in the second leg at Stamford Bridge on April 30, 24 hours after Real take on Bayern at the Allianz Arena.
The final will take place at the Estadio da Luz in Lisbon on Saturday 24 May.
Chelsea's Premier League match with Sunderland, which was scheduled for April 20, has been brought forward to April 19.
Sky Sports commentator Alan Smith reckons Mourinho will be happy.
He told Sky Sports: "It's not a reason to rejoice because Atletico are many people's dark horses in this competition under Simeone, the way they've progressed through and conceded just five goals so far, which is remarkable.
"But you don't want to be playing Bayern Munich and you don't want to be facing that attack of Real Madrid so given the situation in the last four, Jose Mourinho will take that draw all day long."
And Ray Wilkins believes the Blues' 'exceptional' defence gives them a good chance.
"I watched the Barcelona-Atletico game and there were chances galore. It was very similar in the other match as well so Chelsea with their defensive set-up have as good a chance as anybody," he told Sky Sports News Radio.
"They have a defensive quality that is exceptional. Okay, the strikers haven't functioned as Jose would have liked them to, but in the midfield section they have so much creativity and goals."
Champions League semi-final draw
Real Madrid v Bayern Munich
Atletico Madrid v Chelsea