Champions League: David Luiz backs Jose Mourinho to lead Chelsea to victory over Atletico Madrid
Jose Mourinho's tactical acumen will be the difference between Chelsea and Atletico Madrid, according to David Luiz.
Last Updated: 22/04/14 7:13pm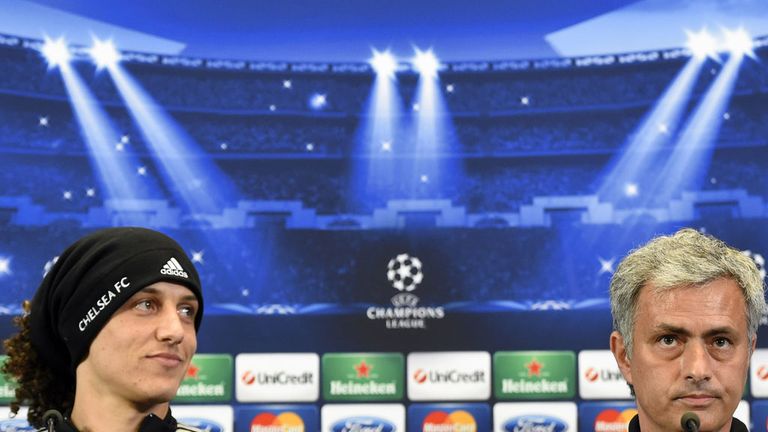 Former Real Madrid boss Mourinho returns to the Spanish capital tonight for the first leg of Chelsea's Champions League semi-final against Atletico.
Mourinho gave a guarded press conference on the eve of his record eighth semi-final as a manager, hinting at a strategy to deal with La Liga leaders who are on course to break a nine-year Barcelona-Real stranglehold on the Spanish title.
And Luiz is confident Mourinho's secret masterplan will lead 2012 winners Chelsea to a third successive European final.
He said: "It will be a great match. What's the key? We have a plan but my boss didn't speak about it so neither will I.
"Jose Mourinho knows the team he has and he knows what he has to do to win.
"Our idea is to win every match, we've had a great season and now we are reaching the time when crucial details make a difference.
"It's a dream to play in a semi-final. I was lucky enough to play (in the final) two years ago and I'm still thirsty for it. Everybody has a dream.
"I think we have a great team, we've managed to reach the semi-final, we all want to win and let's hope we can get to the final."
Asked how he planned to deal with an Atletico side led by prolific striker Diego Costa, Mourinho said: "It's with my players that I have to share my opinions about Atletico.
"I have watched them play lots of times. When we got them in the draw, from that moment I watched them play with better eyes.
"I study a lot, I try to be ready to make my players understand what Atletico is, but I have no interests in sharing with you (the media) my vision."