Juanfran says Atletico Madrid have no fear of facing Chelsea in Champions League
Atletico Madrid defender Juanfran insists Chelsea hold no fears for them in their UEFA Champions League semi-final.
By Francisco Acedo
Last Updated: 22/04/14 10:35am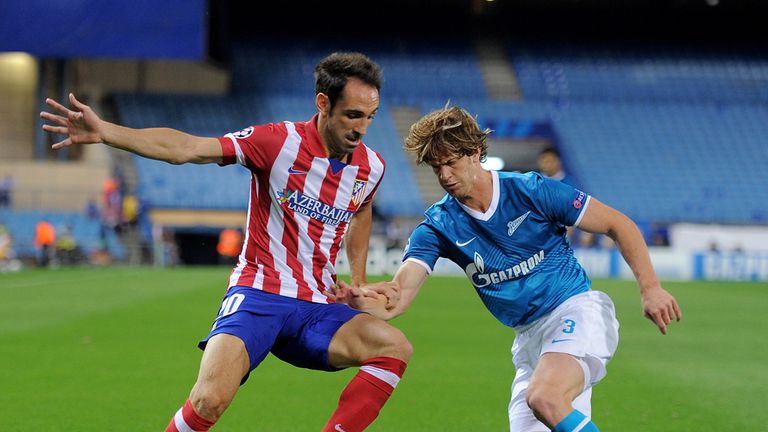 Atletico have been the surprise package of this season's Champions League campaign after reaching their first semi-final in Europe's premier competition since 1974.
Diego Simeone's side play host to Chelsea at the Vicente Calderon on Tuesday and Juanfran is confident they can get the better of Jose Mourinho's men despite their opponents' greater experience in the Champions League.
"Nobody has fear of Mourinho and Chelsea," Juanfran told Sky Sports. "These two matches are life and death and we will do everything to win.
"Our challenge is to play in the final in Lisbon and we have been preparing for this game against Chelsea since the day of the draw.
"Chelsea have the bigger name than us in Europe in the last few years, but now the situation is level and we are capable of beating Chelsea.
"This season Atletico is living a dream, but in the next weeks arrives the best times and we want more and more."
Full-back Juanfran also feels Atletico's passionate fans will be vital to their chances of earning a lead to take into the second leg at Stamford Bridge.
"The support of the fans will be our first goal on Tuesday," noted Juanfran. "They are crucial for us to enter in the final."
Spain international Juanfran believes Atletico's work-rate in midfield and in attack could be the key to them overcoming Chelsea over the two legs.
"The experts say that Atletico and Chelsea play with similar systems, but I think that we play the biggest intensity in midfield and success in the attack," added Juanfran. "These are the key elements for these two matches."
The game will see former Atletico star Fernando Torres come up against his old club and Juanfran insists they will put friendships aside on the pitch.
"If Fernando plays that is no problem," continued Juanfran. "He is a friend, but for these matches he is a rival.
"On the pitch we hope he does not participate a lot because he is a threat and we know how to stop Fernando."