Chelsea goalkeeper Petr Cech to miss rest of Premier League and Champions League
Petr Cech will miss the remainder of Chelsea's season after suffering a shoulder injury in the draw at Atletico Madrid.
Last Updated: 23/04/14 3:26pm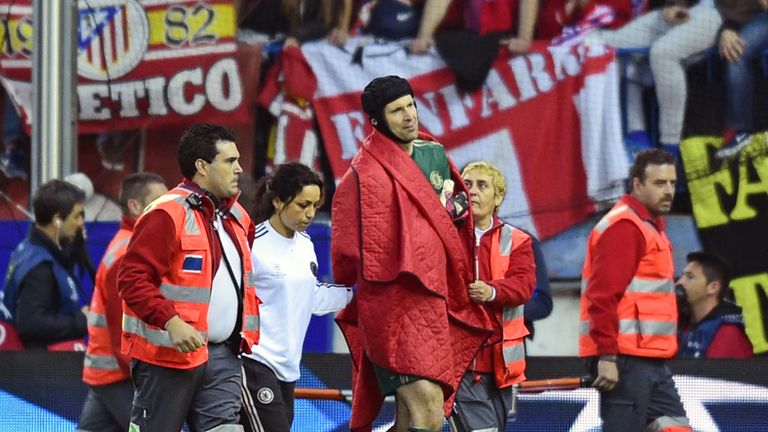 And captain John Terry will not play again before the Lisbon final - if Chelsea get there - after he limped out of the contest at the Vicente Calderon in the second half.
Jose Mourinho confirmed after the game that Cech, who was forced off in the 18th minute, will not feature again for the remainder of the campaign.
The dogged defensive display came at a cost for Mourinho as Cech departed in the first half and Terry was then replaced after 72 minutes with a foot problem.
Midfielders Frank Lampard and John Obi Mikel also picked up bookings which will see them suspended for next Wednesday's return.
Cech was injured as he punched the ball from underneath his own crossbar, with David Luiz pushing Raul Garcia into the Chelsea goalkeeper who hit the ground heavily and was replaced by Mark Schwarzer.
He will now miss the final three matches of the Premier League season, beginning at leaders Liverpool on Sunday, as well as the conclusion to the European campaign.
Mourinho said: "Petr Cech's season over. Don't ask me technically, but season over.
"And John - we have to play the final for him to play with us."