Eden Hazard and John Terry both fit to play for Chelsea against Atletico Madrid
Eden Hazard and John Terry will play for Chelsea against Atletico Madrid on Wednesday, but Petr Cech has been ruled out.
Last Updated: 30/04/14 7:05am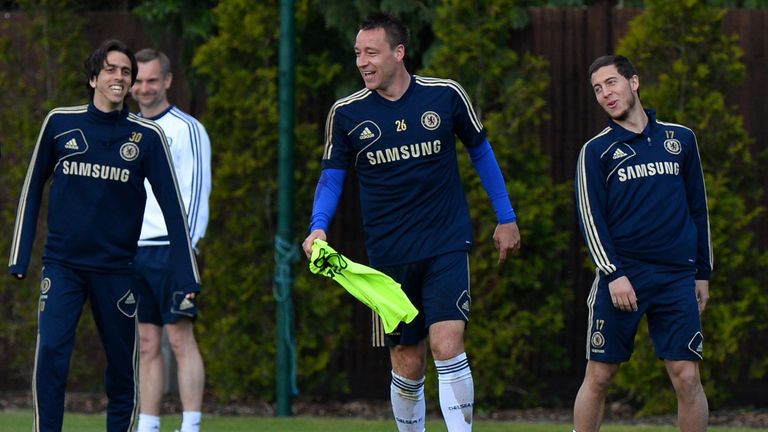 However, Petr Cech will not feature despite training on Tuesday morning after suffering a dislocated shoulder in the first leg.
Hazard has not played since suffering a calf injury in the quarter-final second leg victory over Paris Saint-Germain on April 8, but trained with the Blues ahead of the clash with the Spanish league leaders.
"He is ready," said Mourinho of the Belgium international on Tuesday evening. "It's my option whether he starts or not, but he is ready."
Terry missed the 2-0 win at Liverpool on Sunday with an ankle problem suffered in the first leg and Mourinho believes the former England international "deserves more" from the Champions League after a challenging time in the competition.
The Blues skipper missed the decisive penalty in the 2008 final loss to Manchester United in Moscow and was absent for the 2012 win in Munich through suspension.
"I think he deserves more than the Champions League gives to him until now," added Mourinho. "He lost a few semi-finals in special circumstances, he lost the final also in special circumstances.
"He won a final, also in special circumstances, because he couldn't play the final. I think the Champions League owes him something.
"My captain is playing at the same level as when I left Chelsea in 2007/08. Six or seven years later he is playing at his best level. It's fair to say that."
Cech trained on Tuesday alongside injured personnel, suspended players and those fully fit to show solidarity, added the Chelsea boss.
"Everybody's ready and he's ready and that's the message we wanted to give," he said. "Everybody was on the pitch.
"It's a very important match for our group. Everybody's together, everybody wants to help, everybody wants to play.
"His condition doesn't allow him to play, but the message is from him and the group."
Mourinho expects a difficult tie, with Chelsea's home advantage reduced by the fact they failed to score an away goal in Madrid last week.
"They are a good side. They are not a counter-attack side. They are a good side. They defend well, they score goals. They win matches. It's fair to say they are a very good team," he added.
"Against PSG we were in a position where we had nothing to lose and no one expected us to turn the result around. This is different.
"A draw with goals is good for them and not us, so you cannot say who has the advantage. To play at home is to play at home, but to have the advantage of away goals, it is very balanced.
"We have to enjoy and let's see if we go to Lisbon or not. I will go for sure in the summer, but let's see if we can go together."
Mourinho has reached the last four of the Champions League in eight of the last 11 seasons, but he does not believe that experience will be of any benefit on Wednesday.
"I don't think it's a crucial point. Maybe it helps me sleep better tonight, but during the game, maybe one goal is the difference, so everyone needs to be at the top level," he said.
"During the 90 minutes the players are more important than the manager. I trust them a lot and that helps me to be calm. I will enjoy it."
Watch Chelsea v Atletico Madrid live on Sky Sports 1 on Wednesday, with coverage from 7pm.