Champions League: Atletico Madrid coach Diego Simeone determined to reach final
Atletico Madrid manager Diego Simeone insists winning is all that matters in tonight's Champions League semi-final.
Last Updated: 30/04/14 9:07am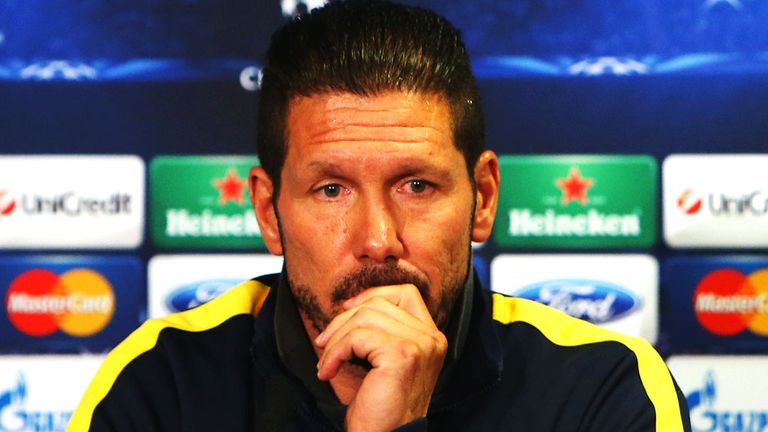 Chelsea boss Jose Mourinho produced a defensive masterclass to derail Liverpool's Premier League title hopes at Anfield on Sunday but the Argentine admitted he would also try to win by any means necessary at Stamford Bridge tonight.
"I'm a football man, I respect different ways of setting out your team," Simeone said with the tie goalless after the Vicente Calderon clash. "You can play 10 at the back or you can play 10 at the front. It doesn't matter. What matters is the result.
"It depends what you believe is the convenient way of playing and who you're playing against.
"To defend well is not easy, so you have to congratulate a team that defends well.
"To attack well is not easy either, so you have to congratulate also a team that goes on the attack.
"It's important that, regardless of how you play, that the team wins, that the club wins, that the institution as a whole wins.
"There is not one way of playing football. If we all played the same way it would be very boring."
Atletico are on the verge of an historic season which could finish with the Primera Division title and a Champions League final in Lisbon on May 24 against city rivals Real.
"I'm not thinking about what we've achieved," said Simeone, who has two-and-a-half years as Atletico boss behind him.
"I'm not focusing on where we are at the moment, I'm just focusing on keeping on moving forward.
"I'm not comparing Chelsea, a team that won the Champions League two years ago, with Atletico Madrid.
"In the end the best team will win and I believe with our hard work, I believe we can do well and maybe try to get a positive result."
Atletico goalkeeper Thibaut Courtois is set to play at Stamford Bridge for the first time as a Chelsea player against his parent club.
The Belgian joined the Blues from Genk but has spent three years on loan in Madrid.
Simeone added: "I think he'll be able to handle the pressure without any problem.
"He's working hard to compete, to be one of the best goalkeepers at the moment.
"So far, he's still a very young player. He's still a player that's growing. He still needs the time to mature and to grow."
Watch Chelsea v Atletico Madrid on Sky Sports HD1 from 19.00 tonight