Sky Sports' Graeme Souness on Manchester City's tactics against Ajax
Graeme Souness was baffled by Roberto Mancini's tactics during Manchester City's defeat to Ajax.
Last Updated: 12/09/13 1:54pm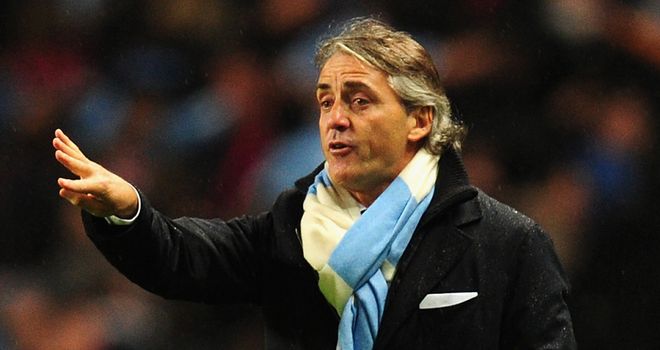 City lost 3-1 to Ajax in Amsterdam as Samir Nasri's strike was rendered irrelevant by goals from Siem de Jong, Niklas Moisander and Christian Eriksen for the hosts. The defeat leaves City at the bottom of Group D with just one point from their opening three fixtures.
Mancini asked his team to switch from four to three at the back midway through the second half causing some confusion on the pitch and Micah Richards later conceded that the players had had little preparation in the new system.
And Souness suggested that Mancini may have made a big mistake that will put him under pressure and could end City's hopes of reaching the latter stages of the competition.
"If they have not been working on that system on a daily basis and the manager wants to go down that road then he has put himself up for criticism," Souness told Sky Sports.
"They won the league playing with a four, conceded the fewest goals and all of a sudden he wants to change it and go with a back three.
"If you have the players to do that, do it. He has tried it before and it has not worked. I think the bigger players in the dressing room would have expressed their opinion that they do prefer to go with a four. Unfortunately for Roberto he has put himself under a bit of pressure."
Blame game
Fellow pundit Jamie Redknapp believes the players' performances as much as the system was to blame. And he said the big danger for City now is that the players begin to turn on themselves and factions develop within the squad.
"What they will have a problem with now, in my opinion, is that they will have divisions in that group saying 'I am blaming everybody else'. They must not let that happen because once you let that happen in the group you have big troubles.
"For 65 minutes at 2-1 they were playing 4-4-2 and they would have all been comfortable in that. He changed the system but that should not make that much of a difference. That should not throw you out.
Why?
Former Holland international Ruud Gullit was as surprised as his fellow panellists at Mancini's decision to change the team's tactics in the second half, especially against an Ajax team that stuck to type and deployed a front three with just one central striker.
Gullit said: "For these quality players it is a huge disappointment. I was also a little bit disappointed that he went to three at the back - why? Why against Ajax? You know they play with three strikers, with two wingers and one in the middle."