Reds and Blues
Dietmar Hamann previews the Merseyside derby and looks at Manchester City's Champions League woes.
Last Updated: 27/10/12 1:31pm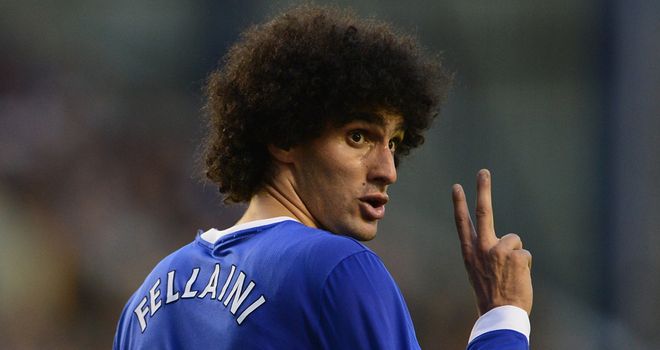 Everton battle Liverpool in the first Merseyside derby of the season on Sunday and you can see all the action live on Sky Sports 1 HD and in Sky 3D from 1pm.
Ahead of the clash, former Reds midfielder Dietmar Hamann spoke to Sky Sports News about the two sides' respective form and assessed which men could play key roles at Goodison Park.
The one-time German international also played for Manchester City during his time on English soil and so gave his thoughts on the the club's toils in the Champions League, too, as well as City defender Micah Richards' criticism of Roberto Mancini's three-at-the-back tactics...
The Merseyside derby
"Everton have come flying out of the traps and David Moyes has built a fantastic team there; they are playing like a top-four team at the moment and there is no reason to believe they can't finish there. They did it a few years back and their squad is now bigger and stronger than it has been over the last few seasons. Steven Pienaar (suspended) will be a big loss and a lot will depend on if and how Marouane Fellaini (who has been sidelined by a knee injury) plays because he has been a revelation since he has been playing in the more advanced role. If he does not play on Sunday that could swing the game in in Liverpool's favour. As for Liverpool, things are coming together slowly but surely; they have kept a couple of clean sheets lately and look a lot better defensively. I expect a tight game with two teams who are pretty much in form."
Liverpool's youngsters
"Liverpool lost a lot of experience and goals in the summer in Craig Bellamy, Maxi Rodriguez and Dirk Kuyt, while the ones coming in were pretty much young players. They have been given their chance, though, and a lot of them have been standout performers; Suso, Raheem Sterling (pictured) and Andre Wisdom have been fantastic in the last few games and not looked out of place. But it is important you are not too harsh on them if things don't go well as they are playing on a regular basis for the first time and are only in their teens."
Man City's Champions League struggles
"It is only Man City's second season in the Champions League and they have got a lot of experienced teams in their group, but I expected them to do better. It would be a massive failure if they didn't make it out of the group for the second year running as they have one of the strongest squads in Europe. They are very lucky to have one point on the board and if they had lost against Dortmund it would have been all over. They still have a slight chance, but they have found it hard. As English champions, everyone wants to beat you and they are struggling to deal with that at the moment and are not at the same level they were last season."
Richards' criticism of Mancini's tactics
"I found it surprising that players came out after the 3-1 defeat to Ajax and said they hadn't worked on certain shapes and it is always a bad sign when these things happen. Players shouldn't be talking about tactics afterwards, they should be talking about their own performances and whether they have done well or not. To say these things in front of a camera about the manager is detrimental to the team spirit. Plus, they played three at the back before - they did it against Liverpool at Anfield - and they certainly have the capability and the strength in depth to deal with whatever formation they play. It would be premature to question the manager as he has done wonderful things since he took over. City have spent a lot of money but it's a big job to get all these players under one roof and all happy at the same time. I think he has done a good job so far but the form obviously has to pick up."