Manchester United's young side performed well against Galatasaray, says Dwight Yorke
Manchester United's young side equipped themselves well against Galatasaray, says Dwight Yorke.
Last Updated: 21/11/12 10:21am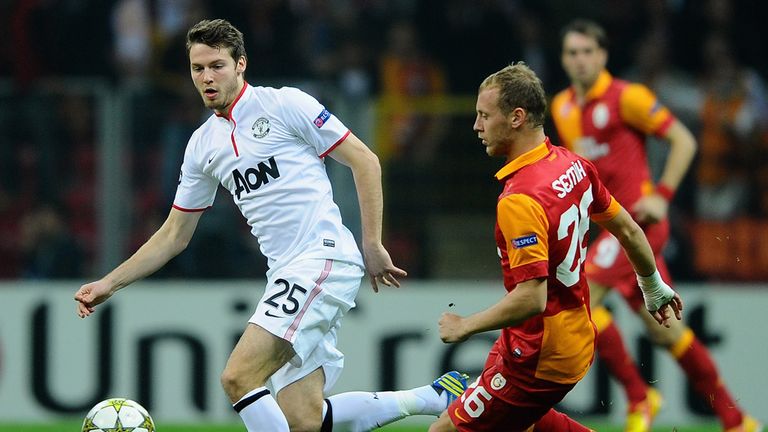 The Turkish side prevailed 1-0 to keep their qualification hopes alive but, with United already guaranteed a spot in the last 16, Sir Alex Ferguson was able to experiment with his line up - and his young side stood up to the challenge well, said Yorke.
"They played extremely well, especially in the first 20 minutes of the first half," said the former Old Trafford striker.
"They weathered the storm, came back at Galatasaray and created a lot of chances. They regained possession of the football, which is important in such a volatile atmosphere, but nevertheless I think they'll be bitterly disappointed to have lost.
"In the second half Galatasaray knew they were falling behind in the group with Cluj winning in the other match and they had to throw the kitchen sink at United.
"Set pieces were always going to be a problem for United because they didn't have a great deal of height in their team with key players missing. They didn't deal with the corner for the goal, which is disappointing, but it was still a good performance from the lads.
"It's an unbelievable place to play football; the crowd are so vocal in the stadium the players can't hear themselves think, let alone communicate while they're playing.
"But despite the problems with the pitch and the volatile crowd, the players showed a lot of character, they didn't panic and they kept them fairly quiet."
Powell praise
One player who stood out for Yorke was 18-year-old Nick Powell, who United signed from Crewe Alexandra in the summer.
The forward put on a confident display in his first Champions League start and showed flashes of his potential, hitting the bar with a header in the opening 45 minutes.
"In spells I thought he played extremely well," said Yorke.
"It was very difficult for the young lad playing in that pivotal role in between the midfield and strikers but we've seen some good passing and some good vision from him.
"He was excellent on the ball at times and his decision making was really good. He seemed to run out of steam a little at the end but he had a great opportunity with his header to stamp his mark on the game. I'm sure his confidence would have been even higher if that had gone in.
"But the signs are good and that experience will put him in good stead, for sure."