A royal contest
Sky Sports looks at the standout showdown between European giants Manchester United and Real Madrid after they were drawn together in the Champions League last 16
Last Updated: 01/02/13 1:44pm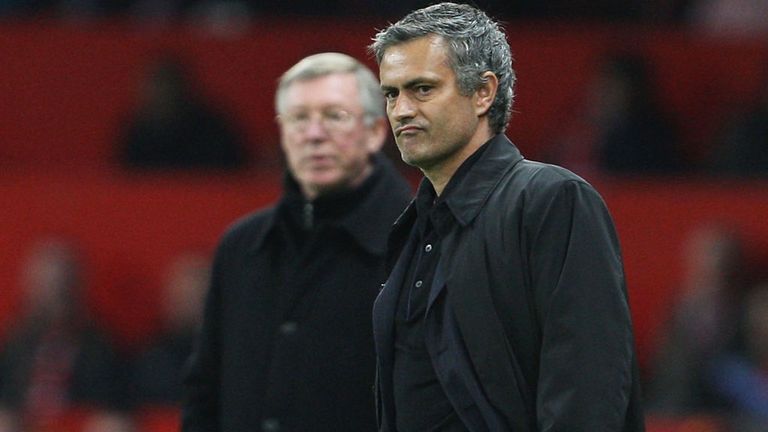 Football uses hyperbole like a Ferrari burns petrol but the knockout stages of the UEFA Champions League threw up one contest which does not need any artificial pumping on the accelerator - Manchester United versus Real Madrid.
It pitches Sir Alex Ferguson against Jose Mourinho, the man many believe could one day take over at Old Trafford.
It pitches Wayne Rooney, arguably the most talented English player in the Premier League, against Cristiano Ronaldo, the former United star whose record at Real rivals Barcelona's Lionel Messi as the best player in the world.
It pitches together the two richest and most famous football clubs in the world, as ranked by financial analysts Forbes, in a draw which also sees Celtic take on Juventus and Arsenal play Bayern Munich.
But it is the England against Spain battle which will stir the blood of the wider footballing public.
There is something about Mourinho which draws him to United. When his former Inter Milan side played there in 2009, he made a point of sitting alone in the wide expanse of an empty Old Trafford pre-match to soak in the tradition.
He left a 2-0 loser but even then it was almost as if he was preparing for a more permanent stay at Britain's biggest club stadium.
Phenomenal
Earlier in December, Ferguson backed the man, who branded himself the "Special One" when he arrived in England as manager of Chelsea in 2004, as a future boss at Old Trafford.
It turns their Champions League clash into more than a football match. It turns it into a job interview.
That is the sub-plot off the pitch. On it, there is the little matter of Ronaldo returning to Old Trafford for the first time since he left in an £80million world-record transfer.
Did he do the right thing? Well, the statistics say he has become an even better player. For United, Ronaldo scored a commendable 118 goals in 282 matches. For Real, he has been little short of phenomenal.
He scored 33 goals in 35 matches in his first season, 53 in 54 in his second, 60 in 55 in his third and this season has notched 23 so far in 25. That is a perfectly balanced 169 goals in 169 matches.
Would United have surrendered their title to Manchester City last season with that sort of fire power? Hardly.
Would Ferguson have added to United's three European Cup/Champions League successes if he had managed to persuade Ronaldo to stay? We will never know but the chances are he would have done.
Yet the form book favours United. Ferguson's side are six points ahead of Manchester City in the Premier League title race. By contrast, Real lie in third place in La Liga, 11 points behind leaders Barcelona.
There have been stories of Mourinho unrest in Spain. Ronaldo's love for the club, too, appears to have dimmed and Real have lost three times already this season in the league.
Love affair
But that would be to forget Mourinho's love affair with the Champions League, a trophy he won with Porto in 2004, after knocking out United on the way with a famous touchline celebration, and again with Inter Milan in 2010.
In truth, the latest contest between Ferguson and Mourinho is too close, too packed with game-changing talent, to call, although United, who have the benefit of playing at Old Trafford in the second leg, will start as slight favourites.
The same cannot be said of Arsenal, who have struggled for consistency this season and face a Bayern Munich side who reached last season's final and were unlucky not to beat Chelsea.
Celtic, too, face the challenge of Juventus, currently the form team in Europe, who trounced Chelsea in the group stage in November and who lead Serie A by seven points.
On the surface, it could not be more difficult for the British sides. But then, remember Celtic beat Barcelona in November despite enjoying only 16.4 per cent possession. Such is the unpredictable and enduring attraction of football.