Five Fergie questions
Nick Miller muses over five questions Sir Alex Ferguson needs to answer to get a result in Madrid as he plots to get one over his old (friendly) sparring partner Jose Mourinho
By Nick Miller
Last Updated: 13/02/13 12:17pm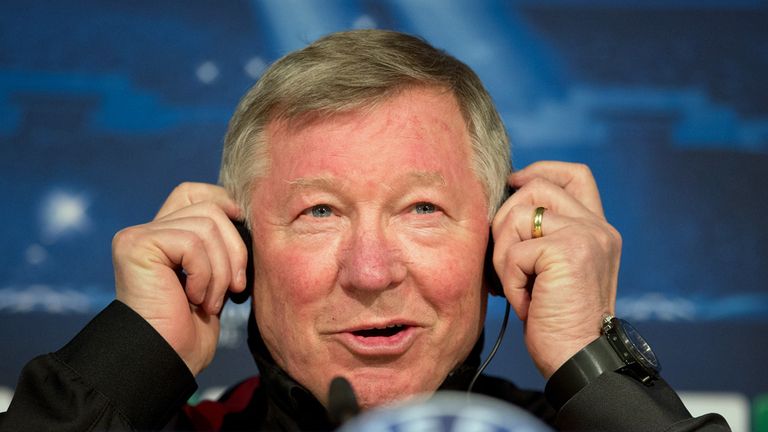 Should he make any special plans for Cristiano Ronaldo?
Real may have had a bad season overall, but the man still coveted by many United fans very much has not. Ronaldo has 21 goals from 21 starts in La Liga, with a further six in six Champions League encounters to top up his tally. United of course know plenty about the pouting Portuguese, but knowing what's coming is different from actually being able to do anything about it. The danger with paying too much attention to one player is obviously that it then gives the rest of the team too much space to play with, and in a side like Real, however badly they've been playing, there are plenty of threats from elsewhere.
There is a middle ground, though. Rafael will presumably start at right-back, and Ferguson could play someone who will gladly track back and defend ahead of him on the right wing. The problem there is that United's specialist wingers aren't really the grafting sort, but Danny Welbeck, slowly morphing into United's version of Dirk Kuyt, could be asked to do a job on the flank. A much-discussed alternative could be to play Phil Jones on the right side of a three-man midfield, asking him to drop back from the centre to help out Rafael, a tactic United used against Spurs a few weeks ago and Everton at the weekend.
Of course, the main problem with arranging a tactical plan around someone like Ronaldo is that he could just wander off somewhere else. Ronaldo nominally plays from the left, but he could just as easily switch to the right (from where he did significant damage against Sevilla at the weekend), leaving Ferguson's well-laid plans pointless. In The Guardian this week, Daniel Taylor described wondering how to keep Ronaldo quiet as 'the closest thing there is in football to asking how to nail a jelly to the wall'.
Taylor also notes that the best way of stopping Ronaldo may be not to mark him at all, but rather mark the man who supplies him. Borussia Dortmund concentrated on pressuring Xabi Alonso rather than Ronaldo, starving Real's main threat of service, which is a decent theory. One of the reasons Ronaldo scores so many is that he has so many chances, but his conversion rate is actually relatively poor, in comparison with Wayne Rooney and Robin van Persie, anyway. Ronaldo's 24 league goals have come from a whopping 126 shots, whereas the United pair have ten from 50 and 19 from 78 respectively. Stop the supply, stop his goals. Ji-sung Park would've been a shoo-in for this role in years past, but in his absence Jones could come in useful here too, or perhaps Rooney could be detailed to keep an eye on the former Liverpool playmaker. That's if Rooney plays, of course...
Will Wayne Rooney play?
Given that Rooney has been involved for the majority of the games for which he's been available this season, it might seem an odd suggestion that Ferguson might leave out one of his best players, but it's a possibility. For a start, Fergie loves a surprise selection - he used to boast that the press could never guess which team he would play, especially for European games. And secondly, that Spurs game was seen by some as a potential practice for the trip to Madrid. Rooney was on the bench then, and while that was partly to do with his recent recovery from injury (although he did start the previous game - in the FA Cup against West Ham), it was also because it's tricky to fit Rooney into a United side whose aim is to contain.
He is no longer the best option to be a lone striker, with Van Persie taking that role, and while he could fill the role of willing runner out wide (and has done before), Ferguson seems to prefer Welbeck. Ferguson also seems keen to include the guile of Shinji Kagawa in these games as well, which leaves little room for Rooney. It's perfectly possible that Ferguson could pick basically the same first XI that started against Spurs, with Michael Carrick and Jones sitting in midfield, Tom Cleverley slightly ahead of them with Welbeck and Kagawa nominally filling the wide positions and Van Persie up top.
Of course, dropping a man as dangerous and adaptable as Rooney to fit a tactical plan could be a mistake. This may depend on United's approach (see below), but Rooney is versatile enough to be used as a 'defensive attacker', detailed to either make the running on either flank or pressure Alonso, and of course in his more traditional role if Ferguson decides to go on the attack. Real's attitude towards Rooney should not be underestimated either - there is little doubt that the Spaniards fear him - an editorial in Marca this week described him as a 'freckled demon, built like a barrel packed with gunpowder is on its way to Madrid to try to blow up the Bernabeu'. Hyperbole aside, it would be a very brave move to leave out Rooney.
How should United approach the away leg?
There is an argument that can be made for United simply going for Real in the Bernabeu. Confidence is surely as low as it ever has been in a Mourinho side, so while many teams may opt for a defensive approach, United might try to exploit Real's fragile status (which has seen them slip 16 points behind Barcelona) by trying to basically kill the tie in the first leg. The problem there is that while Real's overall form has been poor, they have been pretty impressive at home - they have only dropped four points at the Bernebeu this season, sweeping most other teams aside.
The last time United travelled to Madrid, Ferguson opted for caution, playing a 4-5-1 with Ruud van Nistelrooy up front on his own, but that was ten years ago. The most recent relevant comparison is from 2010 when they faced Bayern Munich, and that time Ferguson did opt for caution, playing Rooney alone up front (the game in which he went over on his ankle and started a spiral in form that lasted well into the following season), so there's a reasonable chance he may do this in Madrid. The classic European approach of containment in the away leg, attack at home. It failed against Bayern, so Ferguson has an interesting decision to make.
This may be influenced by the wisdom from Spain. The golden rule when playing Real this season seems to be under no circumstances allow yourself to be exposed to the counter-attack. Indeed, the best advice may be to allow them possession, defend deep and not give the likes of Ronaldo, Ozil and Alonso enough space to exploit. 'Real Madrid have a serious problem: they don't know what to do with the ball when the enemy gives it to them,' suggested Marca on Monday. In this case Ferguson's natural European defensiveness could be the best form of attack.
Who will play at centre-back?
The answer to the question about United's best central defensive partnership would seem obvious. The sight of Nemanja Vidic and Rio Ferdinand playing together is one that calms the hearts of United fans everywhere, mistily recalling the days when both were at their peak, part of a defence that allowed just 73 goals over the 114 games of their three title wins between 2007-2009. However, the old partnership's appearances together have been increasingly sporadic - in fact, due to the ravages of age and injury they've started just four times together this season. Sporadic might actually be a little generous.
Even if they were both fit, would they still be Ferguson's first-choice pairing? Jonny Evans has been so impressive this season that it is arguably 'Evans plus one other' at the back these days. Like Phil Jones, Evans picked up a slight knock against Everton, but at the time of writing it looks like he will be fit and available for Ferguson.
So who to choose? The old favourites, back together for one last hurrah, hoping to recapture the old days? Or the in-form, reliable, young(ish) buck and another? It's worth noting that United only have kept one clean sheet in the four games Vidic and Ferdinand have played together this season, and that was against Wigan. Evans might not have the reputation of the others, but at the moment he is the most reliable and consistent.
Should United do anything special at all?
There is an argument to state that Ferguson should simply approach this game without any special plans, and merely play as if this is a normal game. Of course given they're playing in the Bernabeu, this is much easier said than done, but it's possible that Real's greatest threat is themselves.
The pressure on them to win not just this game but the whole competition is immense. Quite apart from it being the only thing of much significance that they have to play for this season, La Decima has become an obsession for Real, who currently just have the nine European Cups. So much so that Iker Casillas (injured for this game) said recently: "If you told me now that we would finish 25 points behind Barcelona in La Liga that is obviously not ideal...but if you tell me that we are going to win La Decima, I would sign for that right now." Will the pressure be too much? Jose Mourinho is an expert at harnessing such things, but will his players listen to him?
It doesn't exactly take a master sleuth with the ear of Florentino Perez to work out that things are not as they should be at Real. Player dissatisfaction is rife, not least because Mourinho declared earlier in the season that he "didn't have a team" and Sara Carbonero, TV presenter and girlfriend of Casillas, recently claimed that Mourinho had "lost the dressing room". With a whole season built around two games, will it all prove too much? Patrice Evra and Rio Ferdinand commented this week that they hoped the occasion would be 'too emotional' for Ronaldo, and it wasn't just an idle musing. For Ronaldo, read Real?
By all means, play sensibly, have a plan and don't bank on Real imploding, but it's just possible that United might win without having a great deal to do with it.
This article first appeared on Football365