Wenger conundrums
With Arsene Wenger's less than sunny disposition exacerbated by the fact Bayern Munich appear to have no Achilles heel, Nick Miller dons his best sheepskin to pose some tricky tactical conundrums. He also does his best to find some solutions too...
By Nick Miller - Follow on Twitter @NIckMillerF365
Last Updated: 19/02/13 10:34am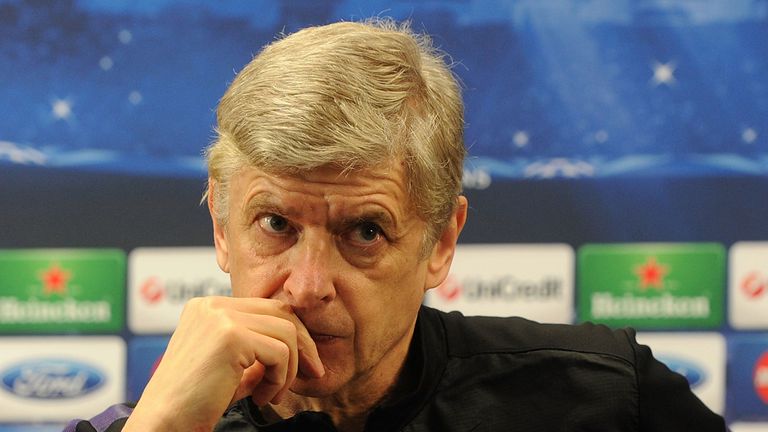 What to do about the left-back issue?
Ever since Kieran Gibbs limped out of Arsenal's 2-2 draw with Liverpool at the end of January, the question of who would play at left-back against Bayern has plagued the nightmares of Gooners everywhere. At that stage, it looked like it would be Andre Santos, but clearly Arsene Wenger decided that no specialist cover at all was better than the hapless Brazilian and packed him off to Gremio. So who will play? The out-of-form and out-of-position Bacary Sagna, or perhaps the out-of-form and out-of-position Thomas Vermaelen? The latter is probably a better option, but he has missed the last couple of league games with an ankle problem.
It sounds like a stupidly obvious point to say Wenger must pick the player he thinks will defend the best, but it's particularly appropriate in this situation given who he'll be playing against. This Bayern team is currently so good that Arjen Robben spends the majority of his time on the bench. That's partly due to the usual injury problems (groin and back issues wrecked the first half of the season), but also to the form of Thomas Mueller, who has scored an impressive 11 goals from 19 starts on the right this season. And then of course there's the problem of the overlapping Philipp Lahm, playing at right-back these days. One fears those nightmares could become reality for Arsenal fans.
How should the midfield be constructed?
This Bayern team is pretty decent. They're 15 points clear at the top of the Bundesliga and have only dropped nine points all season. Arsenal dropped nine points in January. But if the team is good, the midfield is ridiculous - the likely starting trio will be Javi Martinez (assuming he shakes off a knock), Bastien Schweinsteiger and Toni Kroos, which is basically the perfectly balanced three with defensive cover, box-to-box options and creativity all present and correct.
So will Arsenal need to make special plans to combat this trio? One might think that a more physical presence might be required, but Arsenal aren't exactly overloaded with such talents. Abou Diaby seems to be the obvious option, but the obvious fitness concerns weren't exactly allayed by the man himself last week. "I think I will be good in the last two months of the season," he said. "At the same time, when you come back, it's not easy because you're not fit enough." Diaby last played 90 minutes of a league game in September, suggesting that it would be quite the gamble to chuck him in against Martinez and Schweinsteiger, but it's a gamble that Wenger may well have to take.
Where will Theo Walcott play?
Trying to pick holes in this Bayern side is almost impossible. They have conceded only seven goals all season in the league, scoring 57. It's no wonder Wenger was grumpy in his pre-game press conference on Monday - most attributed it to annoyance with the press and the defeat to Blackburn, but equally he may have just emerged from a meeting with his scouts in which they stared blankly at a piece of paper titled 'Bayern's weaknesses', clacked their tongues then quietly slipped away when the awkward silences got a bit too much.
Despite that fearsome domestic defensive record, there are a couple of things to give Arsenal a little hope. Firstly, they haven't been quite so strong in Europe, conceding seven in their six group games - they even lost once, to BATE Borisov. And secondly, in their final group game Jerome Boateng was sent off, meaning Daniel van Buyten will have to start against Arsenal, and quite apart from him being a little rusty (he's only made five starts this season), he's quite the lumbering old sort. One imagines he would be quite happy dealing with the game but limited Olivier Giroud, but might have a few more problems against Theo Walcott.
Wenger might decide that the best chance of exploiting Van Buyten's lack of pace is to play Walcott as the central striker he wants to be when he grows up and then simply hope for the best. That might limit Walcott's effectiveness a touch, because he has scored all-but four of his 18 goals this season from the right, but it's worth a shot.
How will Arsenal approach the game?
There are a number of reasons for Bayern's excellent defensive record, the most obvious of course being their excellent defence, enhanced by Manuel Neuer - one of the better goalkeepers in Europe. They also keep the ball better than most - only Barcelona have a better possession percentage in Europe, making scoring against them a rather tricky business. Another reason is that Neuer actually hasn't had a great deal to do - on Friday they conceded their first shot on target in about four hours of football, firstly suggesting that both the defence and midfield do a decent job of preventing too many efforts flying in, but also that their opposition aren't terribly adventurous.
Former Bayern and hairstyle great Paul Breitner said during their recent 4-0 win over Schalke: "They don't even want to score a goal. They are thinking: as long as we only lose 2-0 or 3-0 then that's great. We [Bayern] are not even in third gear and we're already 2-0 up." Could Arsenal's best chance of getting something from this tie be to go on the attack in the home leg? The element of surprise alone could throw Bayern off a little. And let us not forget that Arsenal have a terrific home record in Europe - in recent years they have beaten Barcelona, AC Milan, Borussia Dortmund and Roma at the Emirates, and have only lost three times at home in the last ten years.
However, it doesn't exactly sounds like Wenger will go for broke. He said on Monday: "It is vital to keep a clean sheet. Nil-nil is not a disaster at home, but of course we will try to score goals." On this occasion, containment could be just as risky as aggression.
Where should Jack Wilshere play?
This one is not so much a question, more a suggestion for M. Wenger, for he will of course inevitably read this piece at some point. Wilshere does a fine job next to Mikel Arteta in a slightly more withdrawn midfield role, but the place he can really influence games is slightly further forward. Santi Cazorla usually fill the 'number ten' position, but the best way to balance all of the questions mentioned above could be to move Wilshere there, with Diaby and Arteta providing a reasonably solid midfield base. This would mean shifting Santi Cazorla out wide, but he has played there on a few occasions this season and been just as effective.
So a possible line-up could be Diaby and Arteta in midfield with Wilshere in front of them, and Cazorla and Lukas Podoski on the wings providing service to Walcott up front. It would provide a balance between attack and defence, with Wilshere able to get forward when required then drop back to help out the defence too - it also displays what a fine all-round player Wilshere has become that he is good enough to fill both of those roles. This might be one of those games when Arsenal need Wilshere at his best - one of those games when he decides to win the thing by himself.
This article first appeared on Football365