Charlie Nicholas, Trevor Francis, John Collins and Stewart Robson look at way forward for Arsene Wenger and Arsenal
The Sky Sports experts consider Arsene Wenger's future after Arsenal's loss to Bayern Munich.
Last Updated: 20/02/13 3:28pm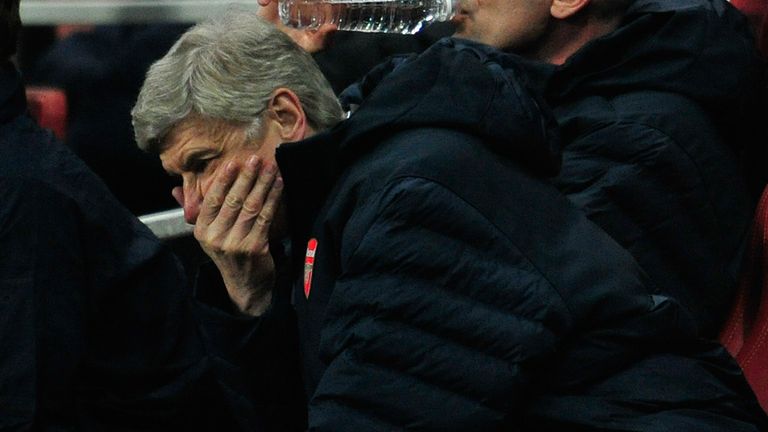 The team were knocked out of the FA Cup by Championship side Blackburn on Saturday and Arsene Wenger admits they will need to make "the impossible possible" if they are to reach the last eight of the Champions League after losing their home leg 3-1 to Bayern Munich on Tuesday night.
So where do they go from here? Is it time to draw the curtain on Wenger's 17-year spell in charge or is the manager not to blame? Is it time for the club to adopt a new transfer policy? How much responsibility should the players take for the disappointments?
The Sky Sports experts had their say in the aftermath of Tuesday night's defeat...
Charlie Nicholas on the need to change the club's approach to buying and selling
It's a waste of time, if he goes out against Bayern Munich in the next leg, saying he has to go. You have to wait until the summer and identify where Arsenal are going - and people can make their own opinions on that - but then a lot of these players will probably be leaving anyway. So you have to wait and see what's going on. I think what's happened is that Wenger takes all the responsibility and the players have hardly been mentioned for their performances, hardly a word at all. It's a tactic from him, but it's one he's done too often.
Sometimes you have to isolate your players and say 'I need more from you, you've got to give this club and me and the fans a little bit back'. The fans that are against him now have suddenly realised that there is a big amount of finance sitting there and he refuses to spend it. He held out for the contract with Theo Walcott and Arsene Wenger controls that side of business. Maybe it's time, if he's staying, to move that across the office. Maybe David Dein comes back or someone else has an influence to say 'we'll take care of the contracts and the buying'.
Trevor Francis on why Wenger's achievements should be remembered when deciding his future
When you've not won any silverware for eight years then you expect questions as a manager. Looking at the bigger picture, in 16 years at the club he's become a bit of an institution. He's never been outside the top four and I think we should wait to pass judgment until the last game of the season is completed. If he gets in the top four again then he's achieved what most of the people want at Arsenal Football Club.
What I would say is if you're a fair-minded person and you've got an understanding of the game and you've got respect for what Arsene Wenger has done at the football club, then if there is going to be any change - and I'm not suggesting there should be - but if the team don't finish in the top four then I think Arsenal have a decision to make. Whenever they do things at Arsenal Football Club, they do it with a bit of class and a bit of style and I just hope if that's what they're going to do then they do it on this occasion. If ever there was a guy that needs respect and to do things in the correct way it's Arsene Wenger. He's been a class act, he's an intelligent man, tactically he's very astute and he's done some great things for Arsenal Football Club.
John Collins on why Arsenal's transfer policy has left them behind their rivals
It was a shocking result. I think most of us expected them to lose the game against a Munich team flying high in the Bundesliga and with Arsenal really struggling having been knocked out of the two domestic cups and with confidence not great. To lose the two early goals left them with a mountain to climb and even when they got a goal back you always felt Bayern were capable of going up the park and getting a goal.
It's going to be a difficult run-in now. He's fighting for that fourth place for the Champions League and I don't think there's any chance they're going to go to Munich and turn the tie around. He's under a lot of pressure, we saw that in his press conference earlier in the week, and it's a difficult time for him and the football club. No manager can have success if you continually sell your best players - Bayern Munich don't sell Lahm and Schweinsteiger - but Arsenal, in the last five or six years, have sold their best players. If you continually sell your top players to your opposition it's going to be a tough job.
Stewart Robson on Wenger's tactical mismanagement
Arsenal make poor decisions defensively all around the field. I never see a specific game-plan that Arsenal go out with to try and stop the opposition and then cause problems when they have the ball; they play off the cuff and that is why, as Jack Wilshere said, the players are anxious. When they play penetrative football and the crowd gets behind them they can look brilliant, but unlike the great Liverpool and AC Milan teams, when things start going wrong they have no base to go back to and don't make it difficult for their opponents. Arsene was very successful for the first seven or eight years at Arsenal, but they haven't won a trophy in eight and for the last four of five they haven't got any better.
Arsenal are regressing under Wenger; I don't see too much coaching going on and he hasn't allowed the likes of Steve Bould to have any influence at all, which has resulted in a side without any real leadership on the pitch. The lack of spending that people talk about papers over the cracks; Arsenal cannot keep selling their best players, but man-for man, there is not that much difference between Arsenal and Bayern Munich. The difference was that one team was organised and the other had no tactical understanding. There are plenty of managers, like David Moyes, who could take on the Arsenal job and do better than what Arsene is doing at the moment. It may be time for him to go.
Nigel Winterburn says Wenger needs money to spend this summer
I give them about a 1% chance in the second leg. I was very impressed with Bayern Munich, not only in their forward, attacking play - which was swift and accurate - but also how quickly they recovered to get back into defensive situations as well.
The pressure now builds on Arsenal again before this weekend's game with Aston Villa. The players have simply got to put these two defeats behind them, which will be difficult. But they've got to go out and win that game and give themselves a chance of finishing in the top four. It's no good sulking as a top player, you have to go out and produce. Now we need to see a response from this team; there needs to be some big characters out on the field against Aston Villa.
There's a sheer frustration around the football club at the moment. We know about the move to the Emirates and that they've had to rein in their spending, but other teams like Man City, Chelsea and Tottenham are coming into the equation and Arsenal are finding it difficult to keep up.
I think there will have to be changes this summer in terms of players - and Wenger needs the backing of the board to help him improve the squad. They've got a good basis but they need three or four players to significantly improve. If they can do that they'll be moving in the right direction again. I still believe Arsene Wenger is the right man but he needs a significant amount of money to spend in the summer.