Ruud Gullit says defensive approach was only way for AC Milan to conquer Barcelona
It wasn't pretty, says Ruud Gullit, but AC Milan used the perfect tactics to conquer Barcelona.
Last Updated: 20/02/13 10:52pm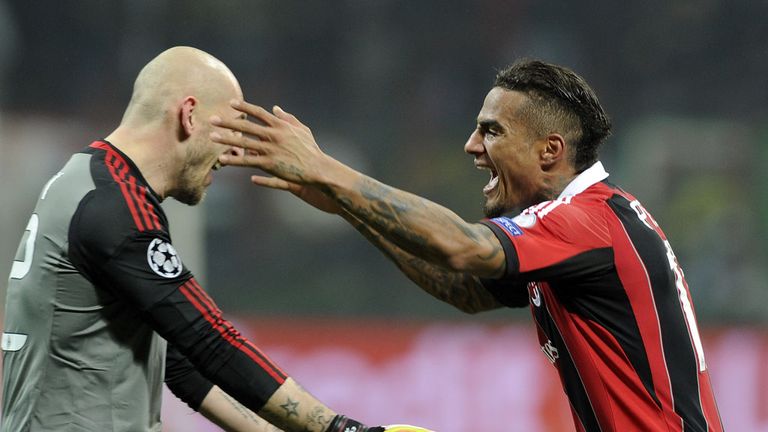 Goals from Kevin Prince-Boateng and Sulley Muntari secured a shock 2-0 win for the Italian side on Wednesday evening and gives them a strong chance of qualification for the quarter-finals ahead of the return at the Nou Camp in three weeks.
Lionel Messi and co barely created a chance in the game as Milan nullified their famously fluent style and former Rossoneri player Gullit said the defensive tactics employed by Massimiliano Allegri gave his team the best possible chance.
"I didn't expect that at all, but it's the way to fight them," he told Sky Sports.
"Barcelona are too good and you cannot outplay them. Not one team in the last five years have done that.
"They made it difficult for them to find ways in the middle. I didn't see Messi; he played on the outside and they were doubling him and were working very hard. They deserved this win and credit to Milan.
"Of course the purists, especially in Holland, will moan because they all back Barcelona in the way they play, but sometimes you have to find a different way to play.
"I always compare it a little bit with Muhammad Ali when he had his fight with George Foreman. He was on the ropes all the time - the greatest boxer ever went there in defence - and if he can win in that way, then that's exactly what Milan should do with Barcelona."
Celebrate
Glenn Hoddle, who was also in the Sky Sports studio during the game, suggested that Milan's players celebrated the victory too vigorously at the end, given there is another 90 minutes of football to be played in the tie.
But Gullit said it was a huge night for his former team, who currently trail Juventus by 11 points in Serie A, although he feels the tie is far from over.
"It is still game on," he added.
"But I watched Barcelona half an hour from the end and they had no idea what to do. It was funny to see because they almost always find a way and yet they couldn't find it.
"The players wanted to celebrate with the crowd because nobody expected it and I think the Milan crowd needed this success to boost the team and Milan itself.
"They also gave the crowd everything. It was fully packed and they were behind the team the whole time - and they wanted to reward them. It was great to see."