No way Jose?
Jose Mourinho looks set to move on from Real Madrid in the summer regardless of what happens this season. But Adam Bate wonders whether he is unfairly dismissed as a manager for the short term.
Last Updated: 05/03/13 10:56am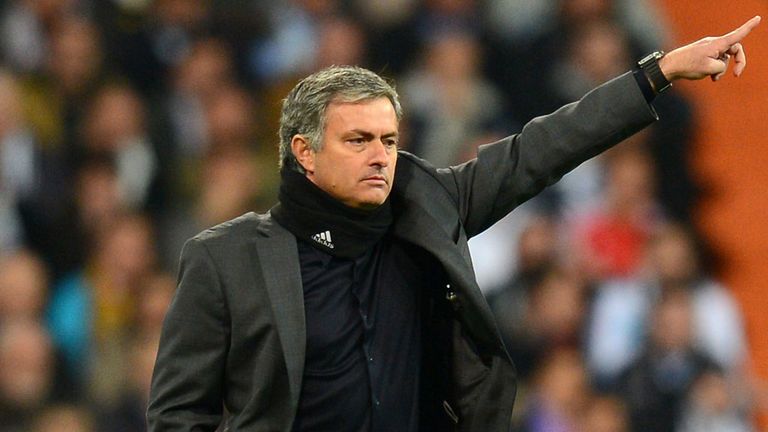 The former Hungarian coach Bela Guttmann had a well-known theory when it came to football management: "The third season is fatal." Like the lion tamer, Guttmann argued: "He dominates the animals, in whose cage he performs his show, as long as he deals with them with self-confidence and without fear. But the moment he becomes unsure of his hypnotic energy, and the first hint of fear appears in his eyes, he is lost."
Until a recent renaissance with back-to-back wins over Barcelona, Jose Mourinho looked to be suffering a similar fate as he battled to maintain his tenuous grip at Real Madrid. "Right now I don't have a team." he told reporters back in September. And that was even before a public dispute with beloved goalkeeper Iker Casillas. It is argued that the dressing room has been lost. A summer exit sugared by European glory is the very best that the Portuguese can hope for as his latest appointment looks set to end in acrimony.
So much so that Mourinho is in danger of becoming typecast as a quick-fix manager unable to preside over affairs for the long haul. A decade at the top it may have been, but at four different clubs? That's the sort of cynical club-hopping that gets some of Europe's grander establishments mightily sniffy. Tuesday's opponents, in particular, seem stocked with iconic figures keen to express their distaste at the thought of this particular circus one day coming to town.
"[Mourinho] will not be the successor," legendary Manchester United goalkeeper Peter Schmeichel recently proclaimed to El Mundo. "I don't think the club would be happy with everything Mourinho brings with him. He's a great candidate for his qualities as a manager but the club doesn't want all the things that come with him. Chelsea, Inter and now Real Madrid - he doesn't last more than three years."
Damning
More concerning for Mourinho might be the assessment of United's influential honorary president Sir Bobby Charlton. The 75-year-old is on the record as telling The Guardian: "Mourinho is a really good coach but that's as far as I would go really. He pontificates too much for my liking." Damning with faint praise.
Of course, it is easy for those at Old Trafford to take a high-minded view of the importance of longevity right now. The situation could look rather different should Ferguson's eventual successor fail to match his high standards. Any club is capable of stumbling from manager to manager if they continue to appoint the wrong people. Surely all that can be done is to appoint the best man for the short-term and hope things develop from there. And Mourinho has every right to be considered the best man.
"Like me or not, I am the only one who has won the world's three most important leagues," the man himself told Portuguese TV channel SIC. His record speaks for itself. Indeed, he has perhaps been the victim of his own success. Mourinho's reputation is tainted by the perception of him as a managerial butterfly, but he could just as accurately be cast as one of the game's great survivors.
He has lasted longer - much longer - than any of the other seven managers appointed by current Chelsea owner Roman Abramovich. He has also presided over more than twice as many matches as any of the previous nine men to take charge of Real Madrid. And his other two major managerial appointments of the past decade - at Porto and Inter - both ended in Champions League glory prior to taking up the aforementioned plum roles at Chelsea and Real.
Image
Mourinho is, of course, acutely aware of his own image. Particularly in comparison to Pep Guardiola, a manager seen as a legacy builder despite his decision to walk away from Barcelona after four seasons. If the 50-year-old coach is to improve his post-Real options there is a need to stress that there is more to Mourinho than the short, sharp shock treatment.
Hence the almost apologetic explanation for his brilliant career-to-date that Mourinho offered last year. "After England and Italy I had to go to Real Madrid or it would have left my career empty," he told the Daily Mirror. "But the No.1 in the history of the Premier League (Ferguson) disagrees with me because United are an incredible club and he wants to stay there all his career. And I want to stay [at Real Madrid] for a long time, at least four years or up to 10, to build something."
That's highly unlikely to happen at Real now. But that doesn't mean it couldn't happen elsewhere. To do that, much will depend on Mourinho's ability to define his Madrid legacy. Will it finish with a non-title race and a last-16 Champions League exit or can Real cement their position among the favourites for Europe's biggest trophy by eliminating United at Old Trafford.
And if he can go all the way to Wembley, disciple of Guttmann or not, can any club - even Manchester United - afford to turn their nose up at a manager like Mourinho?