German efficiency
Arsenal at their mercy, potentially three games from winning the Bundesliga and German Cup semi-finalists - Peter Fraser looks at what could be a perfect finale to Jupp Heynckes' Bayern Munich
By Peter Fraser - Follow me on Twitter @SkySportsPeteF
Last Updated: 13/03/13 9:19am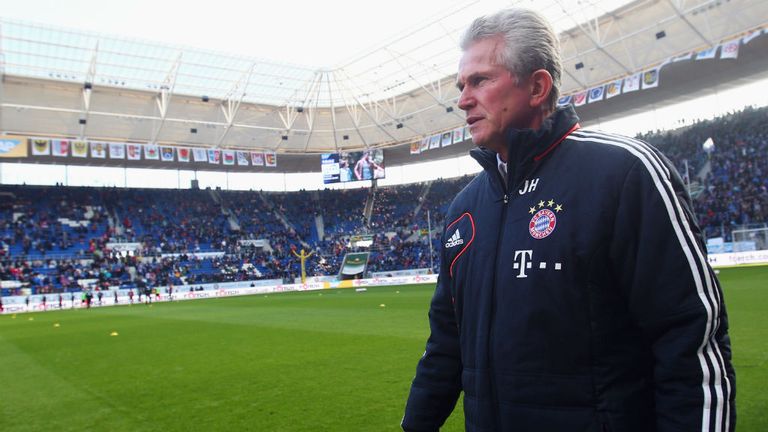 "He is a friend and he knows what makes us tick," said Bayern Munich chief executive officer Karl-Heinz Rummenigge upon the appointment of Jupp Heynckes for a third stint as manager in 2011. "I am sure we will have a lot of fun and success together."
That has proved to be somewhat of an understatement. Ahead of what seems to be the inevitable elimination of Arsenal in the second leg of their UEFA Champions League last 16 tie on Wednesday night, historical European heavyweights Bayern have returned to a juggernaut force.
The man behind results on the pitch and a current 23-game unbeaten run in all competitions has of course been Heynckes. The 67-year-old will head for retirement at the end of the season to be replaced by the headline-grabbing Pep Guardiola. It will end a managerial career which began in 1979 at the age of just 34 with Borussia Monchengladbach, where he mentored a young Lothar Matthaus. But Heynckes can conclude his career having performed a superb job at Bayern and it will wrongly be overshadowed by Guardiola's arrival.
Only fantasists think Arsenal can produce what would be one of the greatest European upsets of all time. Arsene Wenger's team must overturn a 3-1 first-leg defeat by Bayern, whose organisation, clinical instinct and athleticism - aided by the Bundesliga's winter break - tore Arsenal to shreds at Emirates Stadium in February. Ideas of Arsenal producing the improbable are simply a case of four-time European champions Bayern not being offered the billing they truly deserve, because they do not have the vogue value of a Real Madrid, Barcelona or AC Milan.
Having coached the team to two league titles between 1987 and 1991, Heynckes is more than familiar with Bayern. He also managed the club on a caretaker basis in 2009 in the post-Jurgen Klinsmann era, securing four wins which ensured qualification for the Champions League and provided successor Louis van Gaal with the platform to guide the club to the competition's final in the subsequent campaign.
Heynckes - a World Cup, European Championship, UEFA Cup and four-time German top-flight winner in his playing days as one of the planet's best strikers with West Germany and Borussia Monchengladbach in the 1970s - experienced his most successful campaign as a coach in 1998, when he led Real Madrid to a Champions League title. But he could eclipse that with Bayern as a fitting farewell.
Champions League under Heynckes
Bayern Munich
Games Played
20
Results
 
Wins
13
Draws
3
Losses
4
Win Rate
65.00%
Goal Attempts
 
Goals
44
Avg. Goals per Game
2.2
Shots (excl. blocked shots)
263
% Shots on Target
52.47%
% Goals to Shots
16.73%
Passing
 
Average Possession
57.07%
Total Passes
11294
Overall Pass Completion %
86.77%
Pass Completion Opposition half %
81.28%
Crossing
 
Total Crosses
490
Cross Completion %
19.09%
Defending
 
Goals Conceded
19
Avg. Goals Conceded per Game
0.95
Tackles
477
Tackles Won %
75.89%
The Bavarians are often held up as a model, particularly in the current trend of describing German football as a land where the sun always shines. As a club of 84 per cent fan ownership - allowed by the Bundesliga ownership rule of 50-per-cent-plus-one, which prevents any one wealthy individual from taking control of a club - standing season tickets at the state-of-the-art, 70,000-seater Allianz Arena are available for around just £105. Supported by record-breaking commercial income, which generated £172.5million in the last financial year, Bayern have also recorded profits for a staggering 20 years.
A hierarchical setup which includes former players, such as Rummenigge, president Uli Hoeness - who once described his decision to sack Heynckes in 1991 as "the biggest mistake of my career" - and honorary president Franz Beckenbauer, is also championed as the future for football clubs. It is perceived a board with playing experience results in efficient workings from top to bottom. This, though, is not always the case, as has been demonstrated by Heynckes' annoyance at what he thought to be the bad timing in Bayern's confirmation of Guardiola's appointment in January. Heynckes is no shrinking violet and throughout his managerial career there have been reports of bust-ups with players and colleagues.
But, of course, all of Bayern's off-field success and financial profits would mean little in the football world if not matched by success on the pitch. Wednesday's opponents, Arsenal, are ironically a case in point. For this reason, Heynckes, who has apparently been offered a place on Bayern's advisory board when he leaves his managerial role, deserves immense praise.
Bayern essentially went back to Heynckes with a Save Our Souls plea in March 2011, when he agreed a two-year contract to return to the club that coming summer. At the time, Bayern had decided to cancel the terms of Van Gaal at the end of the season, some 12 months ahead of schedule, in the midst of a trophyless campaign. Meanwhile, Heynckes, after a record-breaking 24-game unbeaten start to the season, was leading Bayer Leverkusen to a second-place finish in the Bundesliga behind Borussia Dortmund.
In the previous season, Bayern had reached that 2010 Champions League final under Van Gaal, losing to Jose Mourinho's Inter Milan. But the following campaign was a massive underachievement, which led to the Dutchman's exit. Bayern finished third in the Bundesliga and 10 points adrift of Dortmund, who were swiftly becoming one of Europe's hottest clubs.For Heynckes, then, the task was simple - overhaul Dortmund domestically and bring back European accomplishments. The man himself put it in typically straight-laced fashion, as he said: "I have been Bayern coach twice and have always liked the atmosphere. Of course, you have to be successful as Bayern coach. But it is an attractive challenge I want to meet, together with the team."
Heynckes set about reworking the Bayern squad in the summer of 2011. Players such as Thomas Kraft, Hamit Altintop, Andreas Ottl, and Miroslav Klose left as the club turned their focus to youth. The likes of German internationals Bastian Schweinsteiger and Thomas Muller were already in the team but then became the fulcrum. Jerome Boateng and Manuel Neuer were among the men brought in while the unsettled Anatoliy Tymoshchuk and Mario Gomez were told they would be key players.
Given the changes in the squad and manager, the 2011/12 season was understandably a period of transition. Bayern were again forced to watch Dortmund lift the Bundesliga title, having finished second and eight points adrift. Bayern also lost to Dortmund in the German Cup final. But Heynckes' ability to make progress was clear as Gomez, who had almost left the club for Liverpool, scored 26 league goals, and the squad began to gel.
The potential was clearly evident as Bayern reached the Champions League final that season, racking up a record-breaking 7-0 second-leg win over Basel at the last 16 stage and eliminating Real Madrid on penalties in an engrossing semi-final. With just four players - now-captain Philipp Lahm, Schweinsteiger, Arjen Robben and Muller - remaining as starters from the 2010 final, Bayern infamously lost at their own Allianz Arena in a shootout with Chelsea. The game has since been used as an indicator of Bayern's occasional habit for complacency. But compare a record of two Champions League finals in three seasons to the recent record of Real Madrid, whose last final was in 2002, for example. Losing a second Champions League final, in quick succession, at their own stadium, was a painful learning curve for the club and provided new focus and determination.
Consequently, this season, Heynckes has continued to make bold decisions. Gomez has been dropped in favour of the more mobile and dynamic 15-goal summer signing Mario Mandzukic from Wolfsburg. Brazilian defender Dante has been a revelation since his arrival from Monchengladbach. Javi Martinez was brought from Athletic Bilbao. Toni Kroos - having first joined from Leverkusen in 2010 - has developed into a star. David Alaba's return from loan at Hoffenheim in the summer of 2011 has been crucial and the full-back has formed a superb partnership on the left with winger Franck Ribery. The squad has also been cannily rotated.
Bayern are as a result running away with the Bundesliga, sitting an incredible 20 points clear after dropping a record low of just nine points so far this season alongside a Bundesliga-best start to a calendar year of eight wins in a row in 2013. They could win the title as early as 6th April at Eintracht Frankfurt, which is just three more games, depending on results elsehwere. They are also in the semi-finals of the German Cup, where they will face Wolfsburg in April. In Europe, they have still to lose at home, discounting last season's final, in 10 games since a defeat by Inter Milan in 2010/11. As Arsenal will know as they head for Germany, Heynckes has produced a formidable formula. Bayern started the season with nine straight victories in all competitions and the last time they began with even just six, in 2000/01, they claimed the Champions League. For Heynckes, it could be a fitting finale.
You can only watch the best Champions League coverage here on Sky Sports. Watch Bayern Munich v Arsenal exclusively live on Sky Sports 2HD and Sky Go from 7.00pm on Wednesday 13th March. Click here for more details