Team Jose reunited
Ahead of the UEFA Champions League quarter-final between Real Madrid and Galatasaray, Adam Bate examines the fervent adoration Jose Mourinho inspires in ex-players Didier Drogba and Wesley Sneijder.
Last Updated: 03/04/13 9:05am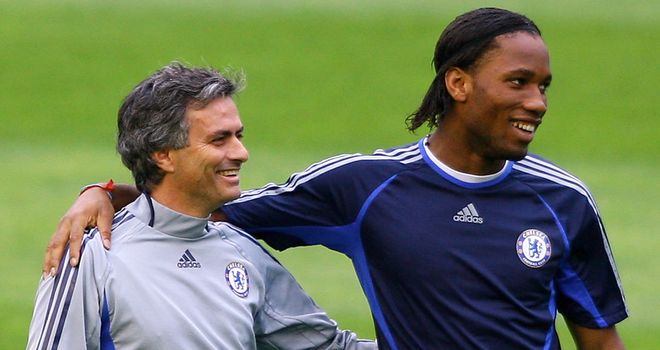 In February of last year, as Chelsea laboured against Birmingham in the FA Cup, the chants for a former manager rang out around Stamford Bridge. That same weekend, Inter supporters were singing to the same tune as their side were being beaten by Bologna in the San Siro. The exact repertoire of the Porto faithful remains unreported but the message was clear - it's just not that easy to get over Jose Mourinho.
"My message to the fans is I love Chelsea and Inter a great deal but I would prefer them to support their own teams and coaches," Mourinho responded. "I am the past, a very good past, but I am not there anymore and they should all be fighting together." It seems unlikely that the words provided much consolation to Blues boss Andre Villas-Boas. As Porto president Pinto da Costa put it: "He was afraid of the ghost of Mourinho. He has a complex and is always thinking about Mourinho's ghost."
But it's not just supporters and rival bosses that can become fixated by this cult. Players indulge in it too. Just as the disciples prepared for the Second Coming, followers of the Portuguese coach do all they can to facilitate his return. Jose liked 4-2-3-1 and opted against a high-line didn't he? Let's refuse to change. Jose rated JT and Lamps, right? Then let's never let them go. And as for that Rafa Benitez chap, whatever you do, try not to be seen in the same room as him. Jose wouldn't like it.
Former players speak glowingly of their old boss. "The person who is always in my thoughts is Jose Mourinho, simply because he believed in me," said Didier Drogba last year. "He's a great coach. He has a special place in my life, because he changed it." Note the language - life not career. The loyalty the man inspires clearly runs deep.
"Everybody knows the man who gave me the strength and the man who I've learned a lot from was Jose," said Drogba, quoted in the Daily Mirror. "As a human being and as a manager I think I learned a lot from him. He gave me this winning attitude, this desire to make history, he gave us this. He's a winner and we have it our DNA now."
Drogba finally fulfilled his own Champions League ambitions with Chelsea last season before moving on to Galatasaray via Shanghai Shenhua. And the Ivory Coast international has readily admitted that he consulted the advice of his former coach before agreeing to the transfer to Turkey. The decision now pits the two men against each other in the Champions League when Galatasaray face Real Madrid in the last eight of the competition.
Drogba has faced Mourinho twice since their parting of the ways. His record in those matches reads as follows - no goals, one sending off, two defeats. And if facing his mentor threatens to distract the veteran striker, the indications are that he won't be the only one. "This is a tough draw, but it's a great one on an emotional level," Galatasaray playmaker Wesley Sneijder told De Telegraaf. "I still have warm feelings for Jose Mourinho, with whom I'm still in regular touch. Mourinho is very important to me, because I won the Champions League (with Inter) thanks to him."
For Sneijder it was love at first sight. They first met the day before the Derby della Madonnina against AC Milan. "You play tomorrow," Mourinho told Sneijder. "From the first minute, I trust you. I trust that you will win the derby." The Dutchman recalls: "I did not want to believe. I had not trained with my peers once. I think I played one of the best matches of my career. It was as if I have been playing with Inter forever and as if Mourinho had been my coach for many years."
The derby was won 4-0 but, sadly for Sneijder, the union lasted just two seasons. After that treble-winning second campaign he was widely regarded as one of the finest footballers on the planet, coming fourth in the Ballon d'Or voting. But Mourinho's exit appeared to sap Sneijder of energy, belief and purpose. He may be preparing for a Champions League quarter-final but the fact remains that, at the age of just 28, Sneijder is playing his football in a league that is currently ranked as the 12th-strongest in Europe.
Contrast
In contrast, Mourinho thrives. Sneijder was used up but there are new always new players to be empowered and inspired. Trophies in Madrid have followed and Real are second-favourites for the big one that would make him the first manager to win Europe's premier club competition with three different clubs.
Real Madrid director Emilio Butragueno knows the club's manager better than most and is not expecting him to be fazed by the presence of Drogba and Sneijder in the opposition line-up. "They have an extraordinary relationship," said Butragueno, quoted in Goal. "[But] Mourinho will of course want us to be here again for the semi-final draw. Before the game and after the game I'm sure [they'll talk], but during the game we will be focused on our goals."
That's no doubt true of Mourinho. But whether his former players can find the answers to beat him is another matter. In fact, perhaps the real danger will lie elsewhere. Hamit Altintop has very different memories of his old Real Madrid boss. "I think I am an important player and I must feel it," he told Turkish publication Vatan, during a season at the Bernabeu that saw him start just two games. "It is not a case of playing more. It is the issue of not feeling important."
On a night when the pre-match focus will be on Jose Mourinho's reunion with Galatasaray's two Champions League winning stars, both of whom remain devoted to their former coach, it may fall to Altintop - the man once dubbed a "failure" by his old boss - to fight the good fight for the Turkish champions.