Galatasaray defending against Real Madrid criticised by Graeme Souness
Emmanuel Eboue summed up Galatasaray's defensive shortcomings in Madrid, says Graeme Souness.
Last Updated: 04/04/13 11:39am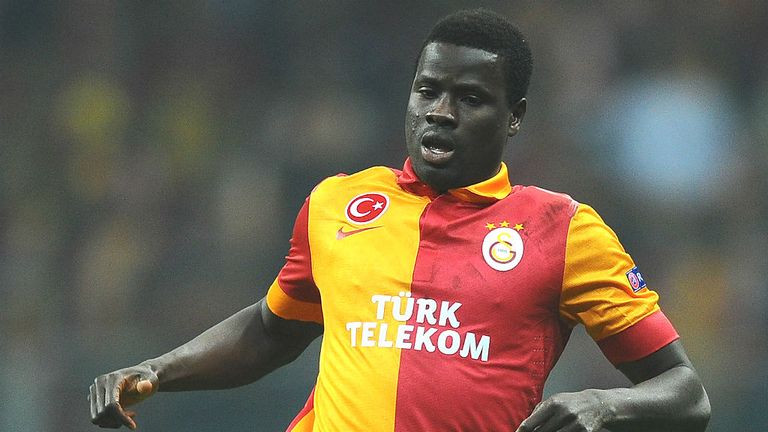 Goals from Cristiano Ronaldo, Karim Benzema and Gonzalo Higuain have put the Spanish giants in a commanding position after the first leg at the Bernabeu, but former Galatasaray boss Souness was less than impressed with the efforts of one-time Arsenal right-back Eboue to keep Los Blancos at bay.
"It was all too easy for them," he told Sky Sports.
"After nine minutes they were 1-0 down and you're thinking the worst because this Madrid team, when they get on top, can put you to the sword.
"But what was Eboue doing for that opener? There was no one wide of him so he should get in and hold hands with his centre back. But that was downright poor defending.
"Eboue's strength has always been on the front foot, going forward. But defensively he reacts after the pass has been made and tries to correct the situation. Top defenders sense the danger and anticipate it; long before it becomes a major problem they're in the right position.
"Eboue is 29 now but he looks as though he's learnt nothing in defensive terms."
Jamie Redknapp was equally unimpressed with the Turkish side's backline and believes the task of overcoming the quality of Real Madrid was a bridge too far for the surprise quarter-finalists.
"The Galatasaray manager will look back and be frustrated because Real didn't have to work hard for their goals," said the former Liverpool midfielder.
"They didn't get cut open by fantastic pieces of play: Eboue for the first goal doesn't defend well enough, the second goal is sloppy and Eboue got caught under the ball while the third goal, yes, it's a good delivery, but Higuain stoops to head it.
"Galatasaray aren't a good side. They have attacking possibilities but defensively they were woeful and this match shows they have reached their limit now and have got as far as they can."
Malaga 0-0 Borussia Dortmund
Meanwhile, in the other quarter-final of the night, underdogs Malaga produced a battling display to keep Dortmund at bay.
The German side missed a number of chances to net an advantageous away goal, but Alan McInally reckons Jurgen Klopp's outfit are still hot favourites to progress to the final four.
He said: "The biggest plus for Malaga and Manuel Pellegrini is it finished 0-0 and, although he'll feel his team were lucky not to concede, Dortmund don't have an away goal, which is so important. That means they're still in it and if they have a great opening half hour in Germany that will leave Dortmund needing more than one to go on. So, they've done well.
"I genuinely thought Dortmund would score; they normally score in all their games. But it seemed they had their boots on the wrong feet tonight. Mario Götze and Robert Lewandowski must not have had their shooting boots on given the amount of chances they had.
"But Dortmund are still massive favourites to go through. They have only lost three times at home in the league this season and didn't lose at home in the Champions League against Real, Ajax and Manchester City. It's a difficult, difficult place to go."