Backwards Barca
They say standing still is the same as going backwards in football and if that's the case, Sarah Winterburn isn't surprised a shell-shocked Barcelona were taught a lesson by Bayern Munich over two legs...
By Sarah Winterburn
Last Updated: 02/05/13 9:10am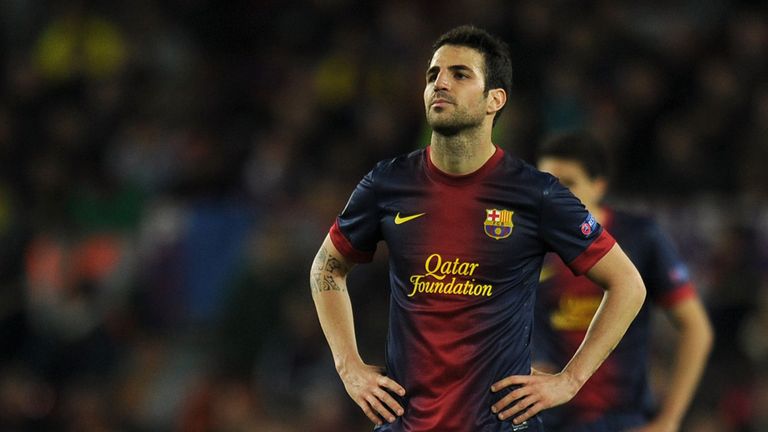 Two years ago at Wembley, an imperious Barcelona side beat Manchester United 3-1 to win the Champions League with a line-up that featured a front five of Xavi, Andres Iniesta, Pedro, David Villa and Lionel Messi. Two years on, the only change of personnel in that front five for their semi-final second leg demolition was the introduction of Cesc Fabregas for Messi. Now we like Fabregas, but even he would struggle to spin that as an upgrade.
The problem on Wednesday night was not simply that Fabregas is not as good as Messi but that there simply has not been enough evolution in this Barcelona side. Extraordinarily, all 11 of the players who started that 2011 final are still at the club and seven of them started on Wednesday night. Of the four incomers, how many of you thinks that Adriano, Alex Song, Marc Bartra or Fabregas is superior to Eric Abidal, Sergio Busquets, Javier Mascherano or Messi? This is a side that has barely changed in two years but those barest of changes have been for the worse.
It's often said that standing still is going backwards in football so there is little wonder that this Barca side has gone backwards. The greatest side many of us have ever seen is now two years older and the considerable money they have spent on Song, Fabregas and Alexis Sanchez in those two years has improved the squad while the starting XI has got worse, with Xavi the old man of a side that now has an average age over 27.
Is it simply complacency? An absolute belief in the 'We are Barca' mantra that has been repeated and almost believed over the past week even though logic told us their Champions League campaign had ended in Munich? Did they think they were immune from the footballing maxim that even a successful side needs to evolve? Manchester City have presumably learned that lesson with an underwhelming season but Barcelona may have needed bruising humiliation to learn theirs.
Meanwhile in Munich, Bayern have retained just six of the players who started the Champions League final in 2010 - shedding the likes of Hamit Altıntop, Ivica Olić and Martín Demichelis and replacing them with better players. An evolving, financially blessed team should be upgrading one or two first-team players every season. Bayern have done exactly that while Barca have stood steadfastly still, seemingly oblivious to other teams across Europe investing to get stronger.
The idea that their style of football has been eclipsed is a fatuous notion. That style would still be effective and would probably still beat a stronger, faster side like Bayern if they were equally as good as they were two years ago. Being Barca would still be the best option if the Barca of 2013 really was the Barca of 2013 and not just the Barca of 2011 after two years of complacency.
This article first appeared on Football365