Finals legends
Bayern Munich and Borussia Dortmund players and managers are hoping for performances which could earn iconic status. We remember some existing legends from the history of the European Cup and the Champions League
By Peter Fraser - Follow me on Twitter @SkySportsPeteF
Last Updated: 22/05/13 5:43am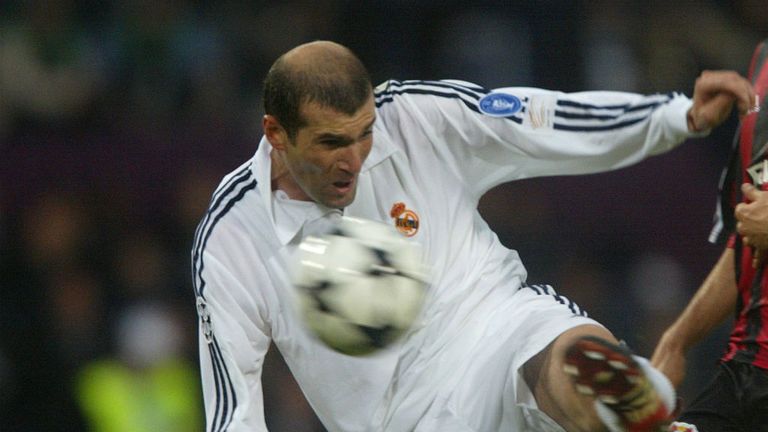 Ahead of Saturday's UEFA Champions League final between Bayern Munich and Borussia Dortmund at Wembley, Sky Sports looks back at some previous legends from the history of European Cup finals.
Zinedine Zidane
Having twice suffered defeat in Champions League finals with former club Juventus, the Frenchman was to finally get his hands on the trophy in 2002. Zidane joined Real Madrid in the summer of 2001 for what was at the time a world-record fee and he repaid the Spanish giants in spades. Zidane scored one of the greatest goals in history with his stunning volley to defeat Bayer Leverkusen at Hampden Park in 2002's final and further underline his legendary reputation. He would later say: "My goal was very nice. But the most important thing was that we won."
Paolo Maldini
The Italian was the winner of a phenomenal five European Cups, sampling success in 1989, 1990, 1994, 2003 and 2007. Maldini was also a captain in four finals, winning three and losing in 2005 at the hands of a remarkable comeback from Liverpool, despite his record-breaking, fastest opening goal with less than a minute on the clock. Maldini appeared in eight finals in total, which is a joint record with former Real Madrid superstar Francisco Gento. But one of the best defenders of all time would rank Milan's shock 4-0 win over Barcelona in 1994 as his finest hour. Maldini said of that achievement: "I think that final was one of the best played by Milan."
Bob Paisley
The former Liverpool boss remains the only man in history to have won the European Cup as a manager on three occasions. Paisley guided the Anfield club to the title of kings of the continent in 1977, 1978 and 1981. It put Liverpool in a position where they could again win the cup in 1984 before Steven Gerrard and his team-mates again conquered Europe in 2005. Paisley's modest and softly-spoken attitude earned him immense respect. On defeating Real Madrid in the 1981 final in Paris, he said: "I was so proud to be the manager of the first British club to win the European Cup three times."
Raul
The Spanish striker's statistics speak for themselves. Raul is Real Madrid's all-time leading goalscorer, he has also found the net more times than any other player in more than 100 appearances in the Champions League and he won the competition three times. His Champions League wins came in 1998, 2000 and 2002. He scored in the finals of 2000 and 2002
Gerd Muller
As a goalscoring machine in the 1970s, Germany international Muller is unsurpassed as a striker in many aspects. 'Der Bomber's' ability to find the back of the net helped Bayern Munich win the European Cup on a staggering three successive occasions from 1974 to 1976. Franz Beckenbauer was the man to lift the trophy on each occasion, a record for a captain. Leeds United were among the teams to suffer at the hands of Muller's talents. He scored the second goal against the English club in 1975's final in Paris.
Lionel Messi
Debate will always surround whether the Argentine is the greatest player in history but he is unquestionably the driving force behind Barcelona's success over recent years. Messi has already broken plenty of Champions League records and has won the competition three times. Having already lifted the European Cup in 2006, Messi was then the inspiration for Barcelona in 2009 and 2011, beating Manchester United on both occasions and scoring in both matches.
Alfredo Di Stefano
Having moved from South America, the forward was the driving force behind Real Madrid's monstrous feat of five successive European Cups from 1956 to 1960. It is a staggering achievement which is unlikely to ever be beaten. Di Stefano's eye for a goal and attacking ability mark him out as one of the most talented players in football's illustrious history. He scored in each of the five finals, including a hat-trick against Eintracht Frankfurt in 1960, which was only eclipsed by four from team-mate Ferenc Puskas, to help Real to a goalfest 7-3 win in front of a record attendance of 127,621 at Hampden Park.
Clarence Seedorf
The Dutch midfielder holds the unprecedented honour of having won the European Cup four times with three different clubs. Seedorf sampled the ultimate success with Ajax in 1995 before going on to do likewise with Real Madrid in 1998 and then AC Milan in 2003 and 2007. Although perhaps not always hailed as an iconic player, Seedorf's on-field influence and ability to control midfield cannot be ignored. Following the 2003 victory over Juventus, Seedorf said: "After winning the Champions League three times, I think I can allow myself to say that I am not afraid of anyone."