Route to the final
Manchester City and Real Madrid are just two of the clubs to have suffered at the hands of Borussia Dortmund as Jurgen Klopp's club have progressed to the final of this season's Champions League. Here, Sky Sports looks back at Dortmund's road to Wembley
By Ryan Parrish
Last Updated: 22/05/13 4:00pm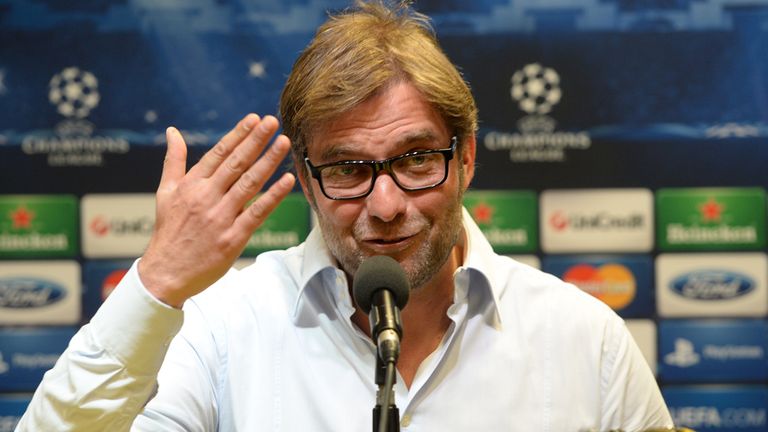 On their route to the 2012/13 UEFA Champions League final, Borussia Dortmund have become the new cool kids of Europe after a series of impressive performances from rising stars of the game.
Jurgen Klopp's squad began by qualifying from Group D's group of death ahead of Real Madrid, Ajax and Manchester City. In the process, Dortmund have lost just one game in their current European campaign, including facing Shakhtar Donetsk, Malaga and Real - again - in the knockout stages. Here, Sky Sports remembers a fine season to date.
Group stages
Ajax
In their opening game of Group D on 18th September, 2012, Dortmund left it late to beat Ajax 1-0 at the Westfalenstadion. Mats Hummels missed a penalty in the second half but striker Robert Lewandowski spared his blushes with a strike three minutes from time. In the return game on 21st November, 2012, after goals from Marco Reus and Mario Gotze, Lewandowski bagged a double as Klopp's side clinched top spot in the group style with a 4-1 win. Following that victory, Klopp admitted: "Ajax had a lot more possession but we put in a very disciplined performance. The goals were all nicely created and well timed. Ajax were tricky opponents, even if the result does not suggest that."
Manchester City
In their second group game on 3rd October, 2012, Dortmund came up against English champions Manchester City, who needed a last minute penalty from Mario Balotelli to seal a point at the Etihad Stadium after Reus had opened the scoring. The two teams met again in Germany two months later when Julian Schieber's second-half effort ensured Dortmund ended the group stages unbeaten with a 1-0 win. After the game in Dortmund, Manchester City boss Roberto Mancini said: "The Champions League can be strange. Dortmund last year went out in the group stages and like us were in fourth place. This year, I think they can win the Champions League."
Real Madrid
The home tie on 24th October, 2012, saw Lewandowski's opener cancelled out by a Cristiano Ronaldo goal. But Marcel Schmelzer volleyed home in the second half to send the Bundesliga champions to the top of Group D with a 2-1 win. After the home win, Klopp said: "The feeling is amazing; it was a sensational evening for us and truly the stuff dreams are made of. It was not a perfect match, but in terms of passion and fighting spirit it was quite close." Two weeks later, the sides had to settle for a point after Mesut Ozil's 89th minute free-kick made it 2-2 at the Bernabeu.
Last 16
Shakhtar Donetsk
Dortmund came up against Shakhtar Donetsk in the first leg on 13th February, 2013 and they snatched a 2-2 draw in Ukraine thanks to Hummels' late header. However, Dortmund made no mistake in the return game on 5th March, 2013, with Felipe Santana, Gotze and Jakub Błaszczykowski all finding the net as they eased to a 3-0 win to reach the quarter-finals for the first time in 15 years. Shakhtar boss Mircea Lucescu was full of praise for the German side, as he said: "I believe Dortmund deserved to go through. It was really tough to beat this team. Overall, the result corresponds with what we all saw on the pitch. I hope Dortmund reach the final as they are a really strong side."
Quarter-finals
Malaga
In a cagey first leg on 3rd April, 2013, the teams battled out a 0-0 draw in Malaga. But the return game six days later proved to be much more dramatic. After the visitors had taken a surprise 2-1 lead with just eight minutes to go, injury-time goals from Reus and Santana capped a remarkable night for Dortmund as they sensationally booked their place in the semi-finals. After the win, an understandably ecstatic Klopp said: "I cannot explain what has happened inside me after that. I think I need to see a doctor. It feels like we have won the trophy. If we play as we did tonight, we will not win the Champions League. But if we play as we really can and have tonight's passion, then we can do well."
Semi-finals
Real Madrid
Having faced Madrid twice in the campaign already, four goals from Robert Lewandowski helped Dortmund to an impressive 4-1 first-leg win over the Spanish giants on 24th April, 2013. In contrast, the second leg was a tense affair as Klopp's side found themselves two goals down at the Bernabeu. But they held off a wave of late attacks to reach only their second final with a 4-3 aggregate win. After surviving the scare, Klopp joked: "Dortmund apparently are an all-inclusive club, so we always make things exciting, one way or another. The 90 minutes felt quite long today, we played well at times but unfortunately not for the entire game."