Klopp can rebuild
With Mario Gotze and possibly Robert Lewandowksi set to leave Borussia Dortmund this summer, there are fears that the club Europe has fallen in love with could have already peaked. Adam Bate is not so sure while Jurgen Klopp is at the helm.
Last Updated: 21/05/13 11:44am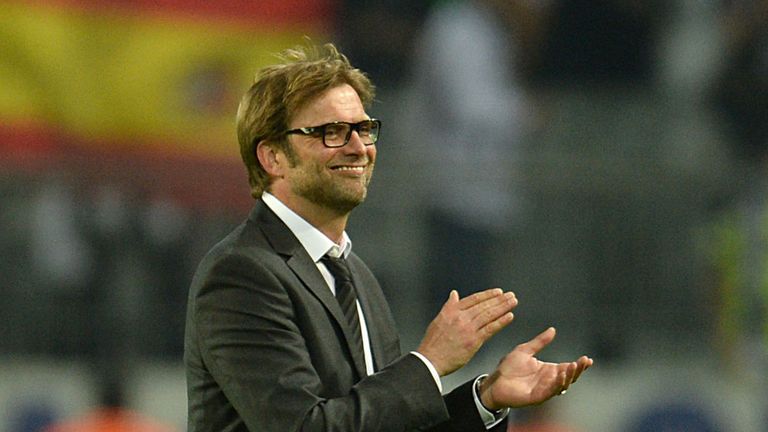 They say the English like to build them up then knock them down. So perhaps it is appropriate that just as England falls in love with Borussia Dortmund the team is in danger of being torn apart once their UEFA Champions League adventure comes to an end at Wembley on Saturday. There's just one catch. With Jurgen Klopp on the bench, regeneration is one of the great strengths of this Dortmund squad.
That can be a tricky business. A year ago, Athletic Bilbao were the hipsters' club of choice with their intense pressing and Marcelo Bielsa's brooding presence on the touchline. And yet, with Fernando Llorente set to follow Javi Martinez out of San Mames they already feel like old news. Now it is the charismatic Klopp making Jose Mourinho look like the Jaded One.
But while the British public have only truly embraced all things BVB during their brilliant run to this year's final, their story began some time ago. Klopp took over as coach in 2008 and presided over a steady improvement against the backdrop of financial problems with sixth and fifth-place finishes in his first two seasons before leading the club to back-to-back Bundesliga titles.
The first of those crowns was won with Nuri Sahin as the heartbeat of the team. The Turkish playmaker was the prompter who made Dortmund tick with his vision and incisive passing from deep - grabbing eight assists and creating an average of 3.5 chances per game, more than any other player in German football. It is hardly an exaggeration to say that Klopp built his side around the young midfielder.
And then he was gone. Snapped up by the behemoth that is Real Madrid in the summer of 2011. No matter. Dortmund shrugged off the loss and improved. Ilkay Gundogan arrived from Nurnberg and, with the help of Sebastien Kehl, the transition was an easy one for Dortmund. To quote Brian Clough, they managed to "win it better". Shinji Kagawa came to the fore with 13 goals and eight assists as the team lost just three games all season.
Last summer it was Kagawa's turn to leave - lured to the Premier League by another European heavyweight in the form of Manchester United. And yet, it is Dortmund who are at Wembley. Just as Sir Alex Ferguson predicted back in February. "The dark horse is definitely Dortmund," said the veteran boss. "I don't think they are paying too much attention to the league. Their concentration is on the European Cup and their European form has been very good."
Scare
So it proved. After helping oust Manchester City in the group stage, Dortmund survived a huge scare against Malaga to eliminate Real Madrid in the semi-final. Crucially, the team appeared to have learnt from their disappointing first campaign in the Champions League. No ageing stars were brought in. Instead, Klopp's young team were empowered and have evolved as a result.
Marco Reus was signed last summer to replace Kagawa and has been an unqualified success. Klopp's words upon signing him from Borussia Monchengladbach are telling. "In football there is only one principle, and that is not based on transfer fees, but on performances," he explained. "We have paid €17million for him and he is worth the money. We want to help him become the player we see in him, who will be better than the one at Monchengladbach."
This idea of making good players better is at the heart of Klopp's philosophy. The team is everything and that is what brings the best out of the individual. And so it follows that players who leave Dortmund might not find success as easily elsewhere. That certainly proved the case with Sahin who - having walked away as the Bundesliga player of the year - endured difficult times at both Real Madrid and Liverpool, where he was played out of position.
Kagawa too has failed to shine as some expected after a stop-start season in England. Even Klopp has been surprised at a player he rated so highly at the Westfalenstadion. "Watching him play now I feel that he still isn't the old Shinji," said the Dortmund coach earlier this season. "The stability in his play hasn't returned and I can't see the confidence that he had when he was here."
Klopp added in an interview with The Guardian this week: "Shinji Kagawa is one of the best players in the world and he now plays 20 minutes at Manchester United - on the left wing! My heart breaks. Really, I have tears in my eyes. Central midfield is Shinji's best role. He's an offensive midfielder with one of the best noses for goal I ever saw. One year before that Nuri Sahin went because Real Madrid is the biggest club in the world. If players are patient enough we can develop the team into one of the biggest in the world."
Ability
There is an idea that the ability of a footballer is set in stone. That it can be tangibly measured as in the computer game Football Manager. Buy them and they will deliver. Hence the amusement when it emerged that Robert Lewandowski almost pitched up at Blackburn in 2010 only for then manager Sam Allardyce to see the deal scuppered by a volcanic ash cloud.
"He was put forward to sign very strongly by our recruitment staff and unfortunately it was one that got knocked back," Allardyce revealed recently. "I think they wanted three or four million euros but we were particularly strapped financially at the time at Blackburn. I think his agent said he couldn't come over because of the ash cloud. I think about it every time I see him play. He's probably worth €40m now."
It's a nice story but the conclusion is based on a false premise. Lewandowski's progress at Blackburn would surely not have been the same as at Dortmund. Even in Germany, the Polish striker struggled initially. He scored just eight goals in 33 Bundesliga appearances in his debut season for the club. Instead it was Paraguayan forward Lucas Barrios, now playing in China, who starred up front - scoring twice as many goals as Lewandowski as Dortmund won their first title in nine years.
Lewandowski's international record - 17 goals in 53 games - reflects the fact that the much-lauded forward is not the same player without the whirlwind of activity around him that he enjoys at Dortmund. European clubs may be looking enviously at their stars but Klopp himself appears relaxed in the belief they can be replaced. This is the man who got 20 goals in a season from Liverpool flop Andriy Voronin when in charge of Mainz, after all.
The exit of Mario Gotze could be seen as a more significant blow given that he has already transferred to rivals Bayern Munich. Even then, while acknowledging that replacing such a talent will be difficult, Klopp still seems to have the air of a man who knows something the rest of us don't. "This season we activated Marco Reus' release clause and Gladbach weren't happy either," he points out, before adding: "If I am relaxed the fans should be too. Other mothers also have handsome sons who can kick a ball around."
This Dortmund team will change in the summer. Some of the funds will be reinvested. Danish talent Christian Eriksen is the latest to be linked with a move to the club and his recent comments highlight Dortmund's growing status. "A few years ago I would not even have considered the Bundesliga but now I do," he told De Telegraaf. "Dortmund are a club where I would like to play. I think I would be a good fit with the football there. They play nice, attacking football."
Whatever happens at Wembley, it will be tempting to see this as the end of a cycle. But if Jurgen Klopp can continue to regenerate Borussia Dortmund, there remains every chance that this could be just the beginning.