Dortmund profile
Jurgen Klopp takes his Borussia Dortmund side to Wembley to face Bayern Munich in the UEFA Champions League final this weekend and Sky Sports assesses the club's strengths and weaknesses
By Ryan Parrish
Last Updated: 23/05/13 9:23pm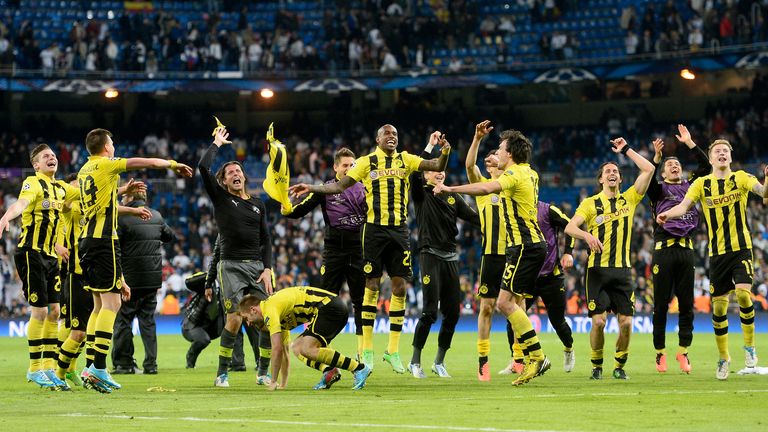 Borussia Dortmund take on Bundesliga rivals Bayern Munich at Wembley as the two team's battle out an all-German UEFA Champions League final.
Dortmund's campaign has seen them become one of Europe's most fashionable clubs having dispatched the likes of Manchester City and Real Madrid on their route to the final.
They last lifted the trophy in 1997 and will be hoping to extend Bayern's miserable run of final defeats by reclaiming it on Saturday. Here, Sky Sports takes a look at Dortmund.
The boss
Borussia Dortmund's charismatic manager, Jurgen Klopp, has become one of the iconic figures of this season's UEFA Champions League. On the back of leading his side to the Bundesliga title last year, Klopp's refreshing approach to football has left numerous English fans wishing that their club was more like Dortmund. His press conferences are usually value for money as they rarely fail to raise a smile. His mannerisms whilst on the side of the pitch often suggest he belongs amongst the supporters in the stands rather than in the dugout. Having nurtured Dortmund's young squad into one of world football's best teams on a relatively tight budget, he has become one of the most highly-rated managers around. At 45, Klopp is fairly young in managerial terms and his exploits in this year's tournament suggest that his best years could still be ahead of him.
The story so far
Despite being drawn in the 'group of death', Dortmund sailed through to the knockout stages unbeaten, winning their home games against Ajax, Real Madrid and Manchester City, while drawing all of the three return games. They then met Ukrainian side Shakhtar Donetsk and after a tricky 2-2 draw in the first leg, they eased to a 3-0 win in Germany as they secured a place in the quarter-finals where Malaga awaited. Dortmund had the advantage after a 0-0 draw in Spain but they needed to produce a late comeback to seal a 3-2 win in one of the competition's most dramatic games. Real Madrid stood between Dortmund and a place in the final but a masterclass from Klopp's side saw them run out 4-1 winners with Robert Lewandowski netting all four. Madrid threatened a comeback in the second leg but a 2-0 defeat at the Bernabeu still sent Dortmund to Wembley.
Champions League 12/13
Borussia Dortmund
Games Played
12
Goal Attempts
Goals
23
Ave Goals per game
1.92
Shots (excl blocked shots)
142
% Shots on Target
56%
% Goals to Shots
16%
Passing
Short Passes
4,461
Long Passes
622
Overall Pass Completion %
79%
Duels
Duels
1420
Duels won %
50%
Crossing
Total Crosses
219
Cross Completion %
24%
Defending
Goals Conceded
12
Ave goals conceded per game
1.00
Tackles
297
Tackles Won %
75%
Blocks, Clearances & Interceptions
797
Discipline
Fouls
148
Yellow Cards
13
Red Cards
0
Story of success
Borussia Dortmund had been almost bankrupt in 2004. In the old era of the likes of Dr. Gerd Niebaum and Michael Meier, the club bought massive players for extraordinary money to end up at the final discretion of its financers. In the new era of Hans-Joachim Watzke and Michael Zorc, the club took its time and tested some managers like Bert van Marwijk to then identify Jurgen Klopp as their man in 2009. At that time, Klopp had been manager for seven years at Mainz and was known all over the country for his enthusiastic way of managing a tiny club under rather discrete financial surroundings. At Dortmund, Klopp proved his management style also works greatly in a larger football environment. The coincidence of Klopp's contagious football enthusiasm and the general skill level of his Dortmund squads formed an exciting mixture of flair and sustainable results.
What they say
Jurgen Klopp
"We are a club, not a company, but it depends on which kind of story the neutral fan wants to hear. If he respects the story of Bayern, and how much they have won since the 1970s, he can support them. But if he wants the new story, the special story, it must be Dortmund. I think, in this moment in the football world, you have to be on our side."
Felipe Santana
"If you are talking about the Champions League, of course it is our dream. To play in the Champions League and to reach the final is the dream of not just me but that of all children born with the desire to play football."
Jakub Blaszczykowski
"For us, the players and the whole club, it is a great event. Not many of us have had the chance to play in a final like this. This is the culmination of our good season in the Champions League, and every one of us is waiting impatiently for the final."
Three key men
Mats Hummels
The 24-year old German defender has been a commanding presence at the back throughout Dortmund's Champions League campaign. He is comfortable with the ball at his feet and his ability to read the game has led to clubs all over Europe clamouring for his signature.
Ilkay Gundogan
Another young German international, Gundogan has been the unsung hero of Dortmund's campaign. While the credit has often gone to the attack-minded players, the 22-year old has won key battles against some of the best midfielders in the world, breaking up play with his no-nonsense approach.
Robert Lewandowski
The goalscoring ability of striker Lewandowski is one of Dortmund's biggest assets. His four goals in the demolition of Real Madrid showed that he has all the attributes of a world-class striker who is equally as capable with the ball at his feet as he is with it in the air.