Five key factors
It promises to be a thrilling UEFA Champions League at Wembley on Saturday as Bayern Munich take on Borussia Dortmund, but where will the game be won and lost. Daniel Storey considers some of the key battles
Last Updated: 23/05/13 1:36pm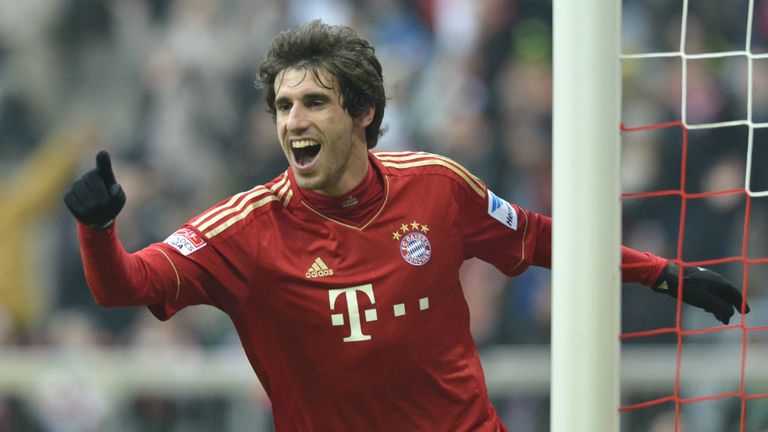 Robert Lewandowski v Dante
It may seem an odd conclusion to draw after the striker became only the eighth player to score four goals in a Champions League match when Borussia Dortmund thrashed Real Madrid in the semi-final first leg, but Robert Lewandowski will be under pressure to perform on Saturday.
Last season, Dortmund's success was exemplified by their performances against Bayern, and their Polish striker scored four goals in three victories over Jupp Heynckes' team. This time around the opposite has occurred, with Bayern's dominance reflected in their four games against Dortmund. Bayern have won two and drawn two, whilst Lewandowski has managed just one goal in the four encounters.
He may be the second top scorer in the Champions league and Bundesliga this season, but in his two league games against Bayern this season, Lewandowski has been nullified. His pass completion in both games was the worst of any player on the pitch, and he managed just two shots in his 180 minutes. One of those was a penalty, saved by Manuel Neuer, earlier this month.
That Bayern recorded the tightest defence in Bundesliga history (and the meanest in Europe's top five leagues) has largely been credited to Dante, a summer signing from Borussia Moenchengladbach who has been ranked by German magazine Kicker as the Bundesliga's best defender and is now deemed undroppable by Heynckes. Neuer went as far as labelling the Brazilian one of the best defenders he has ever played with.
More pertinently, he has dealt expertly with Lewandowski. Trusted to mark the striker in December's Bundesliga clash, Lewandowski failed to have a single shot and had fewer touches of the ball than any other player that played the 90 minutes. If Dante and Bayern can again keep Dortmund's principal goal threat as quiet on Saturday, they will have one hand on the trophy. After all, this is the player with five of Dortmund's seven goals from the quarter-finals onwards.
Can Dortmund track Thomas Muller?
Some of the most effective players in Europe are those who are difficult to categorise in one position. Gareth Bale and Lionel Messi have both benefitted from the licence to operate in a free role, often finding space between midfield and attack. Such an ability is incredibly difficult to negate.
At just 23, Bayern's Thomas Muller has become an expert exponent of the art. Muller's propensity to pop up where and whenever he can be most effective is handily summed up by his position as listed on various websites, where he is referred to as 'midfielder' 'attacking midfielder', 'winger', 'forward' and 'striker'.
Whilst we don't pretend at to have the final say, we reckon that 'very good footballer' just about covers it. Whatever his label, Muller is a player that has improved immeasurably from his already impressive campaign last season. Only Lewandowski and Cristiano Ronaldo have more Champions League goals this season, with Muller doubling his tally from last season. In the Bundesliga, only Franck Ribery has more assists. This is one of the world's complete footballers, and Dortmund must have an exact plan to deal with Muller's threat. Much may depend on the fitness of Mats Hummels.
Finally, and most worryingly for Dortmund, Muller is a big-game player. Five goals in his six Champions League knockout games this season (including three in two games against Barcelona), a Champions League final goal against Chelsea last season and five goals at World Cup 2010 to win the Golden Boot show the unerring ability to operate on the highest stage at such a young age. It's rather frightening that Muller was on the Ballon d'Or shortlist three years ago and yet, at 23, is still younger than Gareth Bale.
Dortmund's high tempo
One of the few problems Bayern have faced this season is an occasional strife against high-tempo football. Arsenal gave them a significant scare by approaching their last-16 second leg with a gung-ho mentality (having little to lose helps such a mind-set), whilst Juventus created numerous chances with this same high intensity during the first half-hour of their quarter-final second leg. They failed to convert any of their opportunities, and were made to pay.
One of the reasons for Bayern's success against Barcelona was the Spanish side's commitment to their measured passing approach. Jupp Heynckes instructed his players to press all over the pitch, forcing mistakes from Barca's midfielders, whilst the Catalan's formidable counter-attacking threat was largely limited by Lionel Messi's lack of fitness. As soon as that tactical battle was won, Bayern were able to out-muscle their opponents.
Very few teams in Europe play faster football than Jurgen Klopp's Dortmund, and this should give Die Schwarzgelben genuine reasons for optimism. Klopp is a manager who will demand that his side stick to their principles of high intensity attacking football, and their German Cup final victory in 2012 was the perfect example of such a tactic. Klopp will realise that the only way to win is to imprint their philosophy on their opponents from the first minute. If Bayern begin to win the midfield battle, Dortmund will struggle.
Javi Martinez: The complete defensive midfielder
In describing himself at the start of the year as "the most German of all Spanish footballers" (a frightening thought), Javi Martinez demonstrated exactly why Bayern chose to break both their club and Germany's transfer record to bring the midfielder to the Allianz Arena.At 6'3" Martinez is effective in the air, and his tackling is impressive enough that he is perfectly comfortable in central defence. No player made more tackles in the semi-final first leg as Bayern were able to efficiently deal with any Barcelona threat.
It may seem gloriously understated, but Martinez's key role is to provide the basis on which everyone else can operate at Bayern. His defensive stability as the anchor of the midfield allows those around him (particularly Philipp Lahm from right-back) to venture forward, and his passing range makes him far more than a one-dimensional option.
The injury to Mario Gotze means that Martinez's task is as yet undecided. Dortmund may move Marco Reus into the centre with Kevin Grosskreutz operating on the left, or move Ilkay Gundogan further up the pitch. Either way, Martinez will be charged with cutting off the supply line, and it is a job that the Spaniard will relish. It seems a rather simplistic thing to say, but you feel that if Martinez plays well, Bayern will do too.
As an aside, I have a Manchester City-supporting friend who made the unfortunate mistake of believing his side had signed Martinez in August last year. Martinez had in fact joined Bayern two days earlier, leaving City to console themselves with a far less attractive 'Javi' option, in Garcia. On such things do hopes (and success) depend, and his signing for Bayern made a huge statement of intent last summer.
Dealing with the full-back threat
Although Saturday's game could be viewed as a battle of the wide men (and Arjen Robben & Franck Ribery v Reus/Grosskreutz & Jakub Blaszczykowski is obviously delicious), both Dortmund and Bayern are at their best when allowing full-backs to venture forward, and it is this threat that must be guarded against. Once a full-back has been allowed to overlap, chances are far more likely to be created (an opinion backed-up by Leighton Baines' status as Europe's most prolific chance creator).
For Bayern, Lahm (and to some extent David Alaba) has acted almost as a second winger this season, demonstrated by the fact that only Ribery has more Bundesliga assists this season (Lahm is level with the aforementioned Muller). In the Champions League, only Zlatan Ibrahimovic and Gotze are ahead of Lahm. For Dortmund, meanwhile, the Polish combination of Blaszczykowski and Lukasz Piszczek have contributed almost a third of the club's assists.
Both Robben and Ribery received praise from Heynckes for continuously covering Dani Alves and Jordi Alba in the semi-final, and Dortmund's wingers did the same in the Westfalenstadion against Sergio Ramos and Fabio Coentrao.
Whilst the neutral may look forward to seeing the attacking threat from the game's wingers, their discipline in guarding against the overlapping threat may be more at the forefront of their coaches' minds.
This article first appeared on the Football365 website.