Subotic's dream
Sky Sports caught up with Borussia Dortmund defender Neven Subotic ahead of this weekend's UEFA Champions League final against Bayern Munich.
Last Updated: 23/05/13 8:31pm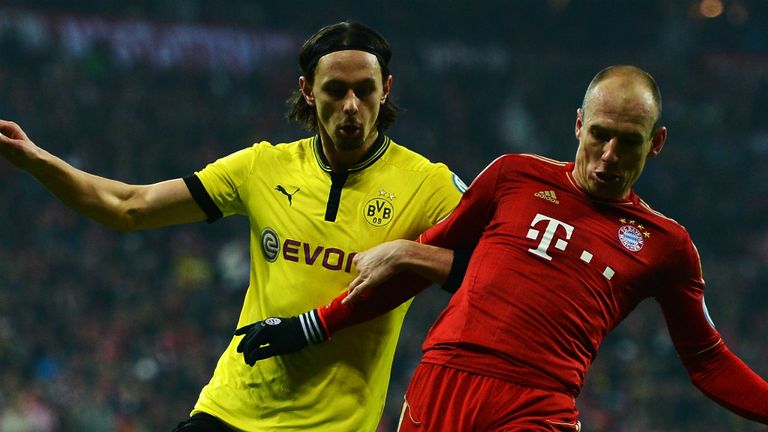 What has been the secret of Dortmund's success in Europe this season?
Compared to last year we grew even further as team, learned lessons from the past, and worked even harder. We now play even better than before and we are confident of success.
Did you think you could go as far as the final after being drawn in such a tough group with Real Madrid, Man City and Ajax?
No way, I don't think anyone really thought that, maybe a handful of people were hoping. I was happy though to test our limits and we proved we could beat anyone on our day.
Will playing in the Champions League final be the highlight of your career and how keen are you to win the final?
The final will certainly be the highlight, especially if we do win it. We have won three titles in the last two years but I am sure this one will top them all. It is the most prestigious and sought after trophy and we are determined to get it.
With it being an all-German final does this show that the Bundesliga is the best league in Europe?
Germany does belong to the top leagues in Europe, I would not want to go too far and say they are best. In the last few years it has always been Spanish or English teams that dominate the Champions League therefore these teams also belong to the top leagues.
Has it been a dream to always play at Wembley? Have you played there before?
I have not been there before and it was not my childhood dream since the stadium was built not too long ago. Still, it is a very special game in a very special place and I do hope to make this stadium my new favourite one, obviously with a win.
How important has Jurgen Klopp been to Dortmund's success over the last couple of seasons?
He is the MVP. His plan to bring younger players together on a team and make them work hard has been fundamental for our success.
With Mario Gotze leaving for Bayern Munich next summer do you fear this Dortmund team could be broken up with Robert Lewandowski also linked with a move?
In football anything can happen. I don't worry about transfers, I focus on the games and as long as my team-mates do the same at the time I am not worried whether they will be here next year. Obviously both have been very important for us and I would rather keep them all on my team, but I have to respect their wishes and dreams.
Bayern have won the Bundesliga and are on course for the treble. How hard a task will it be to beat them?
It will be the toughest battle but we have proven that when we put our best foot forward that any team, including Bayern, will have a hard time playing against us.
How sweet would it be if you could stop them winning the treble?
Sugarcandy sweet, pure sugar. It would make a lot of people everywhere really happy to see the underdog win.
Are you happy to be underdogs going into the final?
Yes, all the pressure is on them and I am comfortable with the underdog situation.
Both league games ended in 1-1 draws this season do you think the final will be another tight game?
I do think it will be tight, both teams are going to give it their all so there is a micro chance that someone will win by a landslide.
You can watch Dortmund's route to the final Road to Wembley' class='instorylink'>here