Zaba ready for Barca
Sky Sports News' James Cooper reports from Carrington where Manchester City are preparing to take on Barcelona - a team with whom they share a lot of common ground.
By James Cooper
Last Updated: 17/02/14 11:51am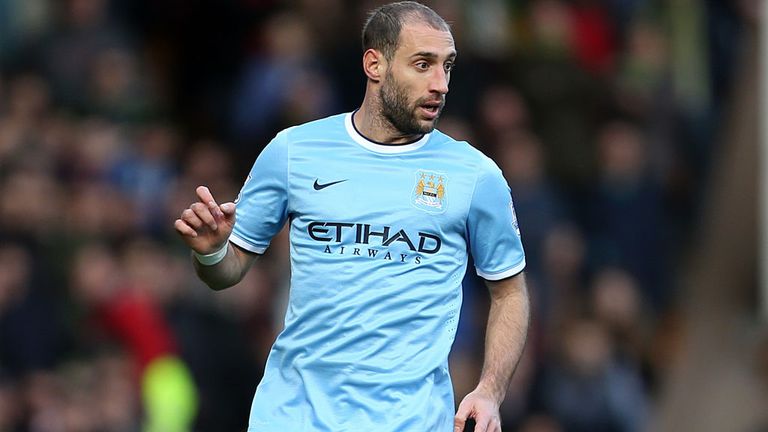 So perhaps it's unsurprising the Blue camp should have been opened up to Spanish journalists ahead of the UEFA Champions League clash between City and Barcelona.
Four Spaniards, three Argentinians and a Brazilian are among Manuel Pellegrini's squad who've already beaten the reigning European champions Bayern Munich this season.
"When you win those games," Pablo Zabaleta explained. "You always think you're a good team, you're doing things right and that's why we need belief, we need to believe in ourselves that we have a great team, and great players to win big games."
Stepping into the shoes vacated by Roberto Mancini, Pellegrini's task is a simple one - to take the Manchester City project onto a European stage and add Champions League glory to the considerable strides they've made domestically. Zabaleta admits the Barcelona game will show just how much progress they've made.
"We know how important it is to win big games and of course, it's a big challenge for us because when you play against the best, you see where you are," he added.
Now in his sixth season at City, Zabaleta has been on hand to witness the transformation of the club since its takeover by Sheikh Mansour.
Snapped up for what now looks like a bargain £6.5million from Espanyol in the summer of 2008, the full-back managed just a solitary win over Barca in eight attempts while playing in Spain.
But when he lines up against them on Tuesday night at the Etihad Stadium, he'll be the only player who knows what victory over Barca in the blue of City feels like, following a friendly win at the Nou Camp in the summer of 2009.
"We won 1-0," Zabaleta recalled. "Martin Petrov scored in that game, we kept a clean sheet so, yeah, I have a couple of wins in games against Barcelona and fingers crossed, we can do it next time again."
City have won 17 of their 19 games on home soil so far this season, but the 29-year-old is aware he may well face the toughest task as Barca come to the Etihad.
It is a two-pronged challenge for Pellegrini's men, finding the goals and the solidity to give them a platform for the second leg at Camp Nou, a task Zabaleta is relishing.
"We must be solid on Tuesday," he continued. "We know Barcelona have got important players in the front with Pedro, Neymar and Messi. All of them are fantastic players, so the back four should be ready for that game and also the team.
"We need to be ready to defend well, be a compact team and then obviously score goals because playing at home we need to score as many goals as we can for the second leg."
The visiting Spanish media may have got the answers they expected from City ahead of their showdown with Barca - but they left the Etihad Stadium unsure just how Gerardo Martino's team will go about tackling their first visit.