Thibaut Courtois deserves to be Chelsea's number one next season, says Jimmy Floyd Hasselbaink
Keeper impressed as Atletico Madrid earned 1-1 Champions League draw at Barcelona
Last Updated: 02/04/14 4:56pm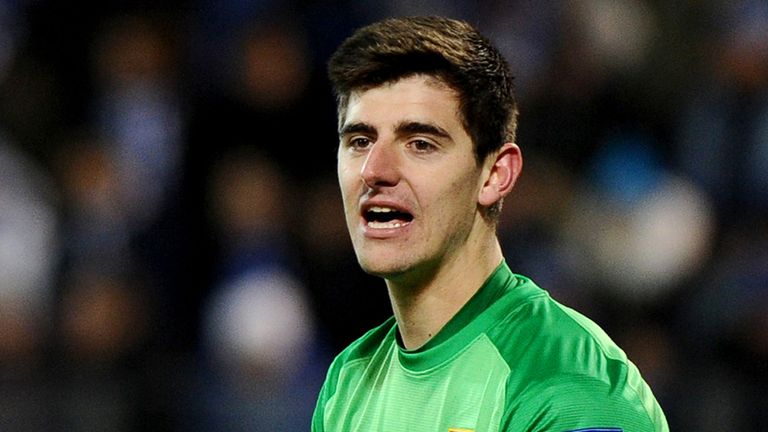 Thibaut Courtois should replace Petr Cech as Chelsea's number one next season, says Jimmy Floyd Hasselbaink.
The 21-year-old goalkeeper is currently on loan at Atletico Madrid, where he has enjoyed an impressive season between the sticks at the Vicente Calderon Stadium.
And the Belgian demonstrated his considerable talent once again on Tuesday night, in the first leg of his side's Champions League semi-final with Barcelona.
Courtois is, with the goalkeeper of Bayern Munich, Manuel Neuer, the best goalkeeper around at the moment.
Jimmy Floyd Hasselbaink
With the score at 1-1, Courtois made two fine saves to keep out Andres Iniesta and Lionel Messi and earn Atletico a vital draw in Barcelona – and former Chelsea striker Hasselbaink says he now warrants a starting spot at Stamford Bridge when he returns to his parent club.
"Next year, for Chelsea, it's going to be hard to loan him out again," said the Dutchman. "It's going to be you play him or you have to sell him.
"I'd put the best in. That's Courtois. Very simple. When Petr Cech first came to this country he was the best but after his head injury he's not really had the level he had before. Don't get me wrong, he's done really well. But this is a difference class for me.
"Courtois is, with the goalkeeper of Bayern Munich, Manuel Neuer, the best goalkeeper around at the moment.
"He started at Genk, where all of a sudden he got a chance and saved them, won the league for them on his own and from there he's kept on going.
"The only thing I want to see of him is can he play? In modern football now your goalkeeper has to play a little bit from the back. Can he play a pass? That's not Atletico's type of tactics but if he wants to be really complete he will need to add that to his game."
Hasselbaink reckons Atletico - who took the lead through a Diego wonderstrike before Neymar equalised - will be pleased with their night's work, but warned that, despite holding an away-goal advantage, Los Rojiblancos must beware Barcelona's attacking threat in the second leg.
"It's difficult to say because it's Barcelona," Hasselbaink told Sky Sports when asked about the balance of the tie.
"Of course, Atletico don't have to score in the second leg. If it's 0-0 they win, so they have a little bit of an advantage – but Barcelona can always score. It's still 50-50, but Barcelona have to come even more now and Atletico will be comfortable with that.
"Atletico have only given two chances away, one goal, a few shots from outside the box, which is always going to happen. So, as a team, as a unit, they've done really, really well."
Blow
However, their task in the return fixture on April 9 will be made harder due to an injury to top scorer Diego Costa.
The Brazil forward started on Tuesday but limped off midway through the first half with the hamstring problem he has been nursing in recent weeks.
Dwight Yorke believes Costa will be a major loss for Atletico boss Diego Simeone.
"It was a big decision for Simeone to make; their talisman, Diego Costa, do you leave him out in such a big game or take the risk? He took the risk and it certainly didn't pay off for him," said the former Manchester United man.
"This could be a massive blow if he misses the return leg. He's the man that really makes them tick when he plays well."
Watch Atletico Madrid v Barcelona, the second leg, live on Sky Sports 2 HD from 7.30pm on April 9