Patrice Evra's goal provided moment of Manchester United hope but ultimately they were not good enough
Manchester United were eliminated from the Champions League after a 4-2 aggregate defeat despite taking the lead in Munich. Ultimately, Bayern had too much quality as United succumbed in the second half. Adam Bate asks if this is just the way of things under David Moyes?
Last Updated: 10/04/14 9:08am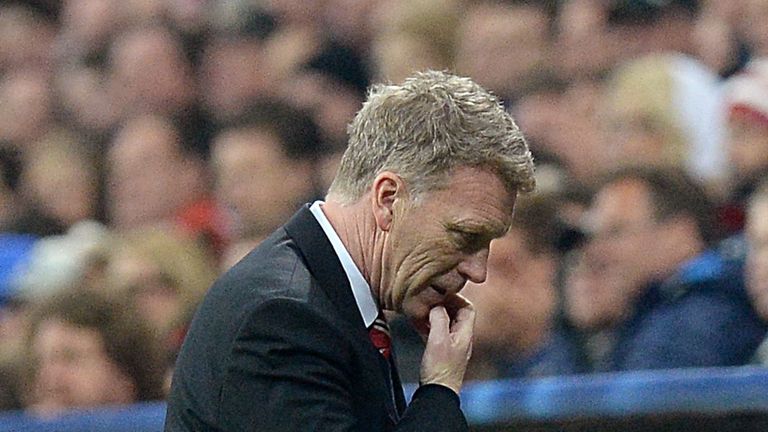 As the ball flew into the top corner of Manuel Neuer's net, it felt like a goal to remember. Patrice Evra had struck it perfectly and Manchester United were leading the European champions in Munich. David Moyes was quick to act. This was it: His Jose Mourinho moment.
Just as the Chelsea boss, the previous evening, had focused upon instructions rather than celebrations amid the uproar of the crowd, the United coach sought out a player. He communicated his plans to Darren Fletcher. And just 22 seconds of play later, Bayern Munich had equalised. His moment had passed.
Two further goals followed to banish United from the Champions League until the autumn of 2015 at the very earliest. A disciplined defensive effort was undone in a deflating quarter of an hour. While United's players appeared stunned by their own goal, Bayern's responded emphatically.
In the balance
Perhaps that's just what champions do. And yet, for two-and-a-half hours across both legs, this tie was in the balance. Bayern coach Pep Guardiola knew what to expect. But that didn't necessarily mean he knew what to do about it.
"They are so defensive," he had told reporters on the eve of the match. "And they use the counter-action very, very, very, very well. Maybe I am wrong. Maybe David Moyes thinks another thing, but I think they are going to wait back with eight or nine players in the box, await our mistake and wait for a free-kick or a corner to punish us."
Despite the fact that a goalless draw would have been enough to send Bayern through, there was little thought from Guardiola of inviting United onto them. Instead their plan to deal with opponents that wanted to keep men behind the ball was simple - throw more men forwards.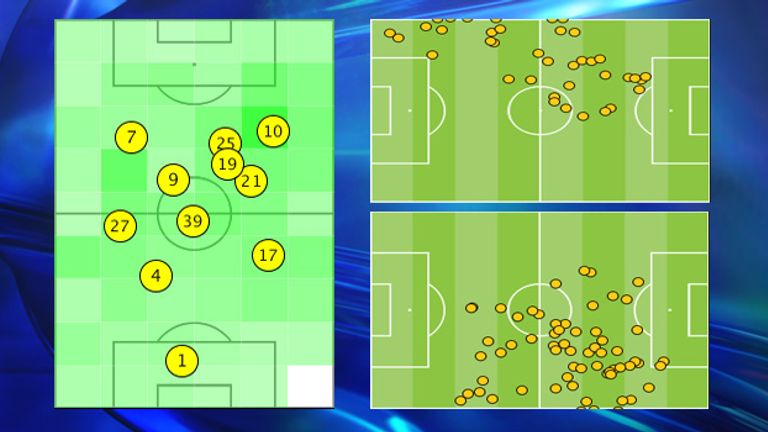 In the absence of holding midfield options with Javi Martinez and Bastian Schweinsteiger suspended, Guardiola came up with the novel approach of using full-backs David Alaba and Philipp Lahm in those areas. If there had been any doubts over their ability to control the game, this ended them. But it created as many problems as it solved.
"I've never seen it before," said Jamie Carragher at half time. "We're all scratching our heads thinking 'what is he doing?' He always comes up with something different and the full-backs are playing holding midfield roles, leaving them susceptible to the counter-attack – which is United's game plan. So it seems like he's actually playing into their hands because we haven't seen Lahm or Alaba overlap. We like to see different things but at this moment it's not working for them."
Counter-attack
At times, it felt like Bayern were playing with just two at the back. So while width had been sacrificed, the dangers of the United counter-attack remained. "They play very high so we need to make sure we capitalise on that," said Moyes just moments before kick-off. An early Wayne Rooney chance aside, there were few opportunities to do so. But the fact that neither team managed a shot on target before the break was evidence that the plan was working for the visitors.
"We wanted to play football," said Arjen Robben afterwards. "But they were there for the counter-attack and they are very dangerous because they have good players up front who are very quick. So you have to be careful." At the start of the second half, they were anything but. "The first 10 minutes of the second half was a disaster," he added. "We were too slow."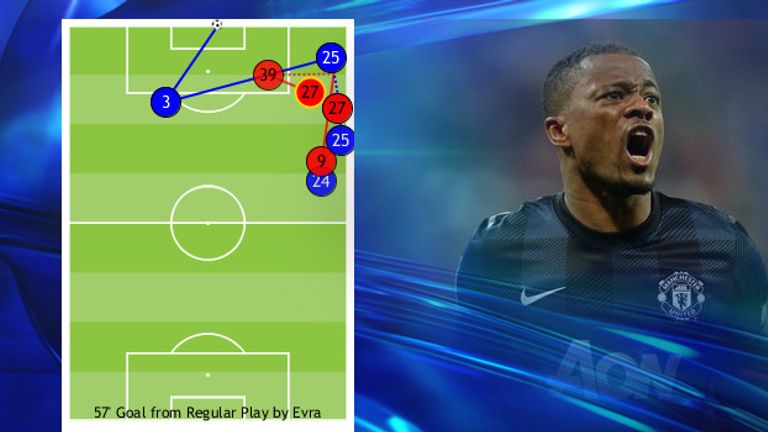 The home crowd even appeared to become agitated. Toni Kroos surrendered possession in his own half and as the groans poured from the stands to the pitch, Antonio Valencia seemed to sense the mood. After neat play on the right wing, his cut back fell nicely for the onrushing Evra and United had their goal. It was a turning point. But it was a turn in the wrong direction.
"If you're a schoolboy you get told that if you score then make sure you don't concede straight away and we conceded too quickly," said Moyes. "We needed to give ourselves five or 10 minutes where we could stop them keeping the ball. But I think they went straight from the kick off and scored."
Equaliser
Even on the replays, it's difficult to understand how United allowed it to happen. A simple forward pass from Ribery found Mario Gotze's run down the left channel before Ribery himself crossed for the equaliser. Within 10 minutes, Bayern were ahead after Robben beat Valencia – with Phil Jones occupied by Alaba – and the ball eventually found Thomas Muller from Robben's cross. The Dutchman had not been closed down by Evra. And the twin wing threat had decided the contest.
Both Robben and Ribery had more touches within 20 yards of the United goal in that final 30 minutes than they had enjoyed in the opening hour of the game. "Those two wide players, if they get you one-on-one then you're trouble, it doesn't matter who you are," said Graeme Souness. "All of a sudden there was no covering player and that's where the goals come from – two crosses." Eight minutes later and it was 3-1 after Robben's deflected effort beat David De Gea.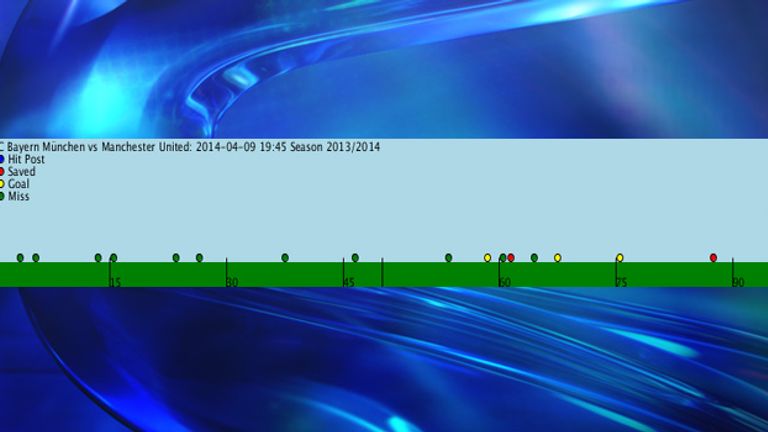 It was alarming how rapidly the game got away from United. As befitting a team that has struggled for much of the season, confidence drained all too quickly. "For 15 minutes it became open and the two Bayern wingers started to have some joy," said Neville. "It was going from end to end. That didn't suit the way United were going to win this game tonight. They couldn't go punch for punch with Bayern. They had to play as they were doing before.
"The game management was poor from United for those 15 minutes. Even at 2-1 with 70 odd minutes on the clock, try to stay at 2-1 until 85 minutes and twist it back the other way and create a bit of tension again. But they couldn't stop the tide against them at that point."
Familiar
The tide has been against Moyes for much of his time at Old Trafford. As such, the post-match comments felt familiar. "We tried to make it difficult for them and stifle them," he said. "I thought we did that for long periods."
That seemed a fair assessment and – against the quality of Bayern – a more than fair plan. After an hour in Munich, he looked on course to out-think the celebrated Guardiola with what must surely be acknowledged were inferior resources.
Unfortunately for Moyes,  just when he provided a moment reminiscent of another high-profile manager, Mourinho, those hopes evaporated - United were just not quite good enough. The manager will have to hope the same conclusions are not drawn about him when the Champions League dust settles.