Top 10 Champions League finals
Ahead of this weekend's Champions League final, we select ten of the best going right back to the first in 1956
By Daniel Storey
Last Updated: 22/05/14 2:07pm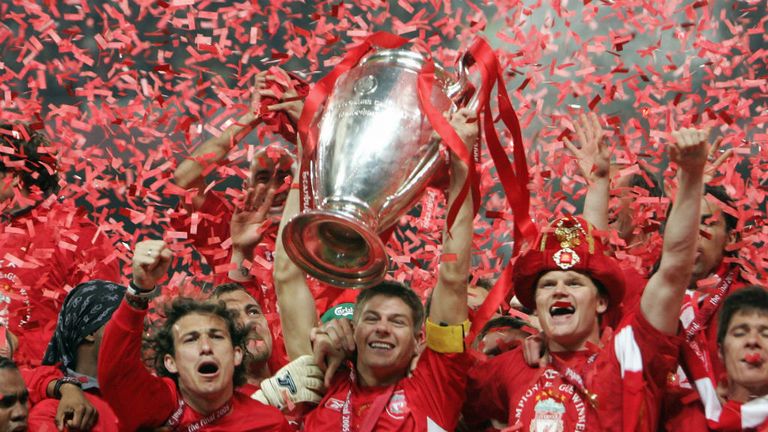 10) Ajax 2-0 Internazionale (1972)
The early 1970s was a glorious time for Dutch football. Feyenoord won the European Cup in 1970 and Ajax then did so in 1971, a feat they would repeat the following year with a win over Internazionale. It was the 1972 final that was the most interesting, largely because it pitted Stefan Kovacs' 'total football' (Kovacs continued the philosophy of Rinus Michels) against the defensive Catenaccio of Inter, although Helenio Herrera had long since gone.
Ajax dominated almost the entire ninety minutes, Cruyff scoring following a goalkeeper mistake and then adding to that late on following a cross from captain Piet Kaizer. Michels may have left, but this was his philosophy at its finest, the final one of four trophies won by Kovacs' side that season.
9) Celtic 2-1 Internazionale (1967)
This season's Champions League may have raised plenty of discussion over opposing styles in conflict with each other, but back in 1967 the exact same chat was being had regarding Celtic's attacking flair and Internazionale's Catenaccio system. This was attack vs. defence and brawn vs. beauty.
This was also a time of football romance. It has become entrenched in British football folklore that Celtic's entire team had all been born within 20 miles of Celtic Park - whether you agree with the 'too many foreigners' argument or not, there is no doubting that fact holds a warming sense of sentimentality.
Inter scored early, fitting their game plan perfectly with Helenio Herrera then instructing his players to sit back and soak up the pressure as they had grown so accustomed, and adept, at doing. Giuliano Sarti in the Inter goal played wonderfully to thwart the attacking waves provided by Jimmy Johnstone and Bobby Lennox out wide and Stevie Chalmers and Willie Wallace through the middle, and Inter seemed to be heading for glory.
Eventually however, the Catenaccio cracked, first Tommy Gemmell and then Bobby Murdoch scoring to give Britain its first European Cup champions. The Lisbon Lions had been born.
8) Milan 4-1 Ajax (1969)
Milan were the undoubted favourites for the 1969 final against the Dutch upstarts of Ajax, the first Dutch team to qualify for the European Cup final. Ajax may have had the skills of Johan Cruyff, but it was the wonderful combination of Gianni Rivera and Pierino Prati in attack that seemed the most prevalent danger. Milan had knocked out the previous two champions in the quarter and semi-finals, and weren't prepared to fall at the final hurdle.
Prati was the obvious hero, still the last man to score a hat trick in the final. He hit the post after just a minute, scored after less than ten and had doubled that tally by half-time, the Dutch blown away by a Milan side they felt would prefer to counter attack. The Dutch may have been coming, but the great tactician Rinus Michels had been firmly put in his place.
7) Manchester United 2-1 Bayern Munich (1999)
A game included for the final three minutes rather than the previous 90, this was the ultimate in footballing muggings. A sweep of the foot from perma-young Teddy Sheringham and a stabbed finish from the equally perma-young Ole Gunnar Solskjaer was enough to make every Manchester United fan wish that they could grow old immediately, just for the opportunity to tell the grandchildren those three little words: " I was there".
"This is the greatest moment of my life; I'm struggling to take it all in, said Alex Ferguson after the game. "I haven't said anything to my players yet. I've just hugged and kissed them. I've slobbered all over them." Perhaps even a better quote than "Football, bloody hell."
Bayern had led for 84 minutes and United for just a matter of seconds, but those who laughed last, laughed loudest, with Sami Kuffour left to beat the turf in one of football's most iconic of images. What a magical night in Barcelona.
6) Manchester United 4-1 Benfica (1968)
Ten years after the Munich air disaster, it was survivor Bobby Charlton that gave United the lead at Wembley as United looked to become the first English champions of Europe, only to see Jaime Graca bring Benfica level, the Portuguese side dominant until the whistle blew to end normal time.
Three goals in extra time, George Best's wonderful solo second goal the pick of the bunch, gave United victory. In a decade, Matt Busby had completed his mission to rebuild a side decimated by disaster. No-one could deny the emotive power of his victory.
5) Real Madrid 4-3 Stade Reims (1956)
The first cut is the deepest and all that, and the first European Cup final was instantly a classic, a nip and tuck affair between the stars of Real Madrid and the dominant French side Stade de Reims, who had beaten the might of Hibs in the semi-final. The game was notorious for the impressive performance of Raymond Kopa in what was his last game before joining Real.
Reims stormed into a two-goal lead after less than ten minutes, before Alfredo di Stefano scored five minutes later, and the Spaniards were level by half-time after Hector Rial scored a header from a corner. Kopa got his second assist when providing for Michel Hidalgo to give the French champions a 3-2 lead, but Real's pressure eventually told.
Madrid would go on to win the first five European Cups, including a second victory over Stade de Reims in the 1959 final.
4) AC Milan 4-0 Barcelona (1994)
It is easy to forget two decades on that Milan were the underdogs going into the 1994 final. Barcelona were the 'Dream Team', playing some of the best attacking football Europe had ever seen under the guise of Johan Cruyff.
The Rossoneri were given no hope. Although crowned as Italian champions, Fabio Capello's side had failed to win any of their last six league games and had Franco Baresi and Alessandro Costacurta missing through suspension. Add to that the lack of Marco van Basten and Gianluigi Lentini through injury and you soon realise why the world expected Romario, Hristo Stoichkov, Josep Guardiola, Ronaldo Koeman and co to saunter their way to victory.
What followed was an hour of total Milan dominance, goals from Daniele Massaro (2), Dejan Savicevic and a breakaway fourth from Marcel Desailly sealing a 4-0 victory with 30 minutes still remaining. A depleted Milan side that had won Serie A by scoring just 36 goals in 34 games had obliterated the Dream Team, and a generation of kids had fallen in love with the Italian game, smiling at the very thought of James Richardson and a piazza.
3) Benfica 5-3 Real Madrid (1962)
Real Madrid were the Galacticos, perhaps slightly on the wane but still with the almost celestial combination of Alfredo di Stefano and Ference Puskas, whilst Benfica were the young pretenders and defending champions. It was billed as the clash of the titans, a battle to decide whether Madrid's crown could finally be wrestled away.
Benfica also had a young forward called Eusébio who, at just 20 years of age, ran riot in the second half as Benfica came from 2-0 and 3-2 down to win 5-3, Puskas' wondrous first-half hat trick all in vain.
Benfica had won two consecutive European titles under the guide of Hungarian Bela Guttman, who was to leave the club shortly afterwards thanks to a pay dispute. "Not in a hundred years from now will Benfica ever be European champion," was Guttman's parting shot. It's now 52 years (and eight finals) and counting...
2) Real Madrid 7-3 Eintracht Frankfurt (1960)
Discussion over the greatest forward line in football history would go on long into the night, but you'd have to go some way to topping Real Madrid's combination of Ferenc Puskas, Alfredo di Stefano and Francisco Gento in 1960. "Every man in our team is an attacker and we have the quality so many British sides envy," Puskas boasted before the final against Eintracht Frankfurt at Hampden Park, and he was right.
The Germans actually had the temerity to take the lead through Richard Kress, but by the time Erwin Stein had scored a second for Frankfurt after 72 minutes, Real had scored six of their own, an attacking display of such majesty that it will surely never be surpassed on such a stage.
Real eventually ran out 7-3 winners, Puskas scoring four times and Di Stefano three. Frankfurt had scored 20 times in six games en route to the final, but were left helpless against the perhaps the greatest ever club side at the peak of its powers.
1) Liverpool 3-3 AC Milan (2005)
The greatest of footballing comebacks contains that element of the inevitable, the mystical sense that the actors have no power or say over the end result of the performance no matter how hard they may try. Liverpool suffered from such a oddity at Selhurst Park less than a month ago but in Istanbul in May 2005, it was them that seemed to have sporting destiny on their side. Perhaps they have been indebted ever since.
In order to pour cold water on my silly thoughts of football magic, let us instead re-remind ourselves briefly of the details. Left utterly shell-shocked when 3-0 down at half-time after goals from Paolo Maldini and Hernan Crespo (twice), Liverpool made the impossible possible thanks to Steven Gerrard, Vladimir Smicer and Xabi Alonso, with a fair bit of Jerzy Dudek thrown in for good measure.
"When I see Hamlet in the theatre I really enjoy it, but I know what happens in the end," a poet named Ian McMillan once said. "With football you have no idea. That's what is so great about it." Never has that been more apparent on such a grand stage than during half-time in the 2005 Champions League final.
A version of this article first appeared on Football365