Atletico Décimated
Atletico came within seconds of an unthinkable double, but football again reminded us of its wonderful ability to turn joy to despair in a matter of moments...
Last Updated: 25/05/14 12:53am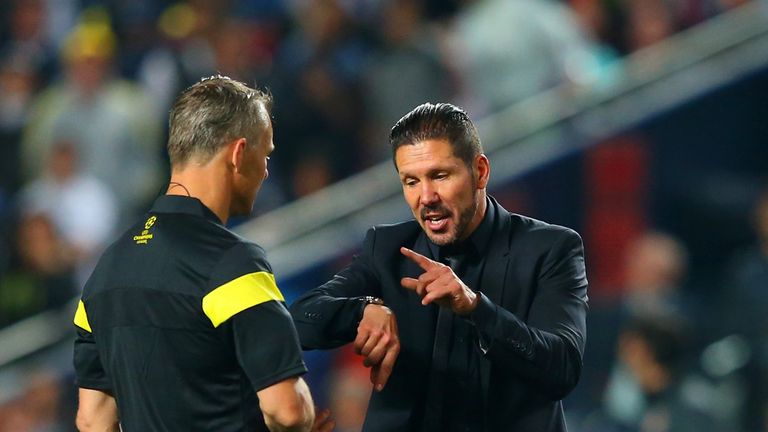 "When I see Hamlet in the theatre I really enjoy it, but I know what happens in the end. With football you have no idea. That's what is so great about it" - Ian McMillan.
In the Estadio da Luz in Lisbon on Saturday, with almost 94 minutes played and all hope looking lost for Real Madrid in their search for their much-anticipated La Decima, we were again reminded of football's incredible propensity to surprise, transforming unthinkable joy to intense pain in a matter of seconds.
By the end of the night, Real Madrid finally had their long-awaited 10th crown, while Diego Simeone and Atletico must look back at a joyous season that ended in the cruellest of fashions. That tells a mere fraction of the story.
Until the moment that Luka Modric sent in a wonderful cross for Sergio Ramos to head past Thibaut Courtois, it had been an exercise in strategic and tactical perfection from Atletico Madrid, at least after the loss of Diego Costa to injury after just nine minutes. It was to be Simeone's most crucial mistake of the evening as his side were left fatigued and crying out for late, attacking legs.
There is something hugely enjoyable in watching a gameplan being carried out to (near) perfection. Every Atletico player knew their role exactly. The two forwards dropped back to harry players in possession, allowing Gabi and Tiago in midfield to remain deep and protect the defence rather than having to move forward to meet oncoming opposition midfielders.
The full-backs (particularly Filipe Luis) were given license to roam forward, but when defending tucked in to give Atletico a narrow defensive shape. Real were allowed to have the ball in wide areas, but were forced to resort to crossing from deep in a manner akin to David Moyes' United earlier this season, Angel Di Maria particularly guilty. Miranda and Diego Godin in central defence were more than happy to deal with this aerial threat, and Karim Benzema in particular struggled for the lack of meaningful service.
The first half was scrappy, but that is exactly what Simeone had craved. Carlo Ancelotti's side created just one moment of real danger, Tiago sloppily losing possession in his own half and presenting Gareth Bale with the ball. The Welshman delayed his shot before eventually slipping it wide. He would almost pay for such profligacy.
It is impossible to overstate the importance of set-pieces to Simeone's game plan. The La Liga title was won with a Godin header against Barcelona a week ago, and the Uruguayan repeated the feat in Lisbon after 35 minutes. That said, there was little denying the role Iker Casillas played in the goal, caught in No Man's Land and allowing Godin to loop a header over him and into the net. There was a manful effort from the goalkeeper to rectify his error, but it was to no avail. Only Athletic Bilbao scored more goals from set-pieces than Atletico's 18, and 38 per cent of their Champions League goals came in such a manner - no team in the knockout stages could match that. This was a plan coming together perfectly.
If the goal gave Atletico something to grip hold of, this was evidently only half of the job. A side of Real Madrid's quality will inevitably create chances, but Atletico players were perfectly content to drop deep and back themselves to protect Thibaut Courtois' goal. Twice Bale skewed wide when presented with an opportunity, twice, too, Juanfran cleared when a goalmouth scramble seemed inevitable. Atletico were hanging on.
The pre-season odds on Atletico completing such an unlikely La Liga and Champions League double were a staggering 6,560/1 best price, and for Diego Simeone to mastermind a Champions League victory to add to the league title would have been a potentially unsurpassed feat.
However, football, fate and Real Madrid thought otherwise. Modric, so often superb this season, curled in a cross and Sergio Ramos, now the scorer of three crucial goals in his last two Champions League matches, planted an inch-perfect header into far corner of the goal - for all of his disciplinary flaws is there a central defender you would rather have on your side? For a team so exact in their defensive tactics, Atletico's decision to leave the posts free for a set-piece so late in the game now seems a foolhardy move, but only with the benefit of great hindsight. Atletico's set-piece record this season justifies Simeone's plans entirely.
From that moment on, Atletico had lost. All energy had been sapped, every sinew strained and ounce of effort drained from the fight of keeping Real at bay. They had come so close, but would now pay the inevitable cost for one momentary lapse in their resolute excellence. "You've won it once, now go and win it again" was the famous quote from Alf Ramsey to his England side in the break before extra-time in the 1966 World Cup final after conceding late, but such a demand relies on having an extra gear or a reserve of dynamism. Atletico simply had nothing left.
Before Saturday evening, no Champions League final had ever been decided in extra-time, but from the moment that Angel Di Maria waltzed past a shattered Juanfran and the ball reared up off Courtois and into the path of Bale, it had been decided. Bale had been guilty of squandering Real's best opportunities in normal time, but took his last chance with glee.
It caps an astonishing season for the Welshman, who has contributed 39 goals and assists in 44 matches for Real. Given his pre-season injury issues that's quite a feat. There was still time for Marcelo and Cristiano Ronaldo to add insult to mental and physical suffering, the final 4-1 scoreline unquestionably harsh on a beaten and broken side.
Real and Carlo Ancelotti must be handsomely congratulated for their achievements (and Ancelotti now has as many European Cups as the record holder Bob Paisley), but it is Atletico who will continue to take many of the plaudits, despite the petulant reaction of Diego Simeone before the full-time whistle had been sounded. This has still been a season of unthinkable achievement, and the manager was applauded when he entered the post-match press conference. Ancelotti did not get such treatment.
The perfect ending to the miraculous Atletico tale would have been victory over their rich city rivals, but football had other ideas. Instead, we were left breathless by a culmination beyond our expectation for large periods of the evening. Yet further evidence of why football is more enjoyable than Hamlet.